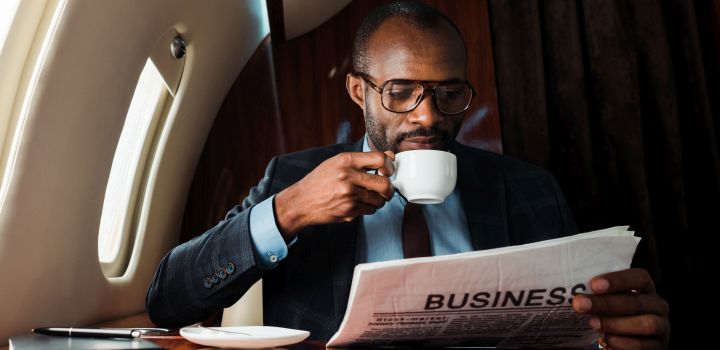 Key figures for the luxury goods market in 2021-2022
Booming for more than a decade, luxury goods were one of the sectors hardest hit by the health crisis of 2020. Although the effects of the latter are destined to fade over time, the luxury industry will have to innovate and reshape itself in order to return to growth.
What is in store for luxury professionals in the years to come? When, how and why will the market recover? What are the emerging trends?
In order to better understand the challenges faced by retailers and e-tailers, here are some key statistics and figures for the luxury market for 2021-2022.
Luxury market configuration and players in 2021-2022
Traditionally, the luxury market is divided into two types of categories:
Before the coronavirus struck, luxury cars, luxury hotels and luxury goods dominated the sector's sales; between them, they accounted for almost 82% of the total market.
Contrary to what one might assume, customers will not stop consuming "experiential" luxury in 2020 and the years to come. Indeed, globally, 40% say they are more likely to spend on "experiential" luxury, and less on products than before. However, they will prefer more isolated and intimate experiences, at least in the short term. As a result, patronage of bars, hotels, resorts and luxury cruises is expected to decline, with 50-60% of consumers saying they will spend less or much less in these categories over at least the next 6 months.
The luxury goods market is dominated by large traditional players, with the top 10 companies accounting for almost half of total luxury goods sales. According to the "Global Powers of Luxury Goods 2019" ranking by Deloitte:
The 100 largest luxury companies have a combined turnover of 247 billion dollars.
French brands top the list of the world's largest luxury companies, with LVMH, L'Oréal Luxe, Kering and Hermès all appearing in the Top 11.
The seven French-based players have the largest market share (23.5%) of total luxury goods sales in the Top 100.
Overview of the luxury goods market in France and abroad in 2021-2022
Until the first month of 2020, the luxury market was doing well, and even very well. All indicators were green:
Last year, the sector as a whole (including "personal" luxury goods and "experiential" luxury) grew by 4% compared to 2018, and generated €1.3 trillion.
Last year, growth in the "experiential" luxury market was driven by sales of luxury cruises (+9%), luxury cars (+7%) and gourmet products (+6%).
As for "personal" luxury goods, shoes and jewellery showed the best growth rate (+9%) before the health crisis, followed by leather goods (+7%) and cosmetics (+3%); while the clothing sector experienced more modest growth (+1%) and watches showed sluggish growth (-2%)
In 2019, the top 100 international luxury players generated a total revenue of $247 billion, up from $217 billion in 2018.
While luxury market numbers were on a positive trajectory before the virus spread – with predictions estimating a +3.2% expansion for the industry in 2020 – COVID-19 passed through, ending more than a decade of steady growth. The good numbers at the very beginning of 2020 were quickly offset by imposed confinements, air traffic disruption and border closures.
Thus, in 2020, luxury sales decreased in all major markets. Europe is the market most affected by the crisis, with a decline of 29%, followed by North America (-22%). The Asian market fared better, with a decline of only 5%.
This decline affects all luxury categories – leather goods, fashion, jewellery, perfumes and cosmetics:
Accessories are the least affected.
The watch segment is the most affected due to a lack of online sales platforms to compensate for the closure of physical stores.
After a 25% decline in the first quarter, the slowdown is expected to accelerate in the second quarter and could lead to an estimated 20% to 35% contraction in the luxury market by the end of 2020, compared to last year :
Sales of "personal" luxury goods are expected to decline by between -25% and -45% in 2020.
The predictions for "experiential" luxury are even more negative, with an estimated decline of between -40% and -60%.
Although the major players in the sector, such as Chanel, have begun to reopen their stores, the number of visitors has fallen by half compared to last year. And it will take time for the market to recover, as explained in a study conducted by Bain & Company in partnership with the Altagamma Foundation.
Indeed, although we are seeing a resurgence in post-confinement sales, it will take until 2022 or 2023 to return to profitability similar to that of 2019. A return to growth will depend in particular on the level of consumer confidence, tourist flows and the ability of brands to anticipate and meet new consumer demands. According to the Bain & Company study:
Sales for the whole of 2020 are expected to be between €180 billion and €220 billion, compared to €281 billion in 2019.
The market will gradually grow again, reaching around 320-330 billion euros within 5 years.
Some categories will suffer more than others: ready-to-wear and cosmetics are expected to take two years to recover; while "experiential" luxury is expected to be impacted by COVID-19 over the long term, including hotels, cruises and resorts.
In 2025, when the state of the luxury market is expected to return to normal, there will be 450 million luxury consumers worldwide, 60 million more than today. This conjecture is mainly explained by the growth of the middle class, particularly in Asia and more specifically in China.
It is China that has been helping to drive up the figures for the luxury goods market for more than a decade. Indeed, the Middle Kingdom remains the main growth engine of the sector in recent years, while the European and North American market figures remain relatively moderate.
Thus, the statistics of several studies carried out on this subject show the importance of the Chinese market for luxury:
Last year, Chinese consumers accounted for 90% of the industry's global growth.
Purchases made by Chinese customers represent 35% of sector sales.
By 2025, it is estimated that nearly half of the world's luxury sales will be made by Chinese consumers.
In the months and years to come, China, the first focus of the epidemic and the first country to decontaminate its population, should also pave the way for a recovery. Chinese clients will thus consolidate their status as global luxury leaders even in the post-COVID era.
However, their consumption habits will change. Indeed, until now used to shopping for designer goods abroad in cities such as Paris, London or New York, Chinese customers will now be more likely to make their luxury purchases at home. For example, 73% of Chinese consumers confirm that they will spend half of their annual budget in China over the next 12 months.
The second-hand luxury market in 2021-2022: a trend to watch
Buying new products is not the only way for consumers to interact with the luxury market. Indeed, in recent years, the growth of the luxury market has been accompanied by a significant increase in sales of second-hand luxury goods:
The second-hand market is estimated at 26 billion euros.
Watches and jewellery are the main categories in the second-hand market – accounting for over 75% of all purchases – followed by fashion and accessories.
Globally, 45% of traditional luxury consumers have participated in the second-hand luxury market as a buyer or seller, and more than a quarter of them have purchased second-hand goods.
62% of customers used to consuming luxury goods say they are interested in second-hand luxury goods.
The most popular second hand brands are Chanel, Louis Vuitton, Gucci, Burberry and Dior.
This rise, encouraged by the change in mentality of luxury customers, can be explained by two factors in particular:
Buying a luxury item second hand is often the only way for consumers to acquire a product from a rare, limited edition or vintage collaboration.
The legitimization of specialized resale platforms such as Vestiaire Collective or Vinted, where it is possible to acquire items at lower cost. For example, 44% of consumers surveyed said they consider the resale value of the new items they purchase.
More than a threat, the development of the second-hand market represents a great opportunity for luxury brands to reach a new audience and expand their customer base; provided they adapt their strategy accordingly. Indeed:
70% of second-hand luxury consumers would like to buy second-hand products directly from brands.
68% would like to find second-hand products in single-brand stores.
74% would like brands to certify used products sold by resellers.
Luxury consumers in figures for 2021-2022
The profiles of the luxury clientele are varied and evolving rapidly. Therefore, a distinction must be made between :
Generation Y, also known as the "millenials" (born between 1980 and 1995), currently accounts for 35% of luxury purchases and could make up 45% of the market by 2025. Currently, the Chinese of this generation are the biggest consumers of luxury goods.
Generation Z (born between 1996 and 2010) currently represents only 4% of the market, but is expected to account for 40% of luxury goods purchases within 15 years.
Earlier generations (born before 1980).
By 2025, generations Y and Z will account for around 55% of the luxury market, and are expected to contribute 130% of the industry's growth, offsetting a decline in spending by older luxury consumers.
Thus, over the years, the luxury market will have to adapt to the new demands, behaviours, uses and habits of these consumers. For example, Generation Z customers are demanding more modernity and a continuous conversion with brands, while claiming new values oriented towards ecology, ethics and transparency.
57% of consumers say they are more likely to buy or boycott a luxury brand based on its position on a social or political issue.
80% of luxury customers say they prefer socially responsible brands.
60% of luxury customers believe that luxury brands need to be more engaged than companies in other industries.
Sustainability concerns are much more important to South Koreans (81%), Japanese (70%), Chinese (66%) and French (66%) than to Americans (45%) or British (43%).
And, since the spread of the virus, ethical and sustainable development issues seem to be influencing purchasing behaviour more than ever:
More than half of luxury consumers say that the position of brands on these issues will be more likely to impact their purchasing behaviour than in the pre-COVID period.
60% of luxury customers have a better perception of brands that have implemented various actions – donations to research, measures to protect workers, manufacturing of medical equipment – during the crisis.
Luxury consumers are particularly concerned by :
the environment (37%)
animal care (27%)
ethical manufacturing (21%).
Generation Y places a higher priority on the environment (42%) and the treatment of animals (26%), while baby boomers are more concerned with ethical manufacturing (32%).
If they want to respond to these new concerns, luxury professionals have every interest in being innovative in their commercial strategy and in their value propositions.
The luxury industry will also have to reshape itself to accommodate the younger generation of consumers who will play a dominant role as the years go by, given their growing purchasing power and ability to influence the older generations.
As these young customers are at the forefront, their preferences are the trends of tomorrow; they revolve around several axes: personalization, online shopping, the development of opinions via social networks and influencers, as well as an increased consideration of the ethical positioning of brands, as seen previously.
In order to attract and seduce this new clientele, some established fashion houses are choosing to partner with designers and other streetwear brands to create exclusive collections, such as the collaboration between Louis Vuitton and Supreme, Off-White and Rimowa or Fendi and Fila.
Strategies and biases that pay off, given the figures:
Luxury consumers from Generation Z and Generation Y are respectively 67% and 60% who have purchased a piece from one of these collaborations, compared to 40% of Generation X and only 20% of Baby Boomers.
62% of Chinese consumers have embraced this trend.
On the "experiential" luxury side, there is also a convergence between the fashion and travel worlds – recently Bulgari, Versace, Dolce & Gabbana, Armani and LVMH have all partnered with five-star hotels.
Luxury, in the traditional sense of the word, must therefore recalibrate and evolve its offer to suit these new consumers, who will become the major force in this market in the years to come.
The place of the web and digital in the luxury sector in 2021-2022
Fearing to degrade their brand image and the quality of their services, the luxury industry has long been reluctant to invest fully in web technologies.
The luxury experience, characterized by rarity, refinement and exception, did not lend itself to online sales.
However, with the arrival of younger consumers who are more connected than the previous generation, digital is increasingly becoming an indispensable sales channel for the luxury market. E-commerce has indeed carried the sector through the lockdown, encouraging the last reluctant consumers to take the plunge and buy their luxury goods online.
Of course, luxury customers will continue to visit the stores. But the Internet should continue to grow in power and take an increasingly important place in the consumption habits of luxury customers in the years to come:
Last year, the Internet was the fastest growing sales channel, with an increase of 22%.
Globally, online transactions currently account for only 12% of the luxury market, but are growing at twice the rate of in-store sales. Online purchases could thus represent up to 30% of the market by 2025.
Accessories top the list of luxury goods sold online, ahead of ready-to-wear; while the number of luxury cosmetics, jewellery and watches sold online is increasing.
60% of luxury consumers from generations Z and Y say that their purchase decision was influenced by an advertisement on social networks during containment; this is also the case for a quarter of customers belonging to earlier generations.
As the luxury sector's clientele gets younger, attitudes are changing. Thus, all over the world, market consumers are becoming more and more influenced by the web, digital and new technologies; including when shopping in physical stores:
75% of luxury purchases were influenced by a digital channel.
20 to 25% of transactions were made online and digital directly generates 13% of offline sales.
At a time of crisis, 36% of luxury consumers say they will buy more online than before.
However, despite their affinity for digital, a study by consulting firm McKinsey & Company reveals that nine out of ten young Chinese consumers are impacted by their experience with store sales staff when it comes to making a purchase decision.
This can be explained by the fact that consumers do not have the same type of relationship online as they have with offline brands.
The rise of online channels does not mean the death of retail, which will have to evolve to meet the high expectations of consumers. The store 2.0 will now be very different: it will have to focus on experience and service, be more immersive and become a place of connection and sociability.
In conclusion, if they want to respond to the new needs and changing attitudes of consumers, luxury players will have to be transparent and innovative in all the experiences they offer to their customers to engage them emotionally and connect with them in a personalized way.
In order to return to growth, the priority will be to find the right balance between the younger generations – who are anticipating future trends and will become the main driver of growth in the market in the years to come – and the older generations who are currently the primary consumers of luxury.
Digitalization, the desire for personalization by customers, the emergence of the second-hand market as well as concerns about sustainability and ethics are all contributing to redefine the meaning of luxury. Thus, the pace of market growth will depend on the strategic responses of luxury players to the current crisis and their ability to adapt to these changes.
If you want to know more about the strategies to adopt to enhance your brand, our agency Alioze is specialized in luxury communication.
Read also our article on the
key figures for the luxury sector in 2020 (in French)
See also:

Sources:
Fashion Network :
Bain & Company – Altagamma :