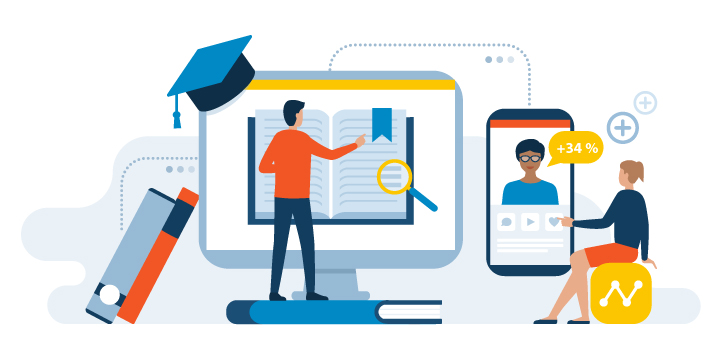 Key figures for the education sector in 2021
We have compiled the key figures for primary, secondary and higher education in 2021. They provide essential information about education in France today. In 2021, in the age of covid, it is impossible to ignore e-learning. What are the current trends in e-learning?
Key figures 2021 for primary and secondary education
The Ministry of National Education, Youth and Sports provides some key figures on education in France every year. A look back at the 2020/2021 school year.
The national education system employs 1,162,850 people.
866,500 teachers are employed in schools, colleges and lycées, of which 725,200 are in the public sector and 141,300 in the private sector.
The remaining 296,350 people work in educational and pedagogical assistance, administration, management, inspection, etc.
In France, there are 61,510 schools, including 50,130 schools, 7,230 collèges and 4,150 lycées.
There will be 12,352,200 students and apprentices in all levels of education, in the public and private sectors in 2020-2021.
80% of the children are in public schools.
The largest academy is Versailles with 9.4% of students, followed by Lille with 6.6% and Normandy with 4.8%.
Some figures on the finances of the 1st and 2nd level education :
Higher education figures 2021
As far as higher education is concerned, the number of students is constantly increasing.
In 2019-2020, 2.73 million young people enrolled in a higher education institution in France, an increase of 1.6% from the previous year. Since 2015, 234,700 more students have been admitted.
1,675,100 students are attending university in 2020 compared to 1,635,400 enrolled in 2019.
In September 2020, 284,800 people enrolled in bachelor's degrees, an increase of 4.4%.
A total of 2.78 million students are enrolled in 2021, an increase of 2.1%.
Online training figures
A new trend that is exploding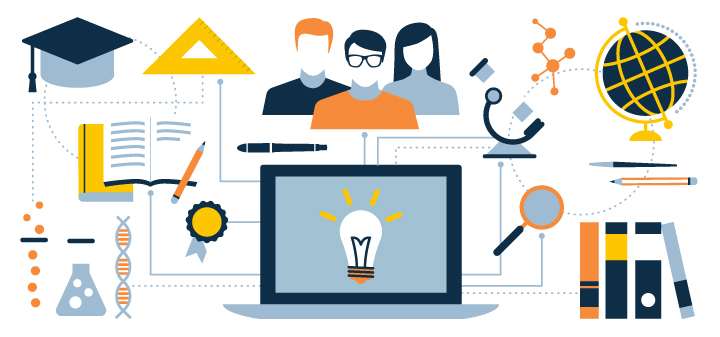 The education sector is also impacted by the digitalization of activities. Many institutions, schools and companies are digitising their training and including e-learning in their learning methods.
E-learning has proven its benefits. The Brandon Hall Group has shown in a study that training time is reduced by 40-60% with identical results. Accessibility, cost reduction, simplified management, new experience, digital learning is becoming an obvious choice for companies.
E-learning around the world
Since COVID, research suggests that the online learning market size has crossed $250 billion in 2020 and is expected to reach $1 Trillion by 2027.
The United States is already very advanced. They have 40% of the world market, followed by Asia, with China and India. In 2017, 77% of private US companies were already integrating e-learning into their training systems.
Key figures for e-learning in France
In France, companies are increasingly interested in the digitalization of training. In 2019, face-to-face training was already less and less popular and 97% of respondents wanted to switch to digital according to a survey by IFTS, the Institut des Métiers du Blended Learning.
Just before covid, the share of face-to-face training was only 19%.
The private sector is more initiated, 92% of French companies use blended learning for only 70% of public institutions.
The Unow study confirmed this trend in a survey of 1,500 people working in the training sector in May 2019. 92% emphasize the importance of digital training.
Another survey, this time conducted by the FFFOD Digital Learning Observatory, indicates that 71% of respondents in the training sector find digital learning effective. 61% even think that the method favours the integration of the elements taught.
E-learning trends
The Observatory's study shows that SPOCs, COOCs and blended learning are used by 40 to 50% of companies.
Microlearning is of increasing interest to companies. According to the ISTF, 14% of companies practiced it in 2018.
Social networks have their place in distance learning. Communities that follow the same formation are created. Students come together and can discuss common issues.
The growth of online training is favoured by the development of educational video. 100 million people watch video on the Internet every day.
Online training from Covid
Edflex, the e-learning platform brought together training professionals in May 2020. The aim was to find out their views on the sector and its evolution in the post-covid world. Indeed, many French people have taken advantage of the confinements to acquire new skills and learn through digital. This led to questions about training methods and their organization within the company.
More than 300 experts responded to a questionnaire which helped to identify new trends.
For 43% of respondents, e-learning was not considered by the company before covid.
88% want more individual training
70% noted the impact of teleworking on their training
87% think this is a good time to develop a digital training plan
91% see containment as an indicator of the importance of digital training in business
The crisis has therefore accelerated the digitalization of training and forced companies to adapt thanks to digital tools. Will the new learning methods last?
Contact our communication agency Alioze, specialized in the education sector to help you with your strategy.
See also:
Sources: