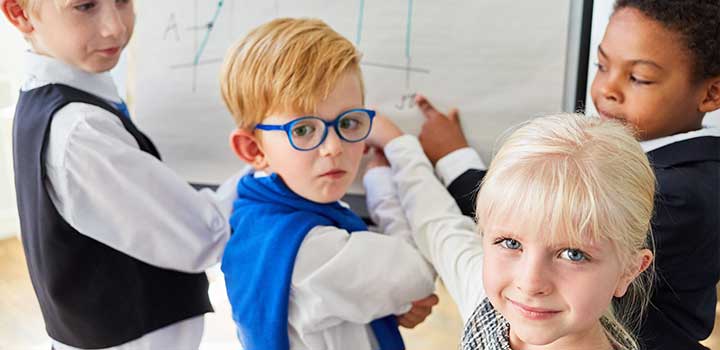 Key figures for the Children and Youth markets in 2021
It is important to know the purchasing habits of the French for their children, to be able to understand the needs and desires of the very young and their parents. Here are some key figures for children and youth in 2021 to help you make sense of it. These trends allow you to find your place in the market and to adapt your marketing and communication.
Figures and trends in children's ready-to-wear clothing
In the United States, the children's fashion market was estimated to be worth $60 billion in 2018. According to Global Industry Analysts, Inc (GIA), it would reach 76.4 billion by 2024.
The children's ready-to-wear market in France reached €1.8 billion in sales in 2018, or 18% of the overall clothing market.
It is estimated that a child spends about 700 euros in a year. Indeed, parents must constantly renew the clothes of their children who grow very quickly. During the April 2021 lockdown, shops and supermarket clothing departments were to close except for the children's sections, which could remain open.
There are different players in the children's clothing market.
31% of the market is occupied by specialist brands such as Jacadi, Petit Bateau, Okaidi, Orchestra, etc.
60% of families prefer to shop at more generalist stores, where prices are lower, such as Gémo or Kiabi.
Mass distribution also finds its place between the two. The clothes are more affordable than in specialty stores, but often of better quality than in low-cost stores.
The Internet is of course a mode of purchase that will explode especially in 2021, in the era of the covid.
New trends have emerged in the clothing market, such as second-hand purchases, largely driven by Internet platforms such as Vinted or Le Bon Coin. Attention is now paid to clothes made from organic fabrics, and to ecological hygiene products such as diapers.
The baby market is down
The number of births has been falling for six years. In 2020, there is a decrease of 13,000 babies compared to 2019. The decline in births is clearly having an impact on the baby markets and is leading to a decline in consumption. According to a study by IDM Families, parents spend around €1,560 on the arrival of a first child, so no child, no expense! This demographic is now being felt in products for children under 3 years old:
Sales of non-food baby products have fallen by 25% in 5 years;
Food and hygiene products by 12% between 2015 and 2020;
Diaper sales plunged 17%.
The decline in births will gradually spread to the markets for older children. The toy market is already showing a 0.5 to 1 point decline. In a few years, the impact on the school supplies, children's fashion and snack products sectors will be felt. For the time being, the children's food markets are not yet impacted and are still growing. In addition, in 2020, the confinements largely benefited the children's market, as they had to be kept busy during all that free time!
Key figures for the toy market
In 2019, the French toy market recorded a turnover of 3.5 billion euros. In 2020, sales of games and toys showed their resilience in the face of the crisis. Although stores were closed for several months, toy sales only decreased by 1.5%. Here are some key figures for the toy market.
Sales volume decreased by 8% but average price increased by 7%. Adults bought bigger toys to keep the kids busy longer.
Between the two confinements, from May to September, the toy market grew by 14%, which reduced breakage.
The week of November 30, after deconfliction and before the Christmas holidays, was exceptional with a 31% increase in sales. 10% of the sales for the year 2020 were made that week, for a total amount of 300 million euros.
The last quarter represents 55% of 2020 sales. It is down 2.2% from 2019 due to store closures.
The Internet is, once again, the winner of this covid year. 32% of sales were made through e-commerce and click & collect versus 26% in 2019.
Sales of board games and puzzles increased by 10%, electronic toys by 6% and building sets by 5%.
Children's book market data
Another children's sector that has done well in 2020 is children's publishing. Its overall sales increased by 1%. The book generated €737 million from January to early November 2020. More than 83 million copies of books have been purchased.
Illustrated albums, novels for 8-12 year olds and comic books are the big winners. They represent 50% of the books sold.
If you would like to know more about the strategies to adopt to boost your brand's reputation, contact Alioze, the agency specialising in the children & youth sector to help you with your communication.
See also:
Sources:
modeintextile.fr :
etudes-et-analyses.com :
lsa-conso.fr :
lemonde.fr :
gfk.com: