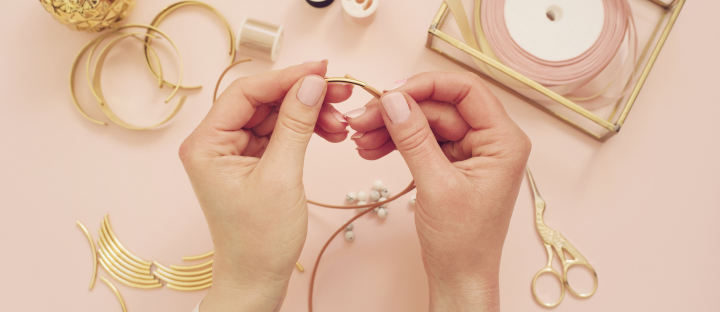 Key figures for the jewellery industry in 2021
The Francéclat Observatory and Panel 5 have released the latest key figures for the jewellery industry. The unprecedented crisis of 2020 has had a huge impact on the sector. What impact has it had on sales and revenue in the jewelry industry? What is the outlook for 2021? Focus on the jewellers' market, which is showing resistance to Covid.
Key figures for the jewellery industry
Following four years of growth, in 2020, French watch and jewellery industry production will generate €2.8 billion in sales, down 5% on 2019.
While a 22% drop was observed in the watchmaking sector, jewellery was less affected. Its sales are down by only 2%. More precisely, jewellery represents 2.246 billion euros, costume jewellery, 275 million and watches, 271 million euros.
Trade declined sharply in 2020. Exports fell by 37%. They are still larger than the national market and amount to 6.4 billion euros. Imports, on the other hand, also fell by 41%. The sector therefore enjoys a surplus balance.
The French jewellery market is worth 3.1 billion euros.
Top selling jewellery products
Gold jewellery accounted for 38.2% of sales by value in 2020. This is followed by watches with 31.6%, silver and gold-plated jewellery with 15.1% and costume jewellery with 10.3%.
The diamond remains the favorite jewel of the French. Although synthetic diamonds only account for 3.5% of the market, this proportion should increase.
Watches worth more than 1,000 euros remain a safe bet. Connected models are becoming an increasingly important part of the watchmaking landscape.
Sales of silver and costume jewellery and quartz watches declined.
In terms of types of jewellery, bracelets are in first place with 25% of sales in 2020. The second position is occupied by necklaces with 21%, then come pearls and pendants (20%), rings (18%) and earrings (16%)
The evolution of jewellery sales in 2021
The decline in jewellery purchases by the French
French customers bought significantly less jewelry in 2020 compared to 2019. While the year seemed to be off to a good start with a 15% increase in turnover in January-February (all products combined), the arrival of covid and the confinements led to a drop in sales. The 14% drop in sales in France in 2020 was moreover minimized by the very good figure for December, +12% in sales compared to December 2019.
There are two reasons for this decline. The physical closure of jewelry stores during the first and second confinements, as well as the changing priorities of the French. In uncertain times, consumers have prioritized their purchases by buying necessities, rather than jewelry and watches.
The absence of foreign tourists
France is one of the most visited countries in the world. Travellers represent a significant share of the clientele. Channels with a high proportion of foreign customers, such as airports, railway stations and major jewellers, recorded a 47% drop in sales. Geographically, it is mainly Paris, the Côte d'Azur and the ski resorts that have suffered from an absence of foreign customers.
The first half of 2021 was not conducive to a recovery in store activity due to the closure of shopping centres of more than 20,000 m2 and department stores. In total, these locations account for 50% of sales in the jewellery sector.
The brands as such suffered less, as they made up for it with foreign sales. In China, for example, demand has increased and international retailers have broken sales records.
Distance selling, the big winner in 2021
Online jewellery stores are the big winners of 2020 and 2021. E-commerce has never shown so much power and necessity at a time when confinements, social distance and gauges are becoming an obligation.
In just one year, distance selling has jumped just over the total for the previous three years. The increase in revenue is 27% between 2020 and 2019. It was 8% in 2019 and 12% in 2018.
However, this trend does not replace the strength of in-store commerce. Online sales account for only 8.7% of precious jewellery sales. This shows that consumers are still attached to their jewellery store, to see the objects, try them on and get advice from a salesperson.
If you would like to know more about the strategies to adopt to boost your brand's reputation, contact Alioze, the agency specialising in the jewellery sector to help you with your communication.
See also:
Sources:
cplusaccessoires.com :
forbes.co.uk: