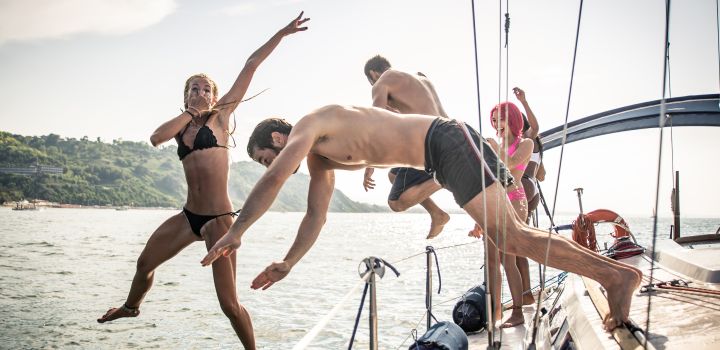 Key figures for tourism and E-tourism in 2021-2022
The tourism industry is nowadays intimately linked to the web. This sector was one of the first to adapt to the digital transformation. E-tourism has exploded and is now the third most important business on the Internet after fashion and cultural products.
Tourists are increasingly autonomous in the organization and preparation of their trips, and there are many opportunities to travel at competitive prices. Globalization has significantly increased the size of the market. New technologies have an impact on tourism and it is now necessary to think about communication and marketing accordingly.
Here are the key trends and figures for the tourism sector in 2021 and 2022.
The place of the web in the tourism sector in 2021-2022
The French use the Internet on a daily basis to search for information and make purchases. Do these new habits also concern tourism?
55% of French people used the internet for holiday bookings in 2018, compared to 50% in 2016, according to a study by Raffour Interactif.
79% of French tourists have looked online for information to prepare their holidays and weekends.
In 2019, e-tourism represents 46% of the French market of the sector according to the Federation of e-commerce and distance selling (Fevad).
In 2020, it is difficult to update these key figures for the tourism sector in the wake of the coronavirus crisis. Its impact on travellers' habits is still difficult to measure. Statista notes in March, a net decrease in the number of visits to tourism-related websites.
Traffic on travel agency websites fell by 25% between March and January.
The average session length has decreased by 17%.
The number of pages visited by 15%.
According to Fevad, online travel sales fell by 60% in March.
However, digital tourism players are rather optimistic for the coming months. At the end of May, L'écho touristique surveyed the 46 members of the Club Tourisme et Technologie (CTT).
72% of respondents expect a recovery in the second half of 2020.
24% expect it in the first half of 2021.
Key trends and figures for mobile tourism in 2021 and 2022
The smartphone is increasingly becoming the primary navigation tool. In the tourism sector, the figures are no exception to the rule and travel bookings are also increasing on mobile. Especially when it comes to booking at the last minute or during your trip.
58% used their mobile or tablet rather than a computer to search for information according to Raffour Interactif.
This trend is confirmed by tourism professionals. Frédéric Pilloud, digital director at Misterfly, says that in December 2019, 55% of their bookings will come from mobile.
Innovative technologies in tourism marketing for 2021-2022
Booking conducted a survey and interviewed 22,000 people in 29 different countries to find out what the current trends in tourism are. " In 2020, travellers will let technology guide their choices even more," concludes Booking.
59% of those surveyed want to trust technology to advise them on new experiences.
46% are willing to use a travel app to guide them and book their vacation.
The future of connected tourism would therefore be applications based on artificial intelligence and big data. The compilation of data from transactions, social networks and the behaviour of the Internet user will allow us to know the traveller. It will then be easy to suggest experiences that are closer to their desires and research habits.
According to a study by Sojern, as early as 2021 and over the next 5 years, marketers believe that new technologies will impact communication in tourism. They estimate an increase of :
20% of the augmented reality space;
17% of the role of datas ;
13% of the share of artificial intelligence and voice search.
The platforms, the giants of Internet tourism in 2021-2022
The OTAs (Online Tourism Agency) are the market leaders. These online travel agencies, which bring together various services on their platform (hotel reservations, transport, activities, etc.), have a 71% share of the global market.
49% is held by the Booking group.
20% by Expedia.
These leaders of the tourism market in 2020 have understood that investments in SEO are essential to their communication strategy:
Booking invests $8 billion in SEO.
Expedia, on the other hand, spends 6 billion for a turnover of about 140 billion dollars.
Fevad and Médiamétrie provide audience figures for e-commerce sites in France four times a year. In 2020, here are the top 3 tourism platforms present on the French market:
Booking remains the leader, far ahead of the others. It is cited by 40% of respondents;
Oui.sncf is in second place with 30%;
Airbnb in third with 24.8%.
Trends and key figures for the tourism sector 2021-2022 on social networks
Facebook and Instagram are indispensable channels today for targeting an audience. In the tourism sector, their reach and influence are particularly strong. Here are some figures taken from a study by Schofields and the SNCF associated with Bolero:
In 2019, 1,000,000 travel-related hashtags are searched per week.
The hashtag "travel" is number 3 in frequency of use.
34% of French respondents use social networks for travel inspiration and 51% of millennials (18 – 34 years old).
62% of Instagrammers choose a destination by getting inspiration online according to Julie Pellet, at Instagram communications.
68% of Pinterest users search in relation to the place they plan to visit according to Adrien Boyer, the director for France.
70% of millennials choose their destination based on Instagram posts
64% of travelers post travel photos on networks and 73% of millennials.
What impact do all these figures have on your communication strategy? How to find one's place in the competitive tourism market?
It is certain that only those who know how to adapt to new technologies and consumer habits will succeed. If you would like to know more about the marketing strategies to adopt to enhance the value of your company, brand or tourist establishment, our agency Alioze is specialized in tourism communication.
Read also our article on the key figures for tourism and E-tourism in 2020

See also:

Sources:
lechotouristique.com :
Veilleinfotourisme.fr :