Digital transformation is what?
What does digital transformation mean for my company? This is a question that many CEOs or communication managers ask themselves, in all sectors, in all structures. From the craftsman / trader to the listed group through the beautiful SMEs, everyone is wondering.
In fact, it's the most popular search term on Google associated with the word"transformation" or"transition"!
Understanding the challenges of the SME to the listed group
Alioze is a digital transformation consulting agency founded in 2008, which assists its clients in the complete revolution of their infrastructure, in the understanding of their internal needs in order to achieve significant gains in productivity and well-being at work.
The external aspect – i.e. the conquest of new markets – is also an extremely strong axis of digital transition. This article is itself an example of digital transition, why?
In fact, at Alioze, we have always worked with an evolving semantic approach to our own business on the web. To be honest, we don't really like the word "digital" as it has always seemed to us to represent a frontier, as if customers or lead acquisition sources had to be subjected to the dictates of digital vs. the real world. In this sense, we have worked extensively on web to store issues and have attracted millions of visitors to the physical stores of our retail clients with points of sale. We also implemented FAQs that resulted in better routing of traffic to the call centers, thus promoting a total buying experience.
For us, the concept of digital transformation was a bit old-fashioned or has-been, in the sense that we prefer to think of ourselves as digital natives and talk about cross-functional or multi-media communication. But precisely, by using our tools, by remaining attentive to the noise and semantics, it would have been paradoxical to refuse to position ourselves on a search term that has become essential for our own business.
Because our job, from the beginning, has been to help companies achieve this fabulous adventure that is part of our daily lives. We have a passion for passing on knowledge, which is essential for team building. Awareness and acquisition of new web-oriented reflexes throughout the decision-making chain is essential to the success of a transformation project. From the CEO to the trainee, the entire company must become experienced at a minimum.
Some key steps to success: consulting, communication and training
Rethink everything from scratch, regardless of past investments.
Find the right provider, using new but proven tools.
Ambassador your teams internally, reassure them of the benefits and provide training.
Work on a gradual (but not too long) implementation.
Focus on productivity gains and concrete benefits in the short, medium and long term.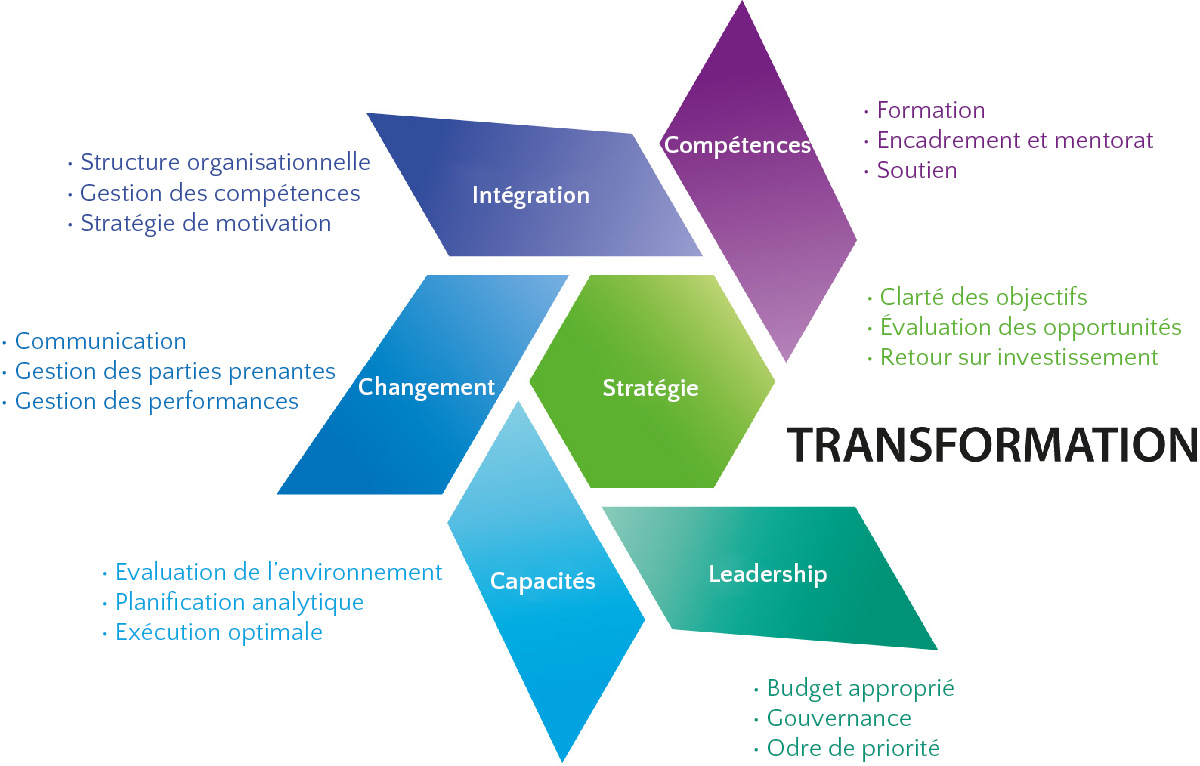 5 concrete examples of levers towards your digital transformation
Email
Byod
Cloud
Online sales
Advertising
By reading these 5 steps and examples, you realize how fundamental these topics are for your company: their strategic level is major. This is why you must work on it, while providing yourself with a validated expert so as not to risk losing sales, data or anything else.
The first step is to choose an agency to help you recruit a high quality profile. These profiles are rare, highly sought after and therefore expensive. But they can bring you such gains, that you have to make the right choice. Alioze assists you in the qualification and analysis of candidate profiles.
Don't select the candidate based on age: youth does not necessarily mean competence or digital natives. Handling Snapchat is not a guarantee of ability when it comes to infrastructure! The candidate must have good technical skills, but above all a transversal and strategic vision, and ideally an understanding of your sector and validated experience.
Once you have recruited, choose the technologies you wish to use. Alioze is Google certified and natively installs many of their solutions for its customers. A move to Google Apps is a must if you want to succeed in your transformation. For E-commerce, we will favour major technologies that have proven themselves while remaining ultra modern. WordPress, Prestashop, Magento, are what we recommend for the creation or redesign of your e-commerce site.
Working hand in hand with your IT department for a good organization
Before you start, identify your strengths. It is important not to destroy, under the pretext of modernity, good work or a good strategic position that has been gained over a long period of time – or simply through past optimization – but that is still good and valid. We often use the expression "bulldozing" when, under the guise of rejuvenation, an overconfident provider has destroyed old and entrenched work. Remember to validate with your IT department the history of the actions in order to take them into consideration during the migration.
Security, backups and performance: good communication is necessary
Modernizing your infrastructure requires a level of security equivalent or superior to what you had in the past. It is therefore necessary to ensure that the basic principles on these subjects are managed by the new technical solution. We have also found that executives or decision-makers, who are ultimately responsible in the event of a problem, rightly put the issue of security and backups at the top of their list. Cloud infrastructures and double authentication are essential principles for securing company data, but this also requires training and white papers that must generate internal processes and management reflexes at all levels.
List of sectors in which Alioze can help you in your digital transition:
Bank
Insurance
Purchasing
Agri-food
B to B
Bigdata
ISD
HR / recruitment
Finance
Industry
Marketing
Customer Relations
Transport
A large number of major companies that have initiated or succeeded in their digital transformation are now benefiting from the positive aspects of such a change:
Better brand image
Enthusiasm of the teams and attraction of future-oriented profiles (recruitment, corporate culture)
Business development / Acquisition of new markets
Productivity gains
Increased visibility in the press (communicating about your transformation is an event in itself)