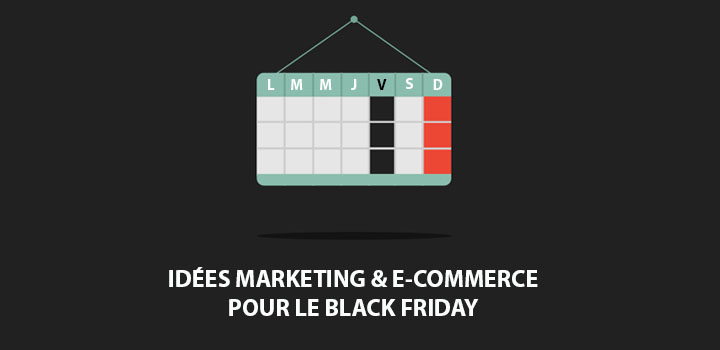 Black Friday 2021: digital strategy ideas for your e-commerce
Friday, November 26, 2021 will kick off Black Friday (followed by Cyber Monday), one of the most important events for e-commerce.
In recent years, this tradition originated in the United States and has been exported around the world to become one of the most profitable periods of online commerce.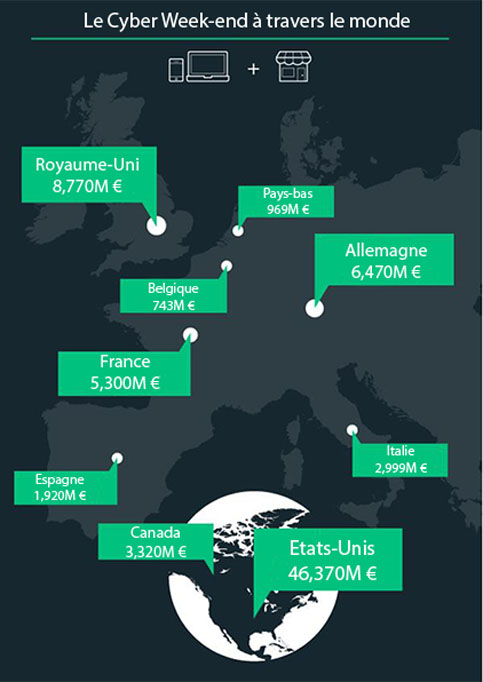 And for good reason: at the end of November, many Internet users have already started their Christmas shopping. Since the majority of them are looking for bargains, Black Friday is the perfect opportunity to offer them attractive deals to expand your customer base and increase your sales.
In order to take advantage of this, here is a last minute guide with digital strategy ideas to prepare and promote your e-commerce before, during and after Black Friday.


Prepare your e-commerce before and during Black Friday 2021

1 – Conduct competitive intelligence
Since Black Friday and Cyber monday are annual events, it is likely that your main competitors have already participated in them several times. So they should know best what works and what doesn't work for your industry.
In order to get some inspiration and tips from them, nothing better than to keep an eye on them! To watch for their Black Friday digital strategy, subscribe to their newsletter, check out their social networks and their website. You can use a tool like VisualPing to monitor your competitors' changes to their e-commerce.
Pay particular attention:
the types of sales offered;
to the products offered for sale ;
how they notify their customers;
to the advertisements put up;
to their email and social campaigns.0901

2 – Tracking your visitors and sales
If you do it right, your e-commerce site traffic should increase before and during the Black Friday period. So you'll want to make sure all your tracking and analytics tools are up and running to gather metrics to review after Black Friday.
Here are some tools to put in place on your e-commerce (if it is not already the case):
Facebook Pixel: It will allow you to target, set up remarketing strategies and track the success of your ad campaigns.
Google Tag Manager (or other tagging tool) and Google Analytics: they will allow you to put the performance of your e-commerce in perspective (traffic, bounce rate, etc.), but also to monitor customer interactions (conversion rate, cart abandonment, etc.).
Discover also our article : discovering Google Tag Manager

These statistics will come in handy next year, as they will help you understand what you did well and what you did poorly, and therefore improve!


3 – Plan your offers and discounts
The very principle of Black Friday lies in the desire of customers to take advantage of good deals. So, of course, you can't cut corners: you'll have to decide what offers and discounts you're going to put in place.
As this is a busy shopping season, your potential customers will be constantly shopping and will be all the more sensitive to prices and offers.
To stand out from the crowd, everything will depend on the interest of your offers. Since people already have in mind that they will make impulse purchases, you can create countless types of promotions, as long as they tap into their desire to buy.
On average, here are the discounts applied by sector of activity during Black Friday:
travel: 60% ;
office supplies: 50% ;
electronic : 47% ;
fashion and ready-to-wear: 32% ;
gifts: 31%.
But these are just percentages, and you will of course need to look at your margins to decide what you can and cannot afford.
To be competitive, don't feel you have to implement crazy discounts. A discount of 10 to 20% is already enough to encourage many people to go to the cash register. Even a small discount of 5-10% can help increase sales.
A good strategy is to pick a few of your most popular products and lower the price as much as possible. Focus on promotions on products that usually require accessories (on which you do not apply a promotion), so that you can recoup some of the discounts you have given.
You can also consider using Black Friday to sell your products at a lower price than the cost in an effort to get your brand and products in front of new people.
Alternatively, consider the different ways you can offer discounts, generate interest in your products, get customers to share your offers, buy more and increase the average order value:
buy 3, get 2 free, etc. ;
spend £75 and get £10 off, spend £100 and get £20, spend £200 and get £50, etc. ;
spend more than 50€ and get free delivery;
gift and gift wrapping offered with any purchase;
2 for the price of one ;
Bundling (group your products together so that they are cheaper to buy than if they were bought separately);
Cross-selling (suggest to customers other products they might like or other products that are compatible with the product they are interested in);
limited editions ;
exclusive members-only sales.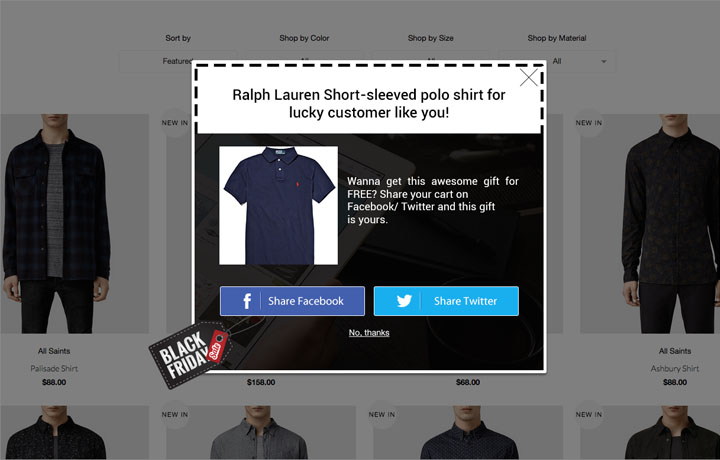 All of these Black Friday deal ideas can already be enough to boost conversions, without degrading your brand image.


4 – Prepare your inventory
Properly preparing your e-commerce for Black Friday often requires taking stock of your inventory and inventory levels to determine if you have enough products to meet your sales expectations.
Since your digital strategy should generate more traffic to your website, and you will be selling your products at discounted prices, it is possible that you will sell better and faster than you thought.


Black Friday generates on average 3.6 times more sales on an e-commerce – and Cyber Monday, 3.1 times – compared to a normal day in November.

To help you determine the appropriate stock, ask yourself the following questions:
What is the average amount of my sales per day in November?
How much stock would I need to meet this demand?
What is four times this number?
You can ask yourself the same questions for each of your articles:
How many of each item do I sell on average in November?
How much stock would I need to meet the demand?
What is four times this number?
Since Black Friday precedes the holiday and Christmas season, a time when people spend more online, don't be afraid to aim a little above your estimates (as long as you're selling a non-perishable product). You can sell the rest of your stock in the following months.


Discover also the key statistics to help you prepare your e-commerce for Christmas

5 – Test your e-commerce and its performance
One of the first things you need to do to anticipate Black Friday is to prepare your e-commerce site for the possible increase in traffic you are about to receive. Your goal is to remove all obstacles that prevent a visitor from becoming a buyer.
First of all, make sure your e-shop is in perfect working order. What a shame if you manage to attract more visitors than normal to your site, but they end up frustrated with their visit because of a poor user experience!
To avoid this, browse your e-commerce on both mobile devices and desktop computers. Make sure that the navigation is smooth and logical, and that your contact details and important pages (the "about" page, the delivery and return pages, the FAQ page…) are easy to find in your menus and footer.
The goal is to facilitate the navigation of your visitors on your e-commerce so that they can quickly find what they are looking for. Also test your checkout process to see if there are any issues that may cause customers to abandon their carts.
You can also ask someone who doesn't know your site as well as you do to browse it. It will probably be able to detect errors and flaws in the user experience that you may not have noticed.
Once these checks are complete, make any necessary improvements before Black Friday, either to combat user experience issues or to make your e-commerce more functional.
Secondly, check the performance of your site. The speed of your e-commerce can have a considerable impact on your sales, because a slow website leads visitors to leave without buying anything. A long loading time is directly linked to a higher bounce rate.
Without a reliable and fast platform, you could miss out on many sales and fail to retain new customers. To improve the performance of your e-commerce and avoid this loss :
Test the load capacity of the server with a tool such as LoadImpact.com;
Test the speed of your site with Page Speed insights or Dareboost;
Resize your images to the correct display size and use a tool such as Compressor.io to optimize their weight.
Ask your developer to optimize and lighten the HTML, CSS and Javascript files as much as possible.
Discover also our tips to optimize the "webperf " of your site and how to optimize your images for SEO.

6 – Create a landing page dedicated to Black Friday
To optimize your e-commerce site's SEO and customer experience, it's important to incorporate into your Black Friday digital strategy the creation of a dedicated landing page that you can reuse in 2019 and beyond.
This page should be specific to each country in which you sell and should ideally include during Black Friday:
all the products that are part of your offer;
a banner or other visual to clearly indicate the date and time your offer starts and ends;
a title and a small descriptive text including search terms related to Black Friday in order to appear in the search results for this query.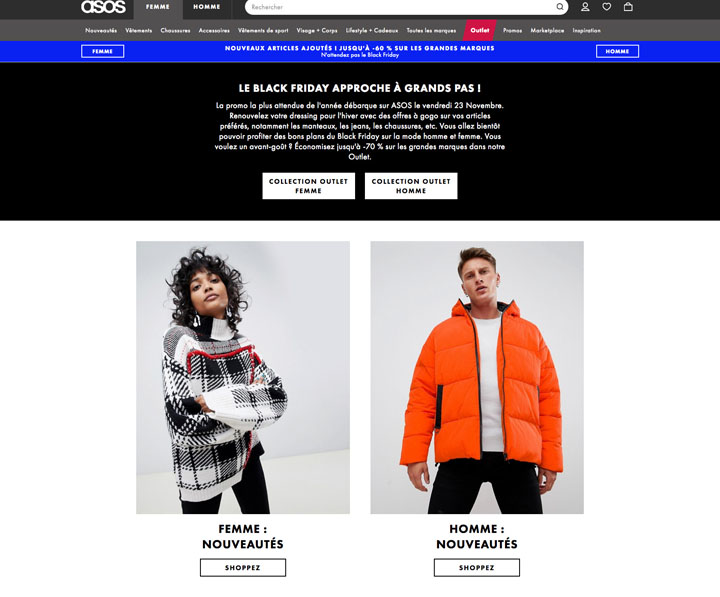 Outside of Black Friday, do not disable your landing page. Just take it out of your e-commerce navigation. It will remain accessible via search engines.
Throughout the year, the content of this landing page must be updated. In other words, its content must be relevant and accessible to Internet users regardless of the time of year.
If a visitor lands on this page, there is a good chance that he will be interested in your offers. A good practice is to add a CTA to subscribe to your newsletter so that they can be kept informed of your promotions and updates regarding the upcoming sale.


7 – Update your contact page and your return policy
If you want to go even further with your digital strategy for Black Friday, consider updating your informational pages.
One way to improve the shopping experience is to consider extending return times, as many customers take advantage of Black Friday to buy their Christmas gifts. They therefore expect an extensive return policy.
For example, for any orders placed between November 1, 2018 and December 24, 2018, ASOS has extended its return period to January 31, 2019.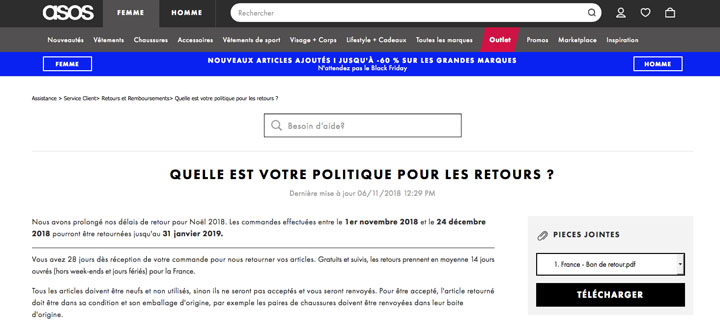 In addition, up to 40% or more of customers end up regretting a purchase made during Black Friday. Offering them easy return options will help you gain their trust for future purchases.
You can also update your delivery page to detail the final shipping date before Christmas.
If you change your shipping policy, for example if you offer free shipping exceptionally or if you offer shipping for a certain amount of purchase, don't forget to mention it.


Find out also which return policy for your e-commerce

If necessary, also take the opportunity to update your physical store hours for Black Friday and get ahead of the game by listing your hours during the Christmas and holiday season.


8 – Set up a countdown
If you have the possibility, a good digital strategy for Black Friday is to set up a countdown to remind your customers that your promotional offers will not last in time.
A countdown creates a sense of urgency and scarcity. Since most Internet users tend to compare different competing products before making a purchase decision, including a countdown timer will help them make a more spontaneous decision.
You don't have to make it appear as a timer, just create a specific visual or text indicating the date and time your Black Friday promotions will start and/or when they will end.
However you decide to format it, your countdown should ideally appear :
On the home page and on each of the product pages and categories of your e-commerce;
In your promotional emails;
On your social networks.

9 – Inform your customers in advance
As the fateful date of Black Friday / Cyber Monday approaches, it will be time to promote your offers!
Promoting your offers will be the main way for your customers to know what to expect, and will drive them to your e-commerce site. It is ideal to start early to warn them and inform them of upcoming offers.
You don't necessarily have to disclose all your sales information before you broadcast it. The idea of this digital strategy is to make people want to buy your products, to create excitement and impatience 😉 .
To do this, you can tell your customers:
Which products will be discounted on Black Friday;
when your promotions will start and when they will end;
the range of discounts they can expect to see on your e-commerce site (20% off, 50% off, 70% off, etc.)
the URL where they will find these promotions on your site (the URL of your landing page).
And, this, with the help of a coordinated promotion strategy on all your digital channels:
On your e-commerce site: update your home page with a graphic element or image promoting your participation in Black Friday / Cyber Monday.
On your blog (if you have one): write an article about your Black Friday promotions.
By email: encourage your prospects to subscribe to your newsletter (by organizing a contest for example) in order to enrich your mailing list and then be able to send them emails about your Black Friday offers.
On your social networks: update your profile and cover photos on Facebook, Twitter, Instagram, Pinterest… In the week leading up to the event, you can also post daily to get your customers excited, such as " Don't miss our Black Friday sale – our lowest prices of the year – prices too low to advertise! "
With social ads: run ads on Facebook, Instagram and/or Pinterest. Use it to reiterate your offer using the same aesthetic as in your email campaigns and website. Use custom audiences and don't forget to schedule your ads to end at the end of the promotion/sale.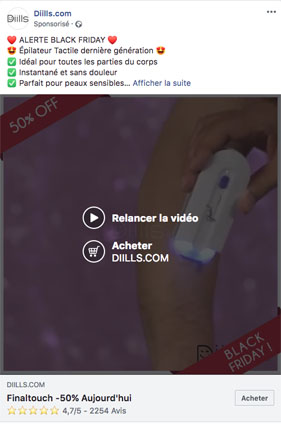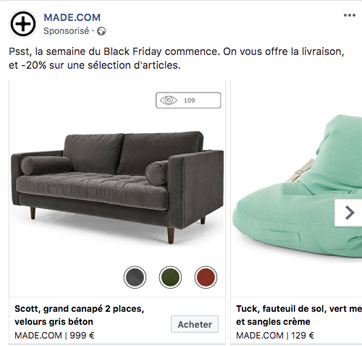 Discover also our tips to create a Facebook ads

10 – Segment your emails
Email is an essential channel for generating traffic to your e-commerce site and is also ideal for building relationships with existing customers, reconnecting with inactive customers or acquiring new ones.
In order to be effective, you need to be strategic about when to send your promotional emails and to whom, especially before and during Black Friday. The more segmented and targeted you send your emails, the more revenue you will generate per recipient. You should also see higher open rates and click-through rates.
Start by segmenting your subscribers into distinct groups based on their geographic location, purchase history and overall engagement with your email campaigns.
To do this best, we advise you to segment them into 3 types of customers:
Existing customers (your best customers, regular buyers and customers who have already purchased on your site): reward them with, for example, previews / an exclusive VIP sale.
80% of your profits come from 20% of your customers
Inactive customers (customers who have abandoned their shopping cart and visitors who have browsed your site without adding to the cart): seize this opportunity to reconnect with them by reminding them of their good memories. Encourage them to finalize their purchase or at least open your emails!
New customers (customers who have recently subscribed to your mailing list): consider offering them a special welcome offer.
Each of your messages will need to be tailored and personalized to each segment. Here are some ideas for emails to send them for Black Friday:
teaser email / countdown to Black Friday week. Your call to action should lead your recipients to your e-commerce site so that they start to examine your products and make a list of items that interest them;
exclusive email containing an overview of your offers for your best customers. This email should serve as a reminder of your participation in Black Friday and contain a direct link to your homepage or dedicated landing page;
email incentive including product recommendations;
Emotional" email containing a guide to Black Friday discounted gifts;
warning email containing a final reminder before the end of the sale / limited time / limited quantity.
It is also recommended to pay special attention to the subject line of your emails. Your subscribers' inboxes may be saturated before and during Black Friday, but also throughout the period leading up to New Year's Eve. In order to get your emails clicked and read, you'll need to be creative and original in your subject line.
The traditional approach is to directly indicate your discounts in the subject line of your email. But there are plenty of other ways to get your subscribers' attention. If you can add a unique marketing hook, you should get better results.


11 – Launch Google Ads campaigns
To promote your offers during Black Friday, you can set up a specific campaign on Google Ads. Prepare your ads for search and display in advance so that they are approved before the day they go live.
In order to massively improve the CTA (click-through rate), in your ad titles and texts make sure you use words that incite action such as :
Free shipping ;
[Pourcentage] Off;
Black Friday;
Cyber Monday;
Now.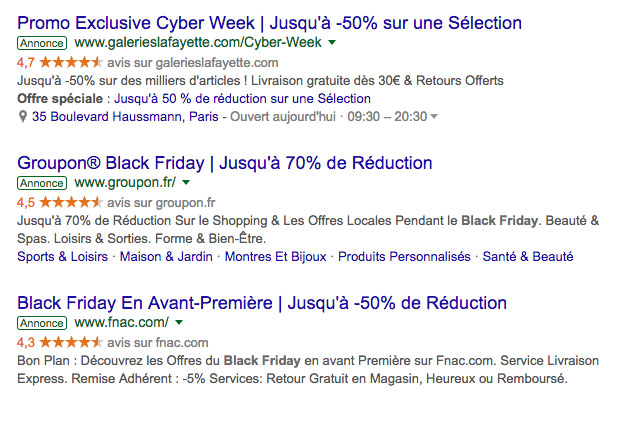 The week leading up to Black Friday is also a great time to activate remarketing campaigns targeting your email list/previous visitors.


After Black Friday 2021
Once Black Friday and Cyber Monday are over, there's no resting on your laurels ;). Now is a good time to focus on setting up remarketing campaigns to leverage new visitors and acquired customers, and to target your existing customers before Christmas.
Indeed, during Black Friday, your customers will have browsed many websites and you will most likely see an increase in your abandoned carts.


Last year, overall basket abandonment over the Black Friday weekend was 72.5%, with the US having the highest abandonment rate.

Don't miss this opportunity: it's a windfall of leads to convert. Target them with remarketing campaigns (on Facebook, Google Ads, etc.) and, if possible, send them abandoned cart reminder emails about the items they left behind.


In conclusion, the Black Friday period represents both an opportunity to increase your sales and a major challenge. The sales potential is huge, but to maximize it, your e-commerce site must be optimized and a digital marketing strategy must be implemented.
Get started now so you can enjoy a valuable return on investment when the time comes!
---
Did you like this article?
Subscribe to our newsletter and you will receive our other articles once a month in your mailbox