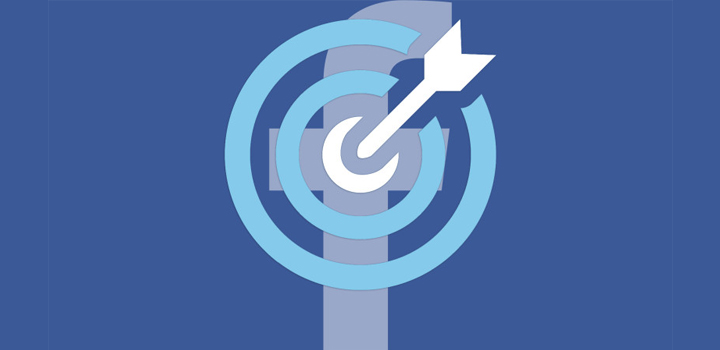 6 tips for creating a successful Facebook Ads
Setting up a Facebook Ads is one of the best ways to promote your business and products online. The social network is not only number one in terms of number of users, but it is also versatile in terms of tools and advertising options.
Facebook is a real pool of potential customers… as long as you go looking for them, convince them and seduce them! Connecting with the huge Facebook community from a marketing perspective is not always easy.
Targeting, design, message, landing page… A few adjustments can be made to increase your chances of successful Facebook ad campaigns!
How to improve your Facebook Ads?
The 5 types of Facebook Ads
Before we get into the nitty gritty, let's review the main types of Facebook ads:
Computer sponsored ad: ideal for engagement and sales/lead generation. This type of ad appears directly in a user's News Feed when they access Facebook from a computer and is more like native advertising.
Mobile sponsored ad: ideal for mobile app engagement and installs. This type of ad appears in the user's mobile newsfeed and is displayed as a native message from the people and pages they follow.
Sidebar Ad (Computer): With a smaller image and less readable text than the sponsored ad, it appears on the right side of a user's Facebook News Feed. Social media marketers often use this type of ad for retargeting. Note that Facebook Ads can contain fewer characters, so be careful not to make your text too long as in the example below: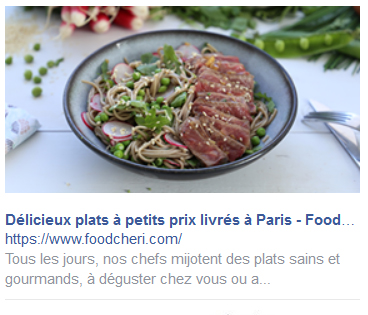 Video ad: appears prominently in the user's new news feed and offers more engaging content than static ads.
Boosted post: to promote a post that has already been created on a Facebook business page. This type of announcement differs from the others since it is not created in the Announcement Manager. The disadvantages? There are fewer options for bidding, targeting and pricing. However, you can include more text in the description, as there is no word limit on boosted posts.
1 – Targeting the right audience
What's the key to targeting? Relevance. Remember, you are spending money when someone views or clicks on your Facebook Ads (depending on the settings you use). If you're running ads that aren't relevant to your target audience, you're wasting your time and money and will probably never be successful.
To sell effectively on Facebook, you need to create content as if you were talking to one person. This person, your target, is the one you need to woo and persuade. You need to focus all your attention on her and her needs.
Of course, most businesses have different kinds of customers with multiple needs. But if you don't narrow your market, your audience will be too large and it's unlikely that you'll be able to get anyone's attention. To market your product more effectively, you need to target a specific group of people and define several types of potential customers:
Male or female?
Age and location?
Professional situation and employer ?
What is the biggest problem he or she hopes to solve by using your product?
The huge plus of Facebook is that you can also target your audience according to their interests.
Let's say, for example, that you want to create an ad for a new line of cosmetics not tested on animals. You will be able to target an audience interested in makeup and animal welfare, and exclude another part of the audience that likes makeup, but whose consumption mode would be less "ethical".
To help you, Facebook provides Audience Insights, a tool that reveals a huge amount of data about your audience. Originally designed to help advertisers target their campaigns more effectively, Facebook Audience Insights is so accurate that it is also commonly used by marketers who want to know more about their audience.
2 – Send to optimized landing pages
The landing page of your Facebook Ads can make or break its success.
If a Facebook user clicks on your ads, it's probably because of the image, the message and/or the proposition that appealed to them. After clicking, they should end up on an optimized landing page that reinforces what they saw in the ad.
Imagine what would happen if, after clicking on an ad for red sneakers on Facebook, you end up on a page with hundreds of sneakers, but without the red ones. You'll probably leave the site fairly quickly, if not immediately.
Sending the user to a landing page specific to your offer is therefore crucial! The most important elements on your landing page:
The title: both clear and concise, it tells visitors what they get in less than seven seconds.
The subtitle: is used to give more context to the title.
The product description: should explain in depth the value of your product and why the user should buy it.
Images: use the same images as in your ad.
Social proof: publications about your company or reviews from people who have used your product or service.
The call to action: placed above the waterline.
Mobile optimization: a large percentage of users will come from a mobile device. A landing page that is not mobile-friendly is therefore useless.
3 – Use the call to action (CTA)
The design and relevance of your advertisement are particularly important, but they are not everything! Without a call to action, the user may not know what to do next.
Each Facebook Ads must have a clear objective. Are you trying to increase brand awareness, sell a product…? In any case, each ad should include a clear call to action. Without it, Facebook users will see your ad, but they probably won't have any idea where to click. Therefore, take the lead on your visitors: tell them what action you want them to take!
If a user clicks on your ad and arrives at your landing page, they won't waste time figuring out what to do next. He will already know this and will be able to take the desired action quickly.
They'll know because you've prompted them in your ad with a call to action like"Download our ebook…","Subscribe to our newsletter for a chance to win…","Buy now and get £10…", etc. etc.
4 – Optimize the visual(s)
On Facebook, when users scroll through their News Feed, images stand out more than text. It gets their attention initially and encourages them to continue reading the content of the ad.
The rule? No matter what type of ad you create, your image must be visually appealing. You have several choices:
Use the Carousel ad: to display multiple high quality product images.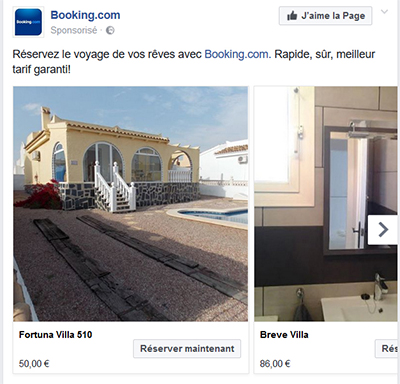 Incorporate video: in addition to being eye-catching, videos allow you to deliver a more consistent message than image and text combined.
Add a discount label on your products: instead of mentioning a discount in the body of the text, mention the promotion in the image of the ad.
Use photos of real people: several studies show that people like to see human faces. It's deeply ingrained in our brains, so use it in your Facebook ads!
Choose colours carefully: subtle changes in colour can influence the way we see advertising, so take your time to ensure you don't miss out on the psychological powers of different colours.
In all cases, be creative, but remember that while the image should be captivating, it should not be offensive or scandalous. This would be against Facebook's rules, and your ad will be rejected.
5 – Optimize the message
Your number one priority should be to write a Facebook Ads ad that is easy for anyone to understand. When someone sees your ad, they should immediately know what you offer, how to benefit from it and what to do next.
To write engaging content that motivates towards an action or result, you have several choices:
Include a value proposition: this tells the user why they should click on your ad. Explain how your product or service is different from others. Of course, your value proposition must be credible. Highlighting the benefits of your product does not mean you should overpromise or, worse, lie.
Using "click triggers": "Free Shipping" or "Money Back Guarantee" makes your offer more attractive…
Add a notion of urgency: play on the fact that your product is an opportunity to be seized and that you must not let it slip away. Urgency can lead to instant action, for fear of missing something.
Add a notion of scarcity: show that your product or offer is limited to push the user to act. Try some of the following words for your next Facebook Ads: "Limited time!", "Act now!" or "Last chance!"
Add social proof: it addresses the fears of customers who resist buying your product for fear of making the wrong choice and losing money. The most effective social proof is the testimonials from your customers that make your Facebook ads compelling. If you don't have any testimonials, you can always leverage your large user base.
6 – Test different ads and modify accordingly
The only way to improve your Facebook Ads is to test. Regardless of your level of expertise or the length of your Facebook ad, test both the design and its targeting.
Every time you create a new campaign, take the time to come up with at least 4 different Facebook ad templates, and then test each one. For example, you can test two different images with two different texts. You can also try creating two separate ads, each with the same image, but with a different message, to see what works best with your audience. Which version gets the most feedback, comments, conversions?
For each test, make sure you give the campaign time to return real data on what works. Ideally, you should leave an ad for at least a week before you start making changes to it. However, leaving ads on too long can also damage your campaign by causing ad fatigue.
If your budget allows it, test everything, even the craziest ideas! Then track Facebook data from click to conversation and adjust your ads based on the results of the different ad variations tested.
With Facebook Ads, there is no single key to success. It is a continuous process of testing and optimization. Over time, you'll start to notice patterns and see things start to work. At this point, you can expand your campaigns to their profitability.