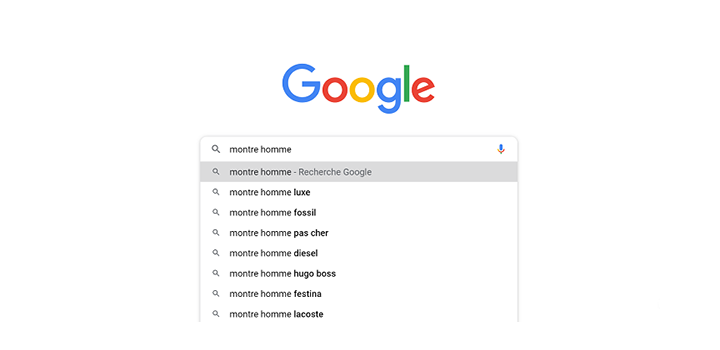 Trends in watch and clock searches on Google
Various studies analyze the search trends of Internet users on Google. This data is valuable in understanding consumer habits and behaviors. Working and elaborating your content is essential to be visible on the web.
The most searched watches on Google
Watchfinder & Co., a company specializing in second-hand watches, has revealed the figures for the most popular watch products on Google. Watches receive approximately 63 million searches per year on 2,080 different models worldwide. In France, requests for luxury watches are close to 5 million. Not surprisingly, Rolex, the luxury watch brand, is the most popular and wins the top spots.
Here are the top 5 most sought-after luxury watches in the world.
"Rolex Submariner" is typed about 5.1 million times a year;
"Rolex Daytona, $3.8 million;
"Rolex Datejust, $2.5 million;
"Rolex Oyster Perpetual, $1.8 million;
"Audemars Piguet Royal Oak, 1.4 million.
Here are the top 5 most sought after luxury watches in France. The Rolex Submariner still holds the top spot.
"Rolex Submariner", with 486,000 searches;
"Rolex Daytona", 397,200;
"Audemars Piguet Royal Oak", 177,600 ;
"Rolex Datejust 177,600 ;
"Patek Philippe Nautilus" 118 800.
Watch search modes
Other studies orchestrated by the Digital Luxury Group allow us to understand consumer behaviour. With WorldWatchReport Benchmark (WWRB), the company delivers various market studies on online purchases in the watch sector.
Online watch buyers would do so more on mobile than all digital consumers (+8%). They make 3.7 visits on mobile and 6 visits on computer before buying online and browse about 10.5 pages per visit compared to 5.6 on computer. For the head of analysis, the pace of purchasing on mobile is fast and spontaneous.
On the other hand, when customers are looking to locate a physical store, it seems to be as much on mobile as on desktop. The study of the customer journey and the user experience are essential points to be taken into account and analyzed. While most luxury watch brands focus on a flawless homepage, it seems that product and category pages are often neglected even though they are ultimately seen much more.
The rise of smartwatch research
Bénédicte Soteras, head of research at Digital Luxury Group, published an analysis based on global Google searches. Between 2015 and 2018, interest in connected watches increased by 222%. Between 2018 and 2019, the term was searched more than 2.7 million times on average per month.
According to Google trends, the phrase "connected watch" in France is breaking records, as is "best connected watch 2020" or "how does a connected watch work" which has increased by 300% between 2020 and 2021.
In comparison, key queries for luxury smartwatches grew slightly less between 2015 and 2018 with +187% than consumer watches. The search volumes are much lower. The "luxury connected watch" was typed about 4,300 times a month in 2018.
Traditional watches do not lose interest, however. Collectors and influencers, for example, play an important role in the reputation of timeless models and traditional watchmaking. Requests for "double time watch" or "self-winding watch" are typed 5,400 and 8,100 times respectively. Demand for mechanical watches therefore remains a priority for luxury consumers.
Search trends from Covid
Another, more recent report from Digital Luxury Group focused on the impact of the pandemic on the luxury watch industry. The industry has seen a significant drop in interest since March 2020, comparable to 2011. Internet users and consumers focused on basic necessities, safety and psychology.
24 watch brands were analyzed. There was a decline in overall search volume of 1% between April 2020 and 2019. While some brands were able to take advantage of the situation with product launches and social media campaigns (Vacheron Constantin and Girard Perregeaux), others suffered the full force of the loss of momentum associated with covid. Hublot and TAG Heuer, for example, sponsor sporting events that have all been cancelled.
In these times of crisis, luxury watch brands must reinvent themselves and develop their digital marketing strategy. Content creation remains essential for a brand's visibility.
Contact Alioze, specialist in the watch industry, to help you build your communication.
Sources:
Montres-de-luxe.com :
Madame.lefigaro.fr :
Digitalluxurygroup.com:
Digitalluxurygroup.com: