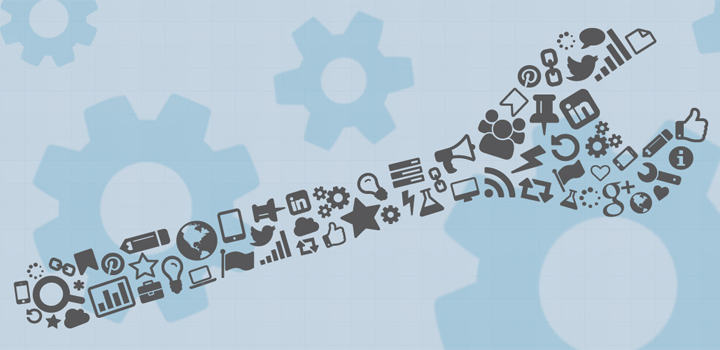 Top free and paid SEO tools for natural referencing
[Editor's note: this article will be regularly updated and completed.]
In France alone, more than 80% of traffic comes from Google. It is therefore essential to climb to the top of the search results in order to improve the acquisition and conversion rate of your website.
We propose you a small review of the best existing SEO tools that will help you in the implementation of an effective SEO strategy.
Keyword research and analysis tools
Social network monitoring tools

Free VS Paid SEO tools
There are several paid SEO tools available if you have a limited budget to devote to your SEO, or if you want to work on an optimization strategy without using an agency or a third party partner.
There are also several free SEO tools. If they do not include all the features of paid tools, they can nevertheless point you in the right direction to start your SEO strategy.
Keep in mind, however, that while all of these SEO tools are very useful, they will only provide you with data; it is how you interpret and analyze that data that will make the difference.

SEO audit tools
Before starting an SEO strategy, it's best to first analyze your website to identify the necessary corrections and the areas that need to be improved first.
A good starting point for this is to use an SEO audit tool. Also called a "crawler", this type of tool explores the different pages of your website, just like Google's robots. It then lists the different elements to optimize to make your pages easier to crawl and index by search engines.
Free – WooRank Plugin
WooRank is a free SEO tool particularly easy to access to get an audit of your site, but also of your competitors. Small drawback: only the homepage is initially analyzed. To know the level of optimization of your other URLs, you will have to resubmit an analysis manually.
For each analysis, WooRank reports problems related to many parameters on the page: metadata, keywords, title usage, etc. In addition, the tool encourages you to make improvements to your content. For example, if WooRank detects that you don't have a blog or a contact form, it will recommend you to create one. Performance is also checked, such as page size or loading time.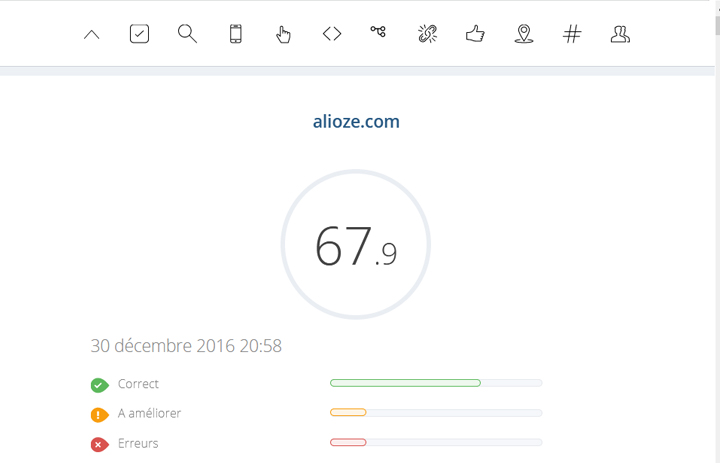 In summary, WooRank is a good SEO tool, although relatively limited to fully audit a site since it requires spending some time to analyze each page one by one.



Freemium – Screaming Frog
Screaming Frog is an excellent SEO tool to audit your website from a technical point of view and quickly collect the essential information needed for its optimization. It gathers in a filterable spreadsheet, for each page :
The links
The Page titles
The Meta description
The Redirects
The 404
The alt attributes
The number of internal backlinks and external links
The Metadata, etc.
To get the most out of Screaming Frog, however, you will need to have a minimum knowledge of SEO techniques in order to properly exploit the data provided.



Paid – DeepCrawl
Deepcrawl offers a service that is relatively similar to Screaming Frog, except that it presents the data visually, in the form of graphs, and not in a spreadsheet.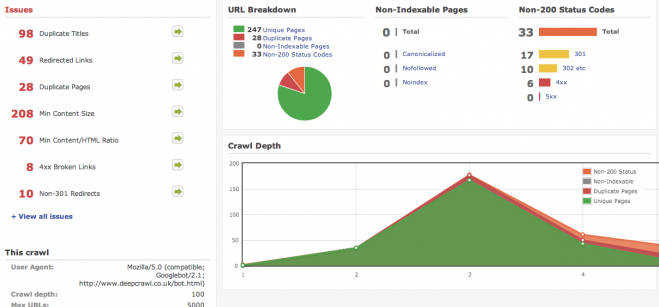 This tool is also able to identify content, highlighting missing titles, duplicate pages or content length.



SEO positioning tools
If you want to know the positioning of your different pages in the SERPs, without having to browse the search results pages for hours, an SEO positioning tool will be very useful.

Free – Google Search Console
How to write an article about the best SEO tools without talking about Google Search Console? This is one of the most useful Google services for monitoring your website's performance. Using the "Search Traffic" tab, then "Search Analysis", Google Search Console will offer you a list of keywords you are currently ranking for. By focusing your SEO efforts on optimizing the pages that are positioned on the second page of search results, you should be able to move up to the first page.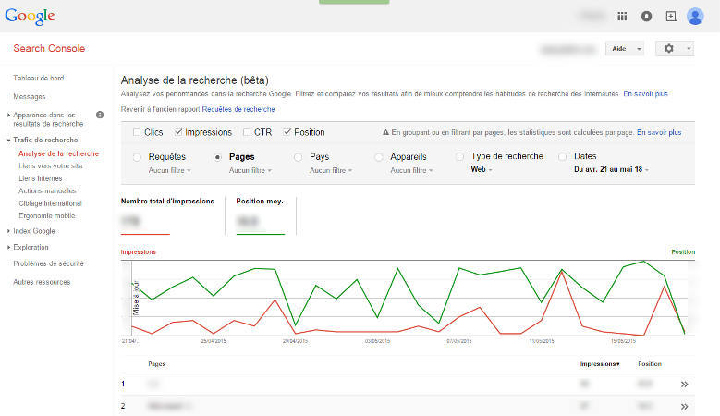 Google Search Console has two weak points: the data reported is 3 days old and is only kept for 90 days before being permanently lost.
Free – SEO Hero Ninja
SEO Hero Ninja is a simple and free website that allows you to immediately find out your position for a keyword on multiple Google datacenters. Specifically, it allows you to get your average position and detailed position per datacenter. A large gap between datacenters usually shows some future movement on SERPs.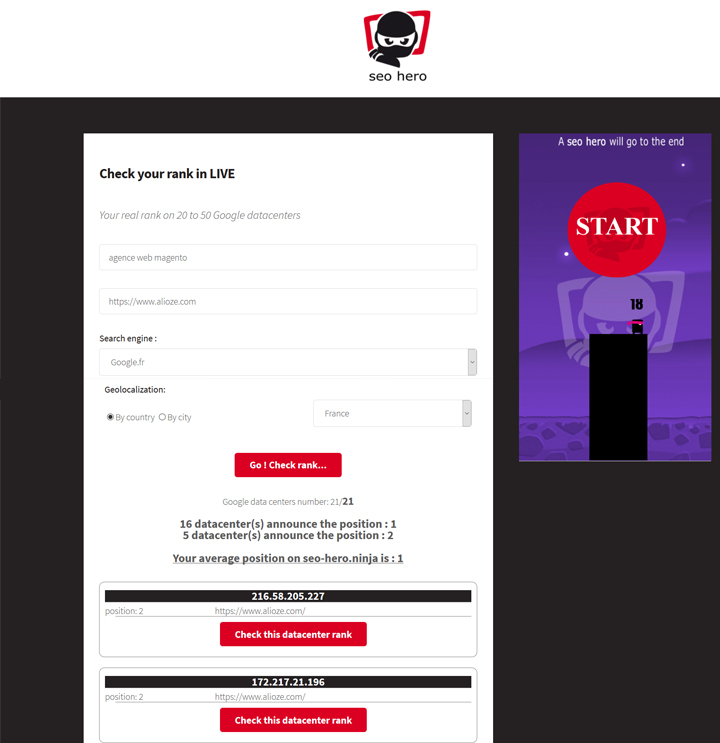 Freemium – SEMRush
SEMrush is a powerful suite of SEO tools offering a ton of features. In short, this tool allows you to track any domain or keyword from any geographic location and different devices.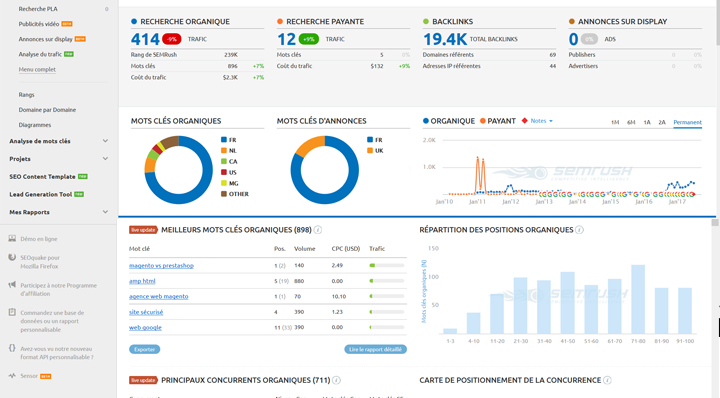 In addition to tracking keyword rankings, SEMRush provides all sorts of analytical reports on search, advertising, backlinks, as well as a keyword analysis tool, social networks and auditing functions.



Paid – Authority Labs
Authority Labs is a handy tool, thanks to its ability to track your website's keywords. You can perform a daily check of your position on keywords you have imported, and then turn the results into a weekly report.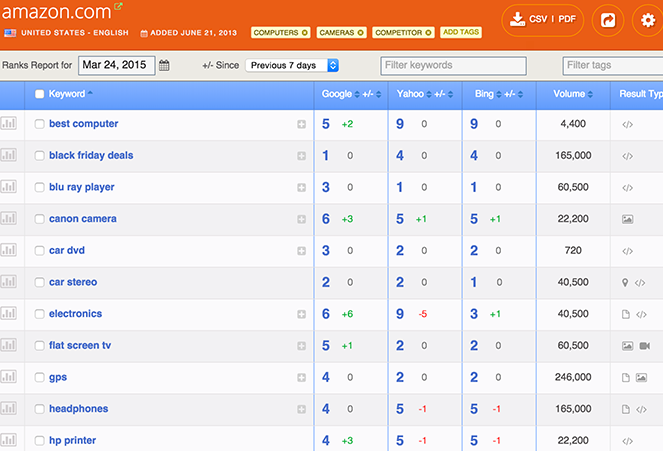 Paid – SE ranking
If you're looking for a simple and easy-to-use tool to track your keyword rankings, SEO Ranking will do the trick. The intuitive dashboard shows you at a glance your daily ranking changes, and those of your competitors, in Google, Yahoo! and Bing search results.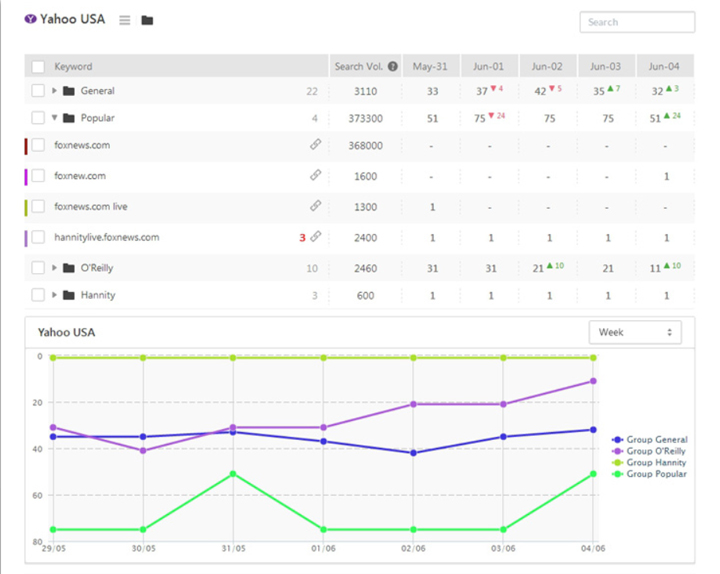 The fully automated tracking is updated daily, and you can also update it manually to see your results in real time. Tracking can be done for your domain, your subdomains and each of your web pages.

Paid – Moz
For those who need much more than just tracking, Moz has everything you need in terms of an SEO tool. It offers a wide range of features, including Moz Analytics, On-Page Grader, Keyword Difficulty and Crawl Test tools. Among other things, the tool offers the ability to compare your rankings with your competitors and filter the data by keywords, search engines, etc. An in-depth competitor analysis allows you to see how domain name authority, link volume, anchor data and title tags affect a page's ranking.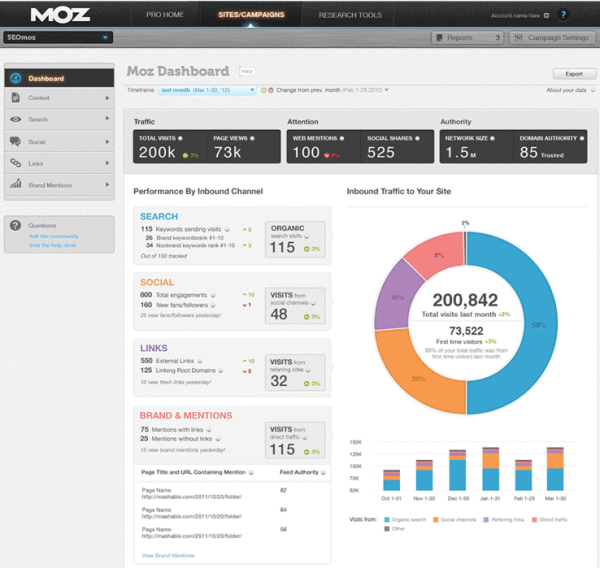 Paid – Serpstat
Serpstat is a very functional and efficient marketing kit that allows its clients to have several tools in one. Thanks to this platform, SEO experts can know the positioning of their sites in a detailed way by taking advantage of graphs, follow the positions of competitors, group keywords with tags, use the automatic monitoring of SERPs (every day / every 3 days / every 7 days), identify search volume, etc.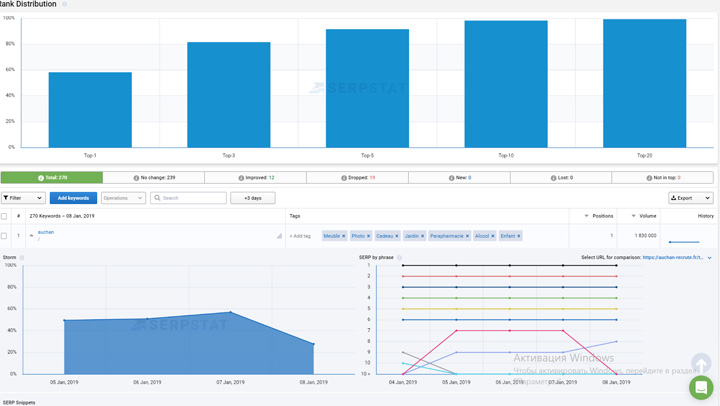 In addition, Serpstat allows you to export data ( CSV Open Office, Libre Office, XLSX Microsoft Excel, XLS Microsoft Excel).



SEO tools for competitor analysis
Using an SEO competitor analysis tool allows you to track your competitors' rankings, published content or social mentions.

Paid – SimilarWeb
SimilarWeb provides accurate and informative data about your market's competitors and their websites, as well as your industry as a whole. This SEO tool collects metrics on traffic, engagement, keywords, etc. to give you a complete picture of how you can gain an advantage in your market.SimilarWeb provides accurate and informative data about your market's competitors and their websites, as well as your industry as a whole. This SEO tool collects metrics on traffic, engagement, keywords, etc. to give you a complete picture of how you can gain an advantage in your market.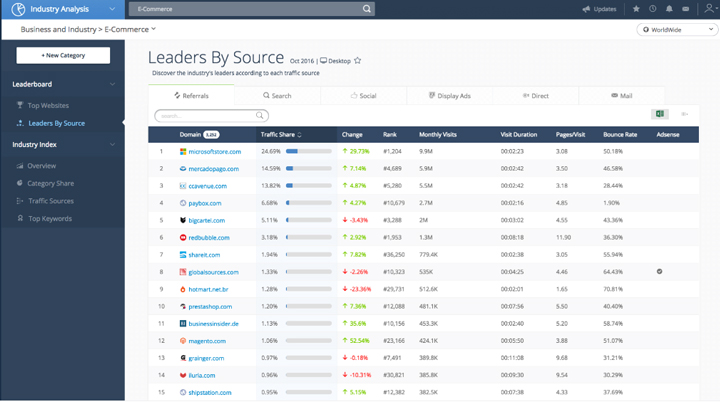 Paid – SEOprofiler
Reducing SEOprofiler to a simple competitive analysis tool is reductive. It is in fact a complete suite of SEO tools that includes keyword ranking tracking, page auditing, competitive intelligence tools and backlink tools. With the ranking tracking tool, you can enter the keywords you want to track, and you also get keyword suggestions. It has features to prioritize which keywords to target, including a difficulty analyzer and an optimization tool for Google Ads.
Its competitive analysis tools also track your competitors' positioning relative to yours, as well as their advertising strategies and backlinks. SEOprofiler also integrates with Google Analytics and social networks, and has many advanced reporting features.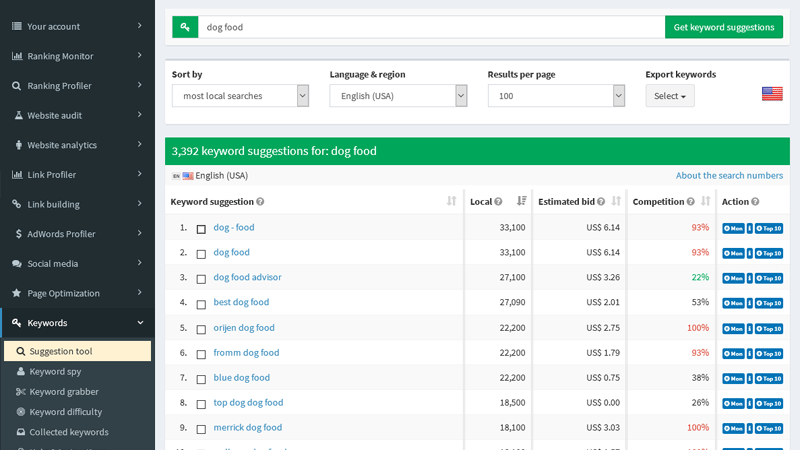 Paid – Serpstat
As mentioned before, Serpstat provides access to different information. In particular, it allows you to analyze the keywords in the URLs of competing sites using a "Competitors" tool.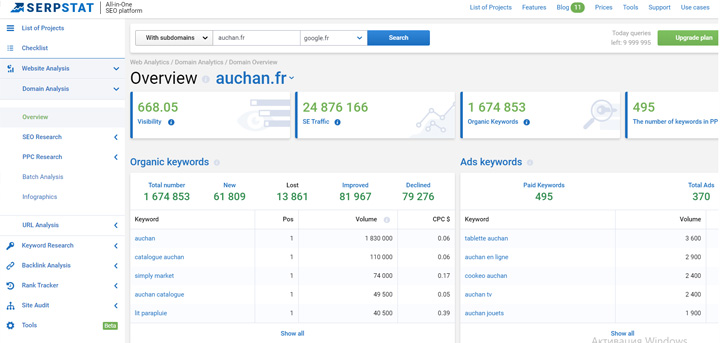 This tool proposes a list of competitor keywords that the client has not yet used. To facilitate the work, it is possible to sort the phrases by position (or by frequency).


SEO keyword research tool
Optimizing your website for SEO obviously relies on targeting the right keywords to include in your various content and metadata.
Different SEO keyword research tools address this need, ranging from free ones with basic functionality to sophisticated solutions with high prices.

Free – Google Keyword Planner
Google Keyword Planner is mainly for advertisers who use it to research keywords for their PPC campaigns. However, you can still use it even if you don't have active campaigns. All you have to do is create a Google Ads account.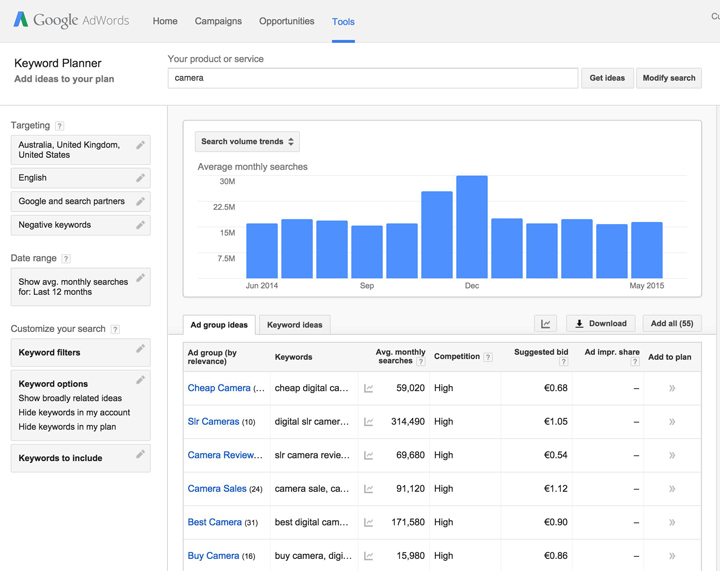 The tool allows you to generate keyword lists based on a given keyword (or list of keywords), URL or product category.

Freemium – Wordstream
WordStream provides businesses with keyword suggestions for their PPC and SEO campaigns. The tool returns thousands of accurate data points from a constantly updated database of over 1 trillion search queries from various sources. There is also a feature to organize and group related keywords in just seconds.

Freemium – Term Explorer
Term Explorer is a keyword generator that allows you to expand your keyword lists, collect search volumes and understand your competitive data. To use it, simply enter your keyword in the dedicated tool, then launch the analysis. 30 seconds later, Term Explorer provides you with a list of keywords in batches of 1000, 10,000 or 25,000!

Paid – SECockpit
This SEO tool can find keywords for all languages and countries instantly, allowing you to spend less time planning your SEO strategy, and more time executing it.
SECockpit is very useful to help you choose the best keywords: it not only provides interesting keyword suggestions, but also specifies potentially problematic keywords, search volume per month and many other information.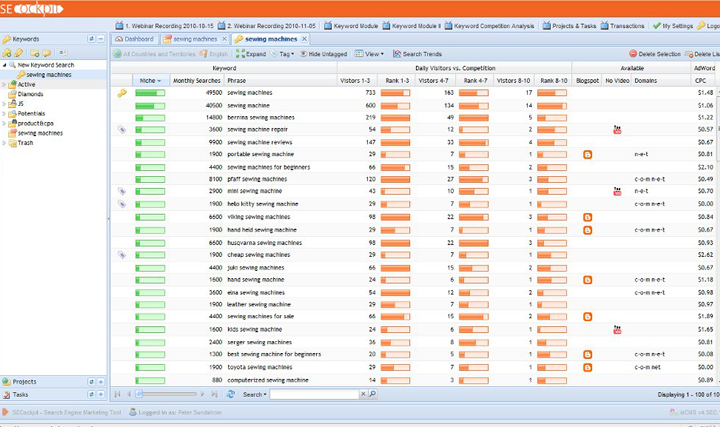 Paid – SEMRush
Already mentioned before, SEMRush is a complete tool with many features, including keyword research. It allows you to :
View the popular keywords in your market/industry.

Display the organic traffic data that the keyword receives.

Identify related keywords, phrases and terms to include in your content and link building strategies.

Access a list of the top sites competing for those keywords.
You can specify which search engine you want to see results from. Please note that you will also be able to retrieve search data from countries other than the one in which you reside.

Paid – Serpstat
Serpstat's SEO tools are particularly well suited. By using the "Keyword Research" tab, you can search for keywords for SEO and PPC campaigns, choose the right LSI keywords and get to know the top pages.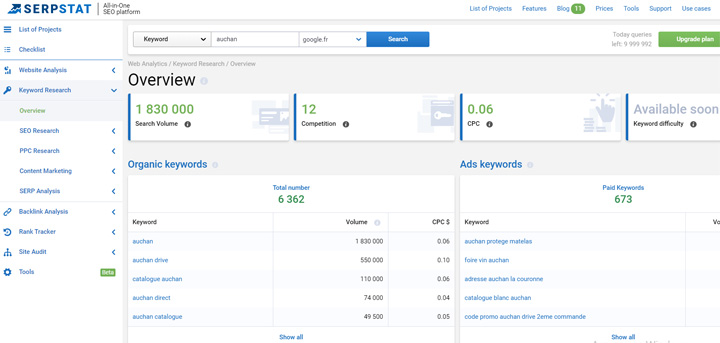 Free – Answerthepublic
The kind of keyword research tool we love at Alioze! Answerthepublic allows you to extract and visualize the Google queries of Internet users around a given keyword. A real mine of information on the real questions, intentions and search formulations of Internet users, which gives hundreds of ideas for content to create.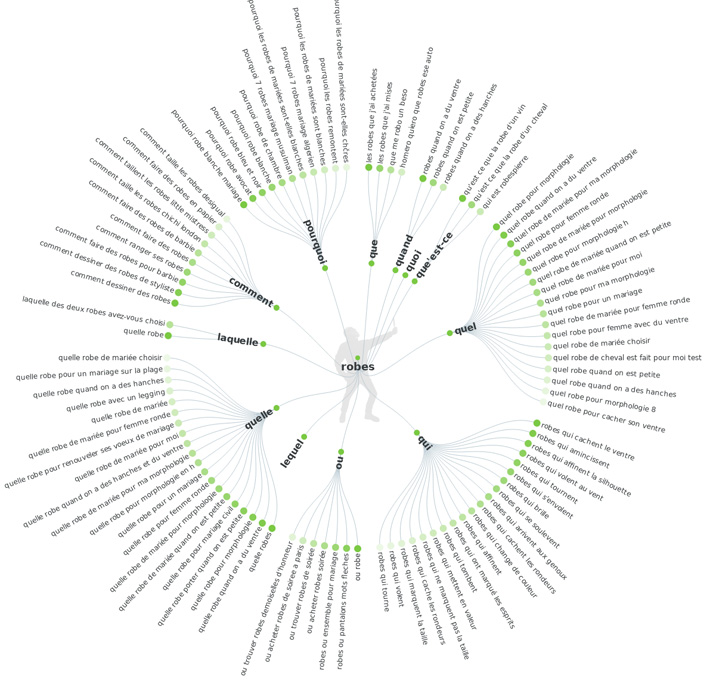 SEO backlinks tools
SEO professionals know that backlinks are among the most important ranking factors in the SERPs.


See also our best strategies to get quality backlinks.

Free – LinkMiner Plugin
Link Miner is a quick and easy to use SEO tool. It allows you to crawl the page you are on to find out the total number of links, external links and detect broken links. The whole thing can then be exported to a CSV file.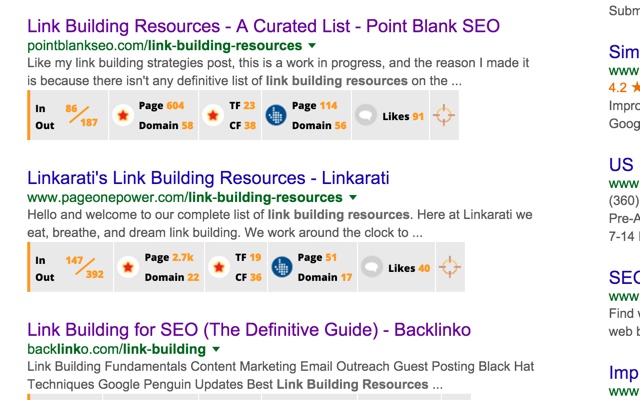 Freemium – Majestic
Majestic specializes in backlink analysis. The tool has many reporting, visualization and analysis options to know the number of your backlinks and their qualities. But its strong point is also, and especially, its link building features.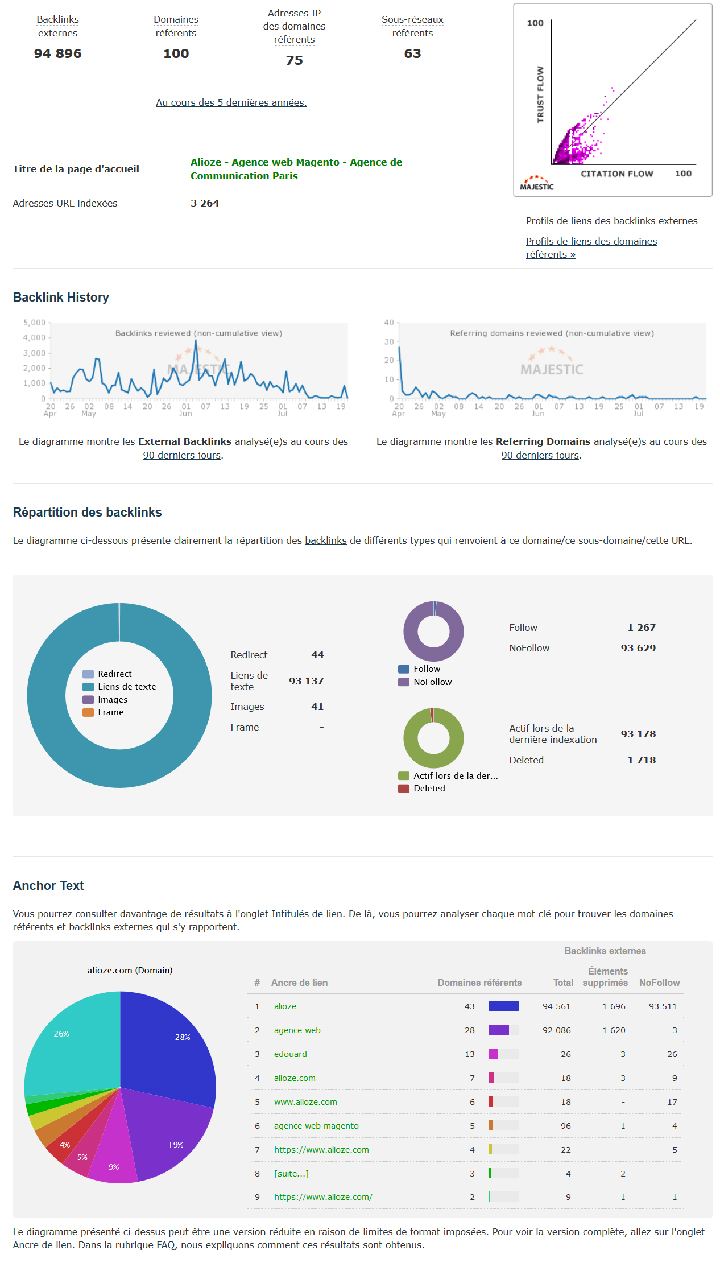 Paid – Ahrefs
Widely considered the leading SEO backlink tool, Ahref provides easy access to URL and/or domain information:
Total inbound links

Unique domains, tweets, likes, shares and G+

Link gain/loss graph history

Anchor text cloud

Attributes dofollow / nofollow / image / text link 

Internal / external links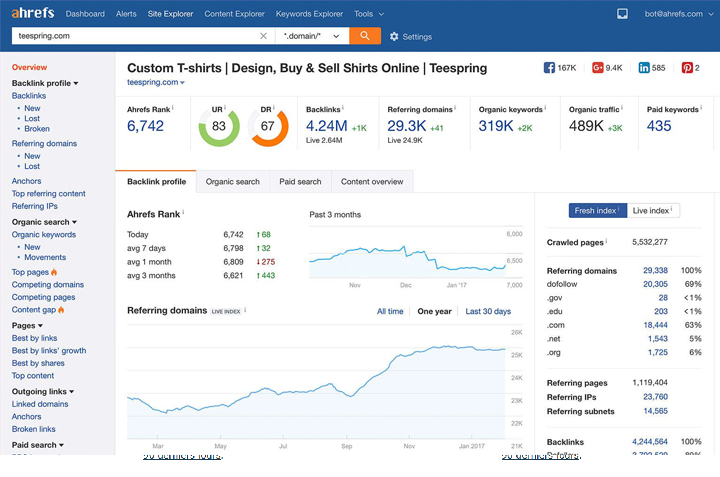 Paid – Ontolo
Ontolo is dedicated to helping you find the most beneficial leads for your SEO, such as quality backlinking opportunities, guest blog posts and other marketable content.
The tool even gives you contact information for each lead and offers charts and reports to help you easily understand the data provided.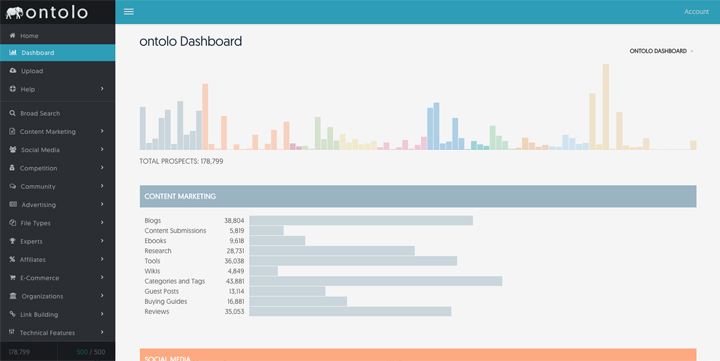 SEO tools for social media monitoring
Social networks have established themselves as indispensable tools for your marketing. When used properly, they are also very useful for your SEO optimization.

Freemium – Hootsuite
Social media monitoring might not be the first thing that comes to mind when you think of SEO tools. However, Hootsuite can boost your SEO by monitoring the different mentions and conversations on social networks that take place between you and your customers. A very useful feature to identify your most loyal customers, but also the people who talk about you.