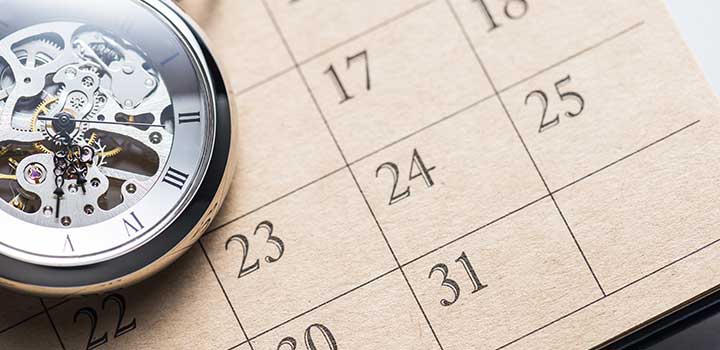 Watch Marketing Calendar 2021 (key dates and events)
The publication calendar is the tool that lists all the events not to be missed in the watchmaking sector. As a communications professional, it will help you find inspiration for writing on social networks or finding ideas for blog posts. The 2021 watch marketing calendar is essential to build a content strategy for your watch brand.
Watch marketing calendar January 2021
In January, we wish that time would go by faster and that covid would be a bad memory. Fortunately, fashion continues to exhibit and the watch industry continues to produce, hoping that 2021 will be better than the one that just passed.
New Year's Eve:1st
Epiphany: 3
End of Christmas holidays: 4
First day of sales in France : 6
Blue monday : 18
Paris Fashion Week Men's Fashion : from 19 to 24
International Women's Sports Day: 24
Haute Couture fashion show: from 25 to 28
Watch marketing calendar February 2021
Carnivals and other festivities are mostly cancelled or, at best, virtual. Valentine's Day is still the time to give a watch to your loved one.
Holidays: zone A (6 to 22), zone B (20 to 8 March), zone C (13 to1 March)
Virtual Venice Carnival: 7 to 16
Chinese New Year: 12
New York Fashion Week: from 13 to 21
London Fashion Week: from 13 to 23
Valentine's Day: 14
Mardi Gras: 16
Milan Fashion Week: from 21 to 25
Vendôme Luxury: February 28 – March 2
Watch marketing calendar March 2021
The watch is a good idea for a gift to give to your grandmother, it accompanies the wrists of stars at the Caesars and Grammy Awards. It is the essential jewel to wake up during the day of sleep on the 13th and change time on the 28th of March.
Paris Fashion Week Women's Fashion : from 1 to 9
Grandmother's Day: 7
International Women's Rights Day: 8
International Start-up Day: 11
46th Césars Ceremony: 12
National Sleep Day: 13
Grammy Awards Ceremony: 14
Saint Patrick's Day: 17
Spring: 20
International Day of Happiness: 20
World Theatre Day: 27
Changeover to summer time: 28
Watch marketing calendar April 2021
One of the most important watch fairs is Watches & Wonders in Geneva. This year it will be digital and will take place between April 7 and 13. The European Crafts Days and the World Art Day are an opportunity to discover the know-how and the profession of watchmaker.
April Fools' Day:1st
Easter: 4
Watches & Wonders, digital: 7 to 13
Holidays: from 12 to 26 all zones
World Art Day: 15
Digital Women and Creativity Day: 21
World Earth Day: 22
Fashion Revolution Day: 19 to 25
93rd Academy Awards: 26
World Dance Day: 29
Watch marketing calendar May 2021
Major sporting events are the pretext for partnerships and communication campaigns for watch brands: the Formula 1 Grand Prix, the French Open and the Champions League final.
Labour Day:1st
Armistice 1945: May 8
Ascension: 13
Night of the museums: 15
Monaco Formula 1 Grand Prix: 20 to 23
French Open: June 17 to 6
Pentecost: 23
Istanbul Jewelry Show : 27 to 30
Champions League Final 2021: 29
Mother's Day: 30
Watch marketing calendar June 2021
The month of June is the month of trade fairs and events that cannot be ignored in the luxury watch sector. It may be possible to travel around the world to not miss anything: Luxury & Premiere in Las Vegas, EPHJ in Geneva, Jubilane in Krakow, etc.
By luxe Pack :1st and 2nd
Luxury & Premiere, Las Vegas: 2 to 7
World Environment Day: 5
World Oceans Day: 8
EPHJ-EPMT-SMT, Geneva: 8 to 11
Cracow Jubinale: 10 to 12
International Surfing Day: 20
Father's Day: June 20
World Yoga Day: 21
Fête de la musique and summer: 21
Inbound Marketing France: 21 to 25
Paris Fashion Week Men's Fashion: from 22 to 27
Spring-summer collection sales: 23
Tour de France: June 26 to July 18
Watch marketing calendar July 2021
The summer holidays are finally here to make the most of your free time. However, we are not forgetting the major events such as the Cannes Film Festival from 6 to 17 July and the Paris luxury fair on the 19th.
World Naturist Day:1st
Cannes Festival: July 6 to 17
Haute Couture fashion show: 4 to 8
SIJE – Singapore International Jewelry expo : 8 to 10
Summer holidays : 6
National holiday: 14
Paris luxury fair: 19
Tokyo Olympic Games: 23 to 8 August
Watch marketing calendar August 2021
There is no respite in August for the watchmaking industry; it is time to prepare for the new school year. The 24 hours of Le Mans, which will take place on 21 and 22 August, are ideal for communicating about top-of-the-range and sports watches.
World Beer Day: 7
MIJF – Malaysia International Jewellery Fair : from 7 to 10
International Cat Day: 8
World Lion Day: 10
World Elephant Day: 12
Assumption: 15
World Photography Day: 1924 H du Mans: 21 and 22
World Dog Day: 26
World Blogging Day: 31
Shelving of the year's pre-fall collections in the boutiques.
Watch marketing calendar September 2021
The new school year is starting at full speed. There are many jewellery and watch fairs, you will have to choose between the one in London, Hong Kong, Prague or Monaco. The Deauville Festival and Heritage Days are also the time to showcase the most beautiful models of watches.
Back to school:1st
Top Marques Monaco:1st to 5th
Deauville American Film Festival: 3 to 12
World Beard Day: 5
Jewellery & watch Birmingham : from 5 to 8
Yachting Festival: from 7 to 12
Hong Kong Watch & Clock: from 7 to 11
Watches & Jewellery, Prague: 9 to 11
Heritage Days: 18 and 19
Fall: 22
Portojoia: 23 to 26
Gastronomy festival: 25 and 26
World Maritime Day: 24
Paris Fashion Week Women's Fashion: from September 27 to October 5
Luxe Pack Monaco: 27 to 29
Bijorhca jewellery fair: dates to be confirmed
Watch marketing calendar October 2021
The not-to-be-missed First Class Accessories Show will take place from October 1 to 4. The FIAC from the 21st to the 24th is also a good time to communicate on luxury watchmaking.
Première classe, the accessories show: from 1 to 4
Pink October: 2
International Girls' Day: 11Penang Signature Gold Fair: 14 to 17
All Saints' Day holidays: from 16 to 31
International Contemporary Art Fair: 21 to 24
Jws Abu Dhabi: 26 to 30
Halloween: 31
Winter time : 31
Watch marketing calendar November 2021
The month of November contains bridges that allow you to plan extended weekends before entering the winter and sitting by the fire. It is also the time to visit the last trade shows of the year, including the one in Cannes on the 4th and 5th.
All Saints' Day:1st
International Emmigration and Luxury property expo, Cannes : 4 to 5
Armistice: 11
Jewellery Arabia : 23 to 27
Davis Cup: 25 Nov to 5 Dec
Thanksgiving: 25
Saint Catherine's Day, fashion festival: 25
Black Friday: 26
Watch marketing calendar December 2021
Mountain days, tea days or Christmas sweaters are ideas for dynamic communication. It's time to get your act together before the holiday season, December is undoubtedly the best month to sell, even in covid time!
Total solar eclipse: 4
ILTM – International Luxury Travel Market: 6 to 9
World Climate Day: 8
Masters expo in Amsterdam: 8 to 13
International Mountain Day: 11
International Tea Day: 15
International Christmas Sweater Day: 18
Christmas holidays: 18
Winter: 21
Christmas: 25
New Year's Eve: 31
Now you can build your content strategy for 2021 with all these key dates. Contact Alioze, a communication agency specialising in watches, to help you with your communication.
Discover also our

marketing calendar 2021

of important dates and events for the luxury industry.