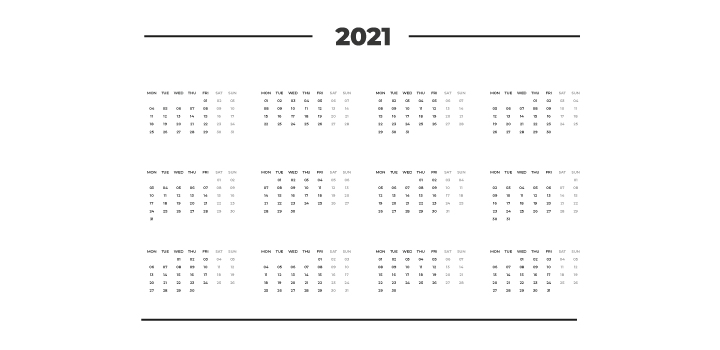 Luxury 2021 Marketing Calendar (Key Dates and Events)
The publication calendar lists events and days not to be missed in the luxury sector. For communication professionals, this is essential for building a useful content strategy for social media, blog news or an advertising campaign. There are many opportunities to showcase its services or products. Trade shows, world days, anniversary dates and fashion shows, everything is brought together in the 2021 luxury marketing calendar.
January 2021 luxury marketing calendar
The start of the 2021 school year will, we hope, be deconfined. This will be the long-awaited moment to set up new projects and to speak to French people in search of meaning and a new dynamic. The recovery is as always associated with the start of sales. There are many fashion shows and luxury, cosmetics and lingerie shows.
New year: 1st

Epiphany: 3

Resumption after Christmas holidays: 4

First day of sales in France Fall-Winter collection: 6

World Without Pants Day: 13

Blue monday: 18

Paris Fashion Week Men's Fashion: from 19 to 24

ADF & PCD and PLD exhibition in Paris: 20 and 21

Luxury training and trades fair: 23

International Women's Sports Day: 24

Haute Couture show: from 25 to 28

International lingerie fair / Interfilière: January 23, 24 & 25

International Comic Strip Festival: 28 to 31

Venice Carnival: 30

Grammy Awards: 31
February 2021 luxury marketing calendar
Let your creativity run free and be inspired by trends from all over the world. Between Italy, China and South America, February is one of the exotic. We never stop traveling, because New York and London Fashion Weeks are also on the program.
Holidays: zone A (6 to 22), zone B (20 to 8 March), zone C (13 to 1 March)

Venice Carnival: 6 to 16

Chinese New Year: 12

New York Fashion Week: 13-21

London Fashion Week: 13-23

Beauty Salon Sélection de Nantes: 14 and 15

Valentine's Day: 14

Mardi Gras: 16

Rio Carnival: 21

Milan Fashion Week: from 21 to 25

46th Cesar Ceremony: 26

Vendôme Luxury: dates to be confirmed
March 2021 luxury marketing calendar
We finally landed a little in Paris for France Fashion Week. Luxury hospitality professionals will not miss the World Tourism Fair. The beautiful days are finally coming, we take care of ourselves with quality cosmetic products and we rest during the national sleep day.
Paris Fashion Week Women's Fashion: 1 to 9

First class, the accessories fair: from 5 to 7

Grandmother's Day: 7

International Women's Day: 8

International Start-up Day: 11

National Sleep Day: 13

Saint Patrick: 17

World Recycling Day: 18

World Tourism Fair: 18 to 21

Spring: 20

International Day of Happiness: 20

World Theater Day: 27

Daylight saving time change: 28

Printemps du cinema: from 29 to 3

Pack & Spirit: March 31 to April 1
April 2021 luxury marketing calendar
April is Arts Month. Between the days when we promote crafts such as jewelry or watchmaking, the national festival of art in all its dimensions as well as the days of books and dance, ideas are rich for a strategy of luxury brand communication. We admire the haute couture dresses and jewelry worn by the movie stars present at the Oscars.
Holidays: zone A (10 to 26), zone B (24 to 10 May), zone C (17 to 3 May)

April Fool's Day: 1st

Easter: 4

European days of crafts: 6 to 11

Paris Marathon: 11

World Art Day: 15

By luxury Pack: 20 and 21

Digital Women's Day and Creativity: 21

World Earth Day: 22

World Book Day: 23

Fashion Revolution Day: 24

93rd Academy Awards: 25

World Dance Day: 29

Shelf display in the stores of the spring-summer collections of the year

International Esthetics & Spa Congress: dates to be confirmed
May 2021 luxury marketing calendar
The Cannes Film Festival is an opportunity not to be missed for luxury brands. Now is the time to put the package on communication or partnerships with celebrities, visibility is at its peak ! In another genre, there is no shortage of sporting dates in May with legendary Formula 1, tennis and football events.
Labor Day: 1st

Armistice 1945: May 8

Cannes Film Festival: May 11 to 22

Ascension: 13

Museum night: 15

Inbound Marketing France: 18

Monaco Formula 1 Grand Prix: 20 to 23

Opening of Roland-Garros: 23

Pentecost: 23

Champions League Final 2021: 29

Mother's Day: 30
June 2021 luxury marketing calendar
In June, summer is coming. So it's time to take out the mini-skirt on the 6th, your bikini to swim in the Ocean on the 8th or surf the 20th. Men are in the spotlight between Father's Day and Paris Fashion Week on the 8th. male fashion. Automobile brands obviously include the 24 Hours of Le Mans in their marketing strategy.
World Environment Day: 5

Miniskirt Day: 6

World Oceans Day: 8

Top Marques Monaco: 9 to 13

24 H of Le Mans: 12 and 13

World Wellness Day: 13

International Surfing Day: 20

Father's Day: June 20

World Yoga Day: 21

Music festival and summer: 21

Paris Fashion Week Men's Fashion: from 22 to 27

Spring-summer collections sale: 23
July 2021 luxury marketing calendar
Now is the time to book your luxury hotel for the big vacation that is fast approaching. Before leaving, we do not miss the Haute Couture Fashion Show to learn about new fashions and trends and we applaud the talents of the great stylists. The 9, lipstick, the flagship product of the makeup bag, is in the spotlight.
World Naturist Day: 1st

Tour de France: July 2 to 25

Haute Couture show: 4 to 8

Summer vacation: 6

International Lipstick Day: 9

National day: 14

Luxury Fair in Paris: 19

Tokyo Olympics: July 23 to August 8 
August 2021 luxury marketing calendar
In August, we wander and let our creativity flow. For example, why not create an animal and fantasy universe to advertise the new perfume? All in delicacy and lightness, we associate the cat or the lion with subtle smells and voluptuous images.
World Beer Day: 7

International Cat Day: 8

World Lion Day: 10

World Elephant Day: 12

Assumption: 15

World Photography Day: 19

World Topless Day: 23

World Dog Day: 26

World Blog Day: 31

Displayed in stores for the pre-fall collections of the year.
September 2021 luxury marketing calendar
To face the spleen of the new school year, we go to the festive events and trade fairs of the sector. Deauville hosts the American film festival, Paris, Fashion week and Monaco, the Luxe Pack.
Back to school: 1st

Deauville American Film Festival: 5

World Beard Day: 5

Yachting Festival: from 7 to 12

MCB by Beauté Sélection: from 11 to 13

Heritage Days: 18 and 19

Fall: 22

Feast of gastronomy: 25 and 26

World Maritime Day: 24

Paris Fashion Week Women's Fashion: September 27 to October 5

Luxe Pack Monaco: 27 to 29

First class, the accessories fair: dates to be confirmed

Bijorhca Jewelery Fair: dates to be confirmed
October 2021 luxury marketing calendar
We enter the world of contemporary art at the FIAC before celebrating Halloween and plunging into winter by the fireside.
Pink October: 2

World Smile Day: 2

Salon Beauty Forum Paris: October 3 and 4

International Day of the Girl: 11

All Saints holidays: from 16 to 31

International Contemporary Art Fair: 21 to 24

Halloween: 31

Winter time: 31
November 2021 luxury marketing calendar
The end of the year is approaching. We start the holiday season with Beaujolais, Thanksgiving and Sainte Catherine. We make his list of gifts. For his father, husband or son, a watch is a safe bet, for his mother, his wife or his sister, it is impossible to go wrong by choosing a jewel or a timeless black dress.
All Saints' Day: 1st

Armistice: 11

Beaujolais Nouveau: 18

Davis Cup: 22

Thanksgiving: 25

Sainte Catherine, fashion festival: 25

Black Friday: 26

International Tourism Fair, Cannes: 13 and 14

International Emmigration and Luxury property expo, Cannes: dates to be confirmed

Chartres Perfumes and Cosmetics Congress: dates to be confirmed

Beauté Sélection de Lyon: dates to be confirmed
December 2021 luxury marketing calendar
As Christmas and New Years approach, luxury brands are having a blast. Now is the time to focus your communication on the family and festive spirit of the period. The viewing of tutorials to learn how to wear makeup or choose your outfit is exploding.
Total solar eclipse: 4

World Climate Day: 8

ILTM Cannes: 6 to 9

International Mountain Day: 11

International Tea Day: 15

International Christmas Sweater Day: 18

Christmas holidays: 18

Winter: 21

Christmas: 25

New Year's Eve: 31
Thanks to our luxury marketing calendar, you now know the main dates not to be missed in 2021. You can work on your strategy and Alioze, a luxury communications agency, is available to assist you in its development.