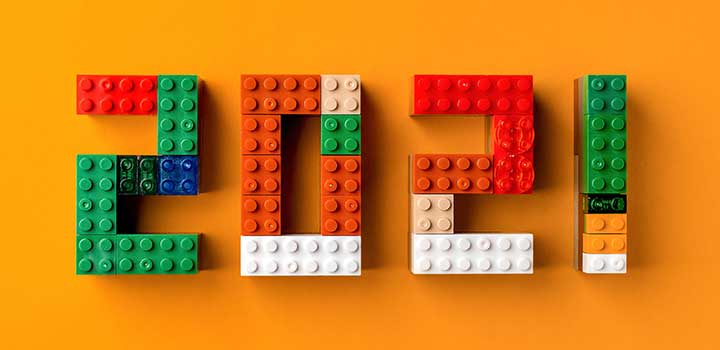 Children and Youth Marketing Calendar 2021
Alioze has compiled for you all the essential dates of 2021 in the children and youth sector. If you are a communicator for a family brand, this marketing calendar is for you! This tool will inspire you and help you find topics to feed your social networks and blog posts. Developing your content strategy becomes easy and effective.
Children and youth marketing calendar January 2021
The new year is off to a great start and parents are full of resolutions. Why not focus this month on children's reading, between Tintin Day on the 10th and the Comic Book Festival on the 28th? The day of the 21st is a good excuse to give your loved ones plenty of hugs.
New Year's Eve:1st
Epiphany: 3
End of Christmas holidays: 4
Tintin Day: 10
Reading Night: 12 to 24
International Popcorn Day: 19
International Hug Day: 21
Handwriting Day: 23
Angoulême International Comics Festival: 28 to 31
Venice Carnival: 30
Children and youth marketing calendar February 2021
It is the winter holidays, we take advantage of it to dress up and dream of travels and discoveries during the carnivals of Venice, Rio and the Chinese New Year. On the 9th, the day is dedicated to the protection of minors on the Internet.
Holidays: zone A (6 to 22), zone B (20 to 8 March), zone C (13 to1 March)
Candlemas: 2
World Nutella Day: 5
Safer Internet Day: 9
Venice Carnival: 6 to 16
Chinese New Year: 12
Valentine's Day: 14
Mardi Gras: 16
International Whale Day: 19
Rio Carnival: 21
World Scout Day: 22
World Save the Bear Day: 23
Children and youth marketing calendar March 2021
March is a very eventful month. Between Grandma's Day, world days such as Women's Rights Day, Start-up Day, Happiness Day and French Language Week, there is plenty to do. We also take advantage of the press week at school to organize an event.
Grandmother's Day: 7
International Women's Rights Day: 8
International Start-up Day: 11
Language Travel and School Trips Fair: 13
"French Language and Francophonie Week" and "Dis-moi dix mots": from 13 to 21
Poets' springtime: 13 to 29
Saint Patrick's Day: 17
World Recycling Day: 18
Book fair: 19 to 22
Spring: 20
International Day of Happiness: 20
Journée de la Francophonie: 20
World Poetry Day and International Forest Day: 21
World Water Day: 22
World Weather Day: 23
European Artisanal Ice Cream Day: 24
Press and media week in schools: 22-27 March
Parenting Fair: March 27-29
World Theatre Day: 27
Changeover to summer time: 28
Printemps du cinéma: from 29 to 31
Children and youth marketing calendar April 2021
April always starts off funny with April 1st jokes and pillow fight day. It continues in sweetness and joy with the Easter egg hunt. It ends with festivities. Why not take the children to a dance performance or a jazz concert?
Holidays: zone A (10 to 26), zone B (24 to 10 May), zone C (17 to 3 May)
April Fools' Day:1st
World Autism Awareness Day: 2
World Pillow Fight Day: 3
Easter: 4
Easter Monday: 5
Creativa Metz : Postponed
Creativity and Innovation Day: 21
Shanghai Auto Show: 21 to 28
World Earth Day: 22
World Book Day: 23
World Dance Day: 29
Jazz Day : 30
Children and youth marketing calendar May 2021
In May, do what you like! Laughter, sunshine, Star Wars and coloring are all part of the package. Between the International Day of Families on the 15th and the Family Fair on the 28th and 29th, we celebrate the tribe in all its forms.
Labour Day:1st
Laughter Day: 2
World Sun Day: 3
Star Wars Day: May 4
Baby Web: May 5 to 8
World Colouring Day: 6
Armistice 1945: May 8
Metz Fair: from 8 to 31
Europe Day: 9
Ascension: 13
Night of the museums: 15
International Day of Families: 15
Inbound Marketing France: 18
Biodiversity Day: 22
Pentecost: 23
International Geek Day: 25
100% digital family fair: 28 and 29 May
Mother's Day: 30
Children and youth marketing calendar June 2021
In June, it is easy to find activities for your children. On the 1st, parents take a break, but then they eat donuts and sushi with their families, watch the solar eclipse, attend the Grenoble creative leisure festival, the Nantes game fair or the Lyon baby fair. Fathers are celebrated on June 20.
Parents' Day: 1st
World Bike Day / World Running Day: 3
National Donut Day: 4
Rendezvous in the gardens: 4 to 6
World Environment Day: 5
International Surfing Day: 20
World Oceans Day: 8
Annular solar eclipse: 10
24 H of Le Mans : 12 and 13
Festival of creative leisure activities in Grenoble: from 10 to 13 June
World Wellness Day: 13
World Hunger Day: 15
Educational game fair, Nantes: 16
Baccalaureate: 17
World Sushi Day: 18
National Archaeology Days: from 18 to 20
Kids expo Lyon: June 19 and 20
Baby Lyon Eurexpo: 19 and 20 June
Father's Day: June 20
World Yoga Day: 21
Fête de la musique and summer: 21
Summer sales: 23
World Asteroid Day: 30
Children and youth marketing calendar July 2021
The big holidays are finally here. We need to get organized to keep the kids busy and fit for the next two months! We celebrate youth on the 26th.
Playtime Paris : 3
Festival d'Avignon : July 5 to 25
Summer holidays : 6
Baccalaureate results: 7
Partir en Livre: 7 to 16
World No Plastic Bag Day: 13
National holiday: 14
World Snake Day: 16
World Junk Food Day: 21
Tokyo Olympic Games: 23 to 8 August
Youth Day: 26
World Tiger Day: 29
International Friendship Day: 30
Children and youth marketing calendar August 2021
In August, animals are in the spotlight. The cat, the lion, the elephants and the dog, what if we took the opportunity to visit a family zoo or an educational farm. Back to school is fast approaching, don't forget to prepare.
World Belgian Fries Day: 1st
International Cat Day: 8
Saint Amour : 9
World Lion Day: 10
World Elephant Day: 12
International Left-handed Day: 13
Assumption: 15
World Photography Day: 19
World Dog Day: 26
World Blogging Day: 31
Children and youth marketing calendar September 2021
School starts again and with it its share of learning. It's time to cultivate your child during the heritage days, to cook together and to taste good recipes on the gastronomy day.
Back to school:1st
Deauville American Film Festival: 3 to 12
Literacy Day: 8
Teddy Bear Day: 9
European Heritage Days: 18 and 19
International Day of Pirate Speech: 19
Fall: 22
World Maritime Day: 24
Gastronomy festival: 25 and 26
Google's birthday: 27
World Abortion Rights Day: 28
World Translation Day: 30
Children and youth marketing calendar October 2021
A few children's fairs are opening their doors: MIP Junior on the 9th, Libsco on the 16th and the Paris baby fair on the 22nd. We thank the teachers for their work on the 5th and enjoy some bewitched candy for Halloween.
Pink October: 1
International Music Day: 1
International Day of Non-Violence: 2
Grandfather's Day: 3
Animal Days: 4
World Teachers' Day: 5
MIP Junior : 9
Baby Lille Grand Palais: October 9 and 10
World Hamburger Day: 13
Salon Libsco : 16
All Saints' Day holidays: from 16 to 31
International Cooks' Day: 20
Baby Paris Event Center: October 22-24
Paris Games week: from 23 to 27
World Pasta Day: 25
Halloween: 31
Winter time : 31
Children and youth marketing calendar November 2021
November is the month of tolerance. It's time to denounce school bullying on the 7th and to fight for children's rights on the 20th in France and around the world.
All Saints' Day:1st
Back to school All Saints' Day holidays: 2
World Kindness Day: 3
Kids Expo Paris: November 4 to 7
Baby Rouen Parc Expos : 6 and 7 November
Anti-Bullying Day: 7
International Trainees' Day: 10
Armistice: 11
International Day of Tolerance: 16
World Children's Rights Day: 20
World Television Day: 21
World Video Game Day: 22
Educatec, Educatice, the professional exhibition of educational innovation: 24 to 26
European Education Fair at the Parc des expositions in Paris: from 24 to 28
Black Friday: 26
Christmas markets in Caen, Clermont Ferrand, Strasbourg etc.
Children and youth marketing calendar December 2021
There's still time to do your year-end shopping. Christmas markets, presents and Santa Claus offer magic and enchantment to end the year with the family and in a gentle way.
Total solar eclipse: 4
Saint-Nicolas : 6
World Climate Day: 8
Start of the Festival of Lights in Lyon: 8 to 12
World Human Rights Day: 10
International Christmas Sweater Day: 18
Christmas holidays: 18
Winter: 21
Christmas: 25
Children's book and press fair: dates to be confirmed
Do not hesitate to contact Alioze: specialized in children & youth communication, our agency will help you to elaborate your editorial calendar for 2021 and your content strategy.
Also check out our 2021 marketing calendar of important dates and events in the automotive industry
Sources: