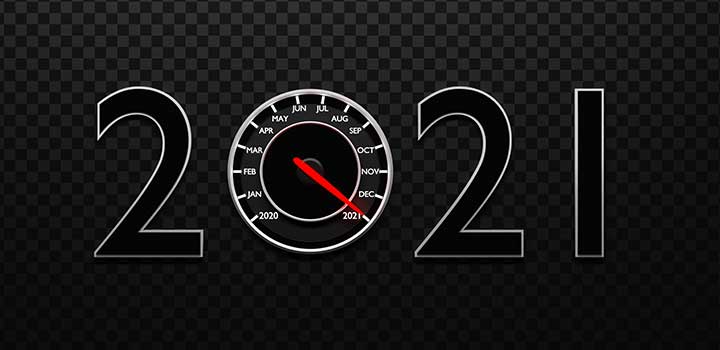 2021 Automotive Marketing Calendar (key dates and events)
The publication calendar is the tool that compiles all the events to remember in the automotive sector. As a communicator, it helps you come up with ideas for writing your social media posts and blog articles. It also helps you out when you are in need of inspiration. The 2021 automotive marketing calendar has become a must-have for developing your content strategy for your car brand.
Automotive marketing calendar January 2021
The pandemic continues to rage, but some events remain virtual, a good way to escape despite everything.
New Year's Day and World Peace Day:1January
Epiphany: 3
End of Christmas holidays: 4
First day of sales in France : 6
Virtual CES Las Vegas: 11 to 14
Blue monday : 18
International Women's Sports Day: 24
Haute Couture fashion show: from 25 to 28
Brussels Motor Show: postponed to 2022
Automotive Marketing Calendar February 2021
Unconfined school holidays allow you to test drive your new vehicle for a while. Some shows are cancelled like the Chicago Auto Show, others resist like the Paris Concept Car Expo.
Holidays: zone A (6 to 22), zone B (20 to 8 March), zone C (13 to1 March)
Virtual Paris Concept Car Expo: January 27 to 7
Virtual Venice Carnival: 7 to 16
Chinese New Year: 12
Valentine's Day: 14
Mardi Gras: 16
Chicago Auto Show: postponed
March 2021 automotive marketing calendar
There are many things to celebrate in March and ideas to surf on: Grandma's Day, Caesars, spring, start-up day, etc. The Geneva Motor Show is cancelled.
Grandmother's Day: 7
International Women's Rights Day: 8
International Start-up Day: 11
46th Césars Ceremony: 12
National Sleep Day: 13
Saint Patrick's Day: 17
Spring: 20
International Day of Happiness: 20
World Theatre Day: 27
Changeover to summer time: 28
Geneva Motor Show: postponed
Automotive Marketing Calendar April 2021
The sentence has been passed. France is once again confined for the holidays. Trade fairs in France continue to be postponed like the one in Strasbourg. In China, the Shanghai Motor Show will be held in person. The covid seems to be a distant memory for the Asian country.
April Fools' Day:1st
Easter: 4
Holidays: from 12 to 26 all zones
World Art Day: 15
Digital Women and Creativity Day: 21
Shanghai Auto Show: 21 to 28
World Earth Day: 22
Auto Moto Classic 2021 Strasbourg : postponed
93rd Academy Awards: 26
World Dance Day: 29
Automotive Marketing Calendar May 2021
The Barcelona Motor Show has been postponed to July, the Monaco Grand Prix has been maintained for the time being, as has the Champions League final. Will the French Open be open to the public?
Labour Day:1st
Armistice 1945: May 8
Ascension: 13
Night of the museums: 15
Monaco Formula 1 Grand Prix: 20 to 23
French Open: June 17 to 6
Pentecost: 23
Champions League Final 2021: 29
Mother's Day: 30
Geneva Show in reduced format and without public: dates to be confirmed
Automotive marketing calendar June 2021
For the time being, the June motor shows and major events are being maintained. Between the Rétromobile, the Milan show and the Champenois du Véhicule de Collection show, there will be plenty to do!
Retromobile: from 2 to 6
World Environment Day: 5
World Oceans Day: 8
Milan Monza Motor Show: from 10 to 13 June
Salon Champenois du Véhicule de Collection: June 19 and 20
International Surfing Day: 20
Father's Day: June 20
World Yoga Day: 21
Fête de la musique and summer: 21
Inbound Marketing France: 21 to 25
Spring-summer collection sales: 23
Tour de France: June 26 to July 18
Automotive Marketing Calendar July 2021
The 2020 Olympic Games have been postponed until the end of July 2021. The Cannes Film Festival, the Haute Couture fashion shows and the Paris luxury fair are great opportunities to talk about your high-end car brand.
World Naturist Day: 1st
Seoul Motor Show: July 1-11
Cannes Festival: July 6 to 17
Haute Couture fashion show: 4 to 8
Summer holidays : 6
Goodwood Festival Of Speed 2021: July 8-11
Barcelona Motor Show: July 10 to 18
National holiday: 14
Paris luxury fair: 19
Tokyo Olympic Games: 23 to 8 August
Automotive Marketing Calendar August 2021
Animals are celebrated throughout the month with days that celebrate them. Why not advertise with a cat, a lion, a dog or an elephant? The 24 hours of Le Mans will take place on August 21 and 22.
World Beer Day: 7
International Cat Day: 8
World Lion Day: 10
World Elephant Day: 12
Pebble Beach 2021 Concours d'Elegance: August 15
Assumption: 15
World Photography Day: 19
British Motor Show: August 19-22
New York International Auto Show: August 20-29
24 h of Le Mans : 21 and 22
World Dog Day: 26
Tour Automobile (by Peter Auto): August 30 to September 4
World Blogging Day: 31
Automotive marketing calendar September 2021
It's back to school time on September 1st and time to take stock of the past year and prepare a new marketing strategy. The trade fairs take place throughout the month of September.
Back to school:1st
Top Marques Monaco 2021: from 2 to 5 September
Deauville American Film Festival: 3 to 12
World Beard Day: 5
Munich Trade Fair 2021: 7-12 September
Heritage Days: 18 and 19
Rouen Auto Moto Retro Show 2021 : September 18th and 19th
Detroit Auto Show 2021: September 21-26
Fall: 22
Auto Moto Classic 2021 Toulouse : September 24-26
World Maritime Day: 24
Luxe Pack Monaco: 27 to 29
Automotive Marketing Calendar October 2021
Some dates are still to be confirmed in October for the Calais and Tokyo motor shows. The Villa d'Este Concours d'Elegance will take place from the 1st to the 3rd, the Automédon on the 9th and 10th and the Electric Road from the 18th to the 20th. An intense month ahead.
Villa d'Este Concours d'Elegance: October1 to 3
Pink October: 2
Automédon 2021: October 9 and 10
International Girls' Day: 11
All Saints' Day holidays: from 16 to 31
Electric Road 2021: October 18-20
International Contemporary Art Fair: 21-24
Halloween: 31
Winter time : 31
Calais Car Show: dates to be confirmed
Tokyo Motor Show 2021: late October to early November
Automotive marketing calendar November 2021
Car shows are going strong in November. Many events have been postponed at the end of the year in the hope that they can take place.
All Saints' Day:1st
Epoqu'Auto show : from 5 to 7
Armistice: 11
Los Angeles Auto Show: November 19 to 28
International Motor Show 2021: November 19-21
Davis Cup: 25 Nov to 5 Dec
Thanksgiving: 25
Saint Catherine's Day, fashion festival: 25
Auto Moto Classic 2021 Metz : November 26-28
Black Friday: 26
Basque Coast and Landes Motor Show: dates to be confirmed
Automotive Marketing Calendar December 2021
December brings the end of the year and the associated holidays. How would you like a new car for Christmas?
International Day of Persons with Disabilities: 3
Total solar eclipse: 4
World Climate Day: 8
International Mountain Day: 11
International Tea Day: 15
International Christmas Sweater Day: 18
Christmas holidays: 18
Winter: 21
Christmas: 25
New Year's Eve: 31
Contact Alioze to help you develop your communication and editorial calendar for 2021 and your content strategy.
Discover also our 2021 marketing calendar of important dates and events in the watch industry