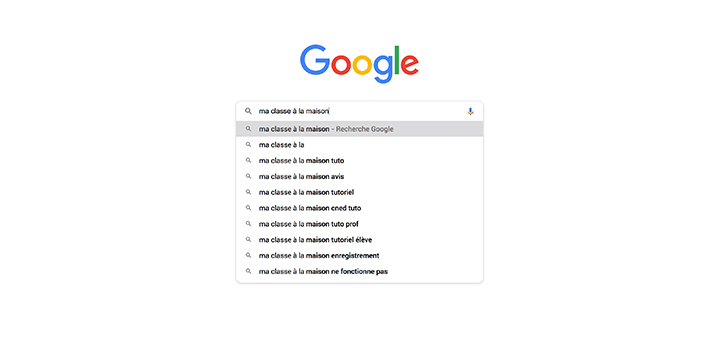 Top education searches on Google in France
The Covid pandemic has strongly impacted our daily lives and relationship to the world and education has been hit in the front line. The various lockdowns have forced schools and universities to close and employees to telework. How have these changes translated into our Internet searches? What are the trends in education and teaching queries on Google and what do they reflect about our new needs?
School taught differently
When the coronavirus epidemic struck, schools, primary and secondary schools and universities closed. Distance education has become an obligation and a necessity for children and young people to continue learning in this unprecedented situation.
In 2020, the term that was most associated with home in the search engines was my class. The term "my home school" has never been more popular. It peaks at 100 in the week of March 15-21, 2020, the first week of containment in France. The National Centre for Distance Learning or CNED and all associated queries also saw record interest.
In reality, "my class at home" is a CNED system that allows for educational continuity and the continuation of schooling at home. When classes are closed, the platform provides parents, children and teachers with remote learning records. These courses are intended for all students, from kindergarten to 12th grade, and each student has an account that he or she must log in to in order to access the various subjects.
It is also possible for teachers to conduct virtual classrooms, another term that has exploded in terms of Google searches and has seen records in 2020.
While middle and high school students could manage on their own, younger children in kindergarten or primary school had to be accompanied by their families if possible. Certainly one of the reasons why the search for how to become a teacher has never been as popular as in 2020. Indeed, distance learning had a direct impact on parents who had to improvise themselves as teachers. Did this difficult and restrictive period also give rise to vocations?
Another term regularly typed into search engines: the lumni game. Lumni has been a hit with families. This free educational offer is provided by public television. It provides multimedia content for students, teachers and parents and allows access to culture from home.
Distance learning is booming
The daily lives of adults and workers are also affected by this unprecedented situation. The web has become more than ever the essential tool for training and learning.
As it becomes more difficult to get together, online meetings, sharing and learning become necessary. Zoom education" research surges in 2020, peaking in November 2020.
The topics around " e-learning " have increased by 120%. The "confined online courses" also break a record, the term " free online courses" shows an increase of +170%, "e-learning definition" +160%, "free online training" +130%.
According to Google Trends, internet users have been very interested in computer coding. Although very specialized and not within the reach of everyone, it is the discipline that has shown the most interest in 2020. The python language has been the subject of the most research. This trend marks a growing interest in IT. In the age of the coronavirus, the world of the web is becoming a focal point not only in education and teaching, but in all sectors of activity. Apparently, Internet users have understood that coding is becoming useful in a changing world.
It should be noted that the most typed definition in 2020 was procrastination. The French love to learn, but you shouldn't push it…
Alioze, SEO agency specialized in education and teaching, helps you increase your positioning on Google and other search engines, to improve your visibility and your sales.
Sources: