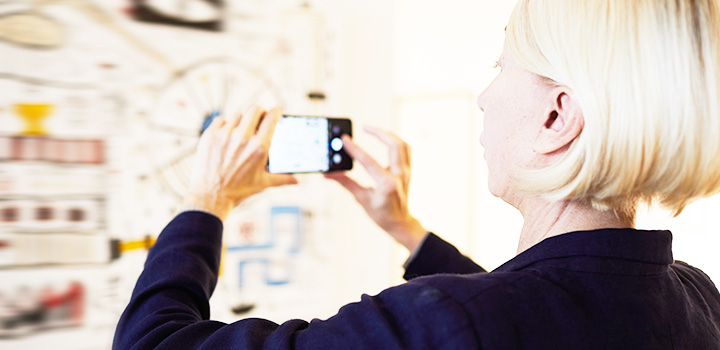 Top culture influencers in France
Instagram and Youtube are not just for the fashion and travel industries. The world of culture is also influenced by social networks. Even if cultural actors are still shy in their influence marketing, it is nevertheless a real communication lever. Here are a few culture and art influencers you should know about.
The artist influencer : JR
JR is a world-renowned photographer and director. His fame goes beyond the French borders, but also beyond the borders of contemporary art, as he exhibits mainly in the urban environment.
He produces black and white photographs that he prints in gigantic format and then pastes onto the walls and facades of monuments. A truly committed artist, he makes art accessible to all. In different cities of the world (Paris, New York, Rio, Bethlehem, etc.), he dresses the streets with portraits of anonymous people. These men and women become actors in the project and decorate their own neighbourhood.
A street-art artist, he began by trying his hand at graffiti before turning to photography. Since then, he has been capturing faces from all over the world. In 2016, he directed a documentary film with Agnès Varda in which they went to meet French villagers. More recently, he has been involved as a teacher in the free film school Kourtrajmé, open to all. In all his projects, JR remains present on the networks including Instagram where he regularly addresses more than 1.5 million followers.
See this post on Instagram
Ronan Ynard, the first theatre Youtubeur
After studying theatre at the Sorbonne Nouvelle and training in directing in Montreal, Ronan created his youtube channel in 2016. He has posted a few hundred videos there. The program for subscribers includes backstage stories and reviews of shows.
In 2017, he debriefed every hour on Jan Fabre's play, Mount Olympus for the entirety of the play, which is… 24 hours.
Ronan Au Théâtre also meets actors who share their vision of theatre.
He is the first youtuber to talk about theatre. If this art is indeed much more discreet on the networks than other sectors of culture, Ronan is convinced that it can also reach the younger generations through new technologies. He says that 75% of his community is under the age of 34.
The gravedigger of films
The cinema remains more popular than the theatre. As a proof, François Theurel, alias the film gravedigger, welcomes and influences nearly 800 000 people on his Youtube channel. Through his videos, he takes us on a journey into the world of cinema. He talks subjectively about old films that he digs up or the latest works in the news. He always explores them in a critical way with a synthetic analysis of the films. He soon managed to make a living from his chain. In 2014, François presented a column on Canal + during the Cannes Film Festival. In 2018, he wrote his first book for Tana Editions.
The critics: Joël Riff and Hans Ulrich Obrist
Joël Riff has been working since 2014 for Moly-Sabata, an artists' residence located in Isère. It is also the Albert Gleize Foundation. He carries out his curatorial work by inviting artists and creating exhibition projects.
Through a column he founded, he shares his criticism. He also teaches at the Duperré School in Paris, contributes regularly to the Revue de la Céramique et du Verre and writes exhibition catalogues. For years, Joel Riff has been sharing works and exhibitions on a daily basis and keeping his Instagram community of nearly 12,000 followers informed about contemporary art news.
See this post on Instagram
Hans Ulrich Obrist, from another generation, is also a critic and art historian. Currently artistic director at the Serpentine Gallery in London. His influence in the world of culture is considerable. In 2009 and 2016, he was ranked number one in ArtReview magazine's 100 Most Influential People in Contemporary Art. On Instagram, more than 320,000 people follow his thoughts, readings, recommendations, reviews and mood posts, but also those of artists he comes across in his daily life.
See this post on Instagram
The art history culture minute
Launched in 2019 only, the culture minute is the Instagram account of Camille Journeaux. Each week, the young woman discovers an iconic work or artist from the history of art. In a story, she tells her story and embeds nearly 100,000 subscribers. A community that is growing by the day. She has managed to create a buzz in the industry and has just been recommended by the specialized magazine Beaux-arts. With her humorous tone, rich content and punchy lines, Camille seduces her fans and was bound to be on the culture influencer list. Recently, she has written a book La story de la table ronde for Larousse Jeunesse. She collaborates with the greatest museums in France, festivals and the Arte channel.
See this post on Instagram
Dancer Dorothée Gilbert
The ballerina intrigues and fascinates by her rigor and excellence. She is living in an environment that is very far from our reality. Thanks to Instagram, it is now possible for the Internet user to enter this universe by following closely the dancer Dorothée Gilbert. Over 95,000 followers follow her on Instagram.
The star dancer joined the Paris Opera at the age of 15 in 2007, and now offers online dance lessons on her website and makes the headlines in magazines. For example, she played alongside Isabelle Adjani and Benjamin Biolay in Elle. She is also the face of the dance shoe brand Repetto, as ambassador of the perfume.
See this post on Instagram
Alioze supports you in your influence strategy. Our agency develops for you the best partnerships to increase your visibility to a qualified audience.
Sources: