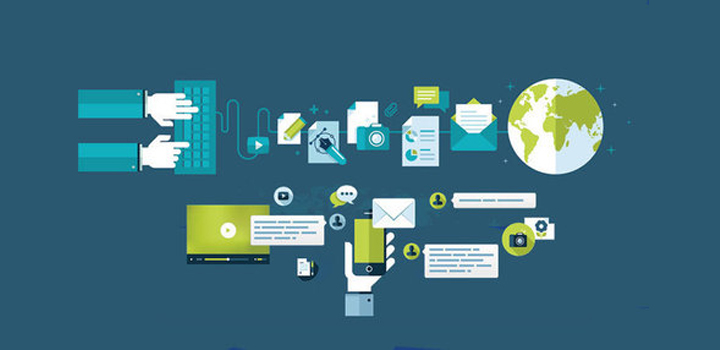 Telecommuting and Google G Suite: Alioze and sustainable development
NICTs have made it possible for new ways of working to emerge. These allow the organization to operate in a fairer and more environmentally friendly way.
You no longer need to be physically present in the office to contribute, advance and impulse your know-how to a web project. Collaborative tools, online messaging and cloud-based solutions make it possible to contribute remotely, in an increasingly instantaneous, efficient and environmentally friendly way.
Green energy target
Alioze's desire to adopt a sustainable development approach is not new. The environment is indeed a major concern for our agency, which has been involved in green energy since 2008. By entrusting our mode of operation and management:
By favouring teleworking as much as possible: our teams of developers, integrators, graphic designers, writers and project managers collaborate remotely and carry out their tasks away from the company's premises as often as possible.
Via the use of G Suite, hosted by the Google cloud.
Teleworking for sustainable development
Numerous studies and reports recommend that companies favour telework as an organisational mode. Adopting it means making the choice of an eco-responsible behaviour, thanks to the many proven advantages:
Avoiding business travel for employees, the main source of greenhouse gas emissions.
Reduce emissions by reducing electricity consumption in the agency's premises: heating, lighting, air conditioning, etc.
Increasing the comfort of life by helping employees to better reconcile their professional and private lives by reducing the time spent in transport that can be spent on other things.
Increase the flexibility and well-being of employees.
It's a proven fact: telecommuting uses less energy. Because 50% of CO2 emissions are linked to business travel, a company that favours teleworking considerably reduces its carbon impact:
"In France, an employee travels an average of 26 km per day between home and work. If employees worked on average 2 days a week at home, this would result in a direct gain of more than 800 kg of CO2 per person per year, or nearly 10% of a person's carbon footprint."
Every employee who does not go to the office means that as much fuel and energy is conserved on the move. On the scale of France, the annual saving of CO2 to be made is counted in millions of tons, and oil in billions of liters!
At Alioze, we use all the NICTs to collaborate remotely in the best conditions. Whenever possible, we prefer telepresence to face-to-face meetings. Our employees and clients only meet in the office when this is necessary.
Video conferencing tools, such as Skype or Hangouts, allow us to implement teleworking in the best conditions, with the pride of reducing the environmental impact of our agency.
Google: green investment
The storage of our working documents on Google servers and the use of collaborative apps such as Google Doc, Google Sheets or Google Slides, are part of our commitment to an ecologically responsible approach.
By outsourcing to Google through the use of its cloud computing solution, we are guaranteed to entrust the storage of our work data to a player committed to reducing its carbon impact.
Indeed, Google is more than good in terms of ecological commitment. Recently, the Mountain View firm announced that its data centers and offices around the world will use 100% renewable energy in 2017. Gone are the days of coal and nuclear power, replaced by wind and solar power! The energy supply of the company's infrastructure will be entirely from renewable energy sources:
"To achieve this goal, we will directly purchase enough wind and solar power to cover each unit of energy consumed by our global operations. And we prioritize the creation of new energy from renewable sources, so we will only purchase from operators whose project is funded by our purchases."
As early as 2010, Google was praised by a Greenpeace report for its willingness to limit the ecological impact of its data centers. That year, Google made its first green purchase when it put its hand in the wallet for 114 megawatts of wind power from a farm in Iowa.
Year after year, the company has pursued its goal to become, in the eyes of Greenpeace,"a leader in the deployment of renewable energy". For example, the latest 2015 report shared by Greenpeace lists Google alongside Facebook and Apple as one of the three greenest companies on the web.
The goal of 100% renewable energy to power Google's servers will therefore be reached in 2017. In this sense, our daily use of G suite apps allows our employees to share and exchange in a friendly way by working together on documents, to make changes "live", to keep track of the various interventions, while reducing its environmental impact. The dematerialization of documents also avoids the waste of paper.
Alioze is convinced of the merits of an eco-friendly commitment. This is why sustainable development is an integral part of our daily work methods. But that's not all. We are also closely following the progress of major high-tech companies in this area… In order to learn from them!
To go further :