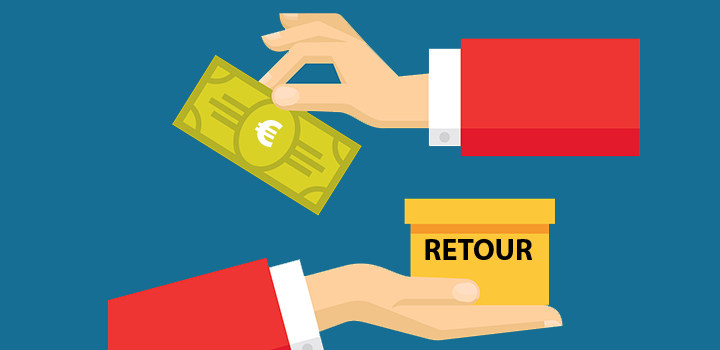 What is the return and refund policy for its E Commerce?
In 2019, with an increasing number of e-shops at their disposal, consumers have more and more demands. To satisfy them, you need to put in place the best possible customer service.
A good quality of service includes a favourable return and refund policy. It is even one of the most important factors when making a purchase decision on an e-commerce.
Not all industries are necessarily affected. But for e-tailers operating in industries such as fashion or furniture, where customers cannot inspect the product before buying, the development of a return policy is inevitable. It is regulated and mandatory.
The important thing is to forget your preconceived ideas and to look beyond the logistical and financial constraints. Know that a return policy is more than just legalese: it's a real sales marketing tool! If well thought out, it can work to your advantage.
What is a return and refund policy?
A return and refund policy is a statement that stipulates under what circumstances an e-commerce is willing to accept the return of products previously purchased by the customer, and under what conditions a refund or exchange will be issued.
Even if you're not thrilled with the idea of dealing with the costs and logistics of returns, realize that they don't necessarily hurt your e-commerce revenue. Of course, this may seem contradictory. But if you are willing to provide favorable conditions, you can :

✓
Winning sales

✓
Fostering customer loyalty

✓
Generate conversions after the return
Knowing that they can easily return products will make your potential customers more likely to give your brand a shot. It's as simple as that! This is why most e-tailers quickly see an improvement in sales after adding a good return and refund policy, as they manage to gain the trust of their site visitors.
Numerous studies have shown the strong positive impact that a consumer-oriented return policy can have on repeat purchases and customer lifetime value.
E-commerce returns and refunds: best practices
Improve product data
22% of buyers return a product because it does not match the description
The possibility of trying and testing a product is suspended until delivery, and the article may not correspond to what the customer has imagined. Colour, fabric, size: sometimes there is a difference between what the customer expects from the product and what it actually is.
The key to minimizing this type of feedback is to create data that does your products justice. Work on accurate product titles, detailed product descriptions and size guides.
Above all, don't neglect your visuals. Rather than just a picture of the product, consider showing how it is used, or someone wearing it in the case of clothing. For example, videos will give the customer a better idea of how your product will be or will be adjusted.
Some online tools can also help your customers buy the right item. For example, ASOS uses " Virtusize ", a tool that allows users to compare the measurements of an item they are considering buying with those they already own.
Encourage customer reviews
It's a well-known fact in e-commerce: Internet users trust reviews that they consider unbiased.
To help new customers make more informed buying decisions, you absolutely must allow existing buyers to leave their reviews of your products.
Find out also how to take care of your Google reviews
Ask them to rate them on key criteria such as how well a garment fit, or how well the item met their expectations. Also, don't hesitate to ask your customers to send photos or videos of themselves using or wearing their purchase.
When consumers know what to expect from a product, the likelihood of them returning those products decreases significantly. And know that in addition to strengthening confidence in your brand and your e-commerce, customer reviews contribute positively to your SEO.
Create a clear and concise return policy
Almost 60% of online shoppers want to be able to return an item without needing assistance
A clear, transparent and concise return policy is a guarantee of confidence for consumers. Remember that it is meant to serve your customers. It must therefore be easy to understand to give them a sense of security.
Create a dedicated page that tells customers how to return a product and get a refund. Describe your policies in plain language and with step-by-step instructions:
How long does it take for the customer to return the product?
What type of reimbursement will be provided?
Who pays the return shipping costs?
Will you send a prepaid return label for the item?
Do you need a receipt, invoice or proof of transaction?
How long does it take to process a refund?
What condition must the item be in to be eligible for return?
Make your return policy easy to find
More than 65% of online shoppers check an e-commerce site's return and refund policy before buying
Having the best return policy is one thing. But it will be useless if it is invisible or not found on your e-commerce site.
Above all, don't be tempted to hide your returns and refunds page in the bowels of your e-commerce site in the hope that the saying "out of sight, out of mind" will work! Returns and refunds are one of the questions that customers have in their minds before making their purchase, and they might abandon their cart if they can't find them.
By making the return policy as accessible as possible, you avoid losing customers by giving them the peace of mind to validate their purchases.
To make your return policy easy to find on your e-commerce site, it should appear in several strategic places in the purchase funnel:
Home page
Footer
Product pages
Shopping cart
Customer Service and Shipping Section
And why not go further and communicate your return policy in other ways?
For example, you can include instructions on how to proceed, as well as the best way to reach your team in case of problems, in packing slips or add it to an order confirmation email.
Improve the accuracy of command execution
23% of online shoppers make a return because the wrong item was shipped to them
Sending the wrong item (wrong variant/color/size) is one of the main reasons for returns that e-tailers face.
To remedy this, consider investing in an order processing platform that delivers the right data from your online channels and pass this data correctly to your distribution centers or partners.
Discover also the 7 good reasons to
to connect ERP and e-commerce

An automated system at this stage eliminates the possibility of errors due to manual intervention and communication failures.
Offer competitive return and refund times
95% of customers who return a product will buy again if they think e-commerce has made the return process easier
The big names in e-commerce are vying with each other to offer a high-performance shopping experience, differentiate themselves from the competition and increase their margins.
To make your e-shop competitive, make sure your return and refund policies match (or are better!) those offered by e-commerce leaders like Amazon and eBay.
Do not hesitate to offer flexible return times. Ideally, these should meet or exceed the 30-day return policy. Don't worry about a flood of returns if you have a longer return period. On the contrary, studies have shown that the longer it takes to return an item, the lower the return rate.
Specialized in running shoes, the Brooks company offers its customers a 30-day trial period for its products! Returns are free when the proper procedure is followed.
The refund process for the returned item must also be optimal. While most customers expect refunds to be processed in less than two weeks, fewer than one in five retailers manage to process them as quickly. So, to build loyalty, think of your refund policy as another part of the sales funnel.
In this respect, Zalando is doing very well. With its "Try first, pay later" service, the e-commerce company specialising in the sale of shoes and clothing allows its customers to place an order without being debited for the amount! And to pay only if they do not return the ordered items.
Allow in-store returns
Over 60% of consumers are more likely to buy online if they can return an item in-store
Instead of forcing customers to go to the nearest Mondial Relay, UPS or Fedex store to return their purchase, why not allow them to return their purchases directly to your own stores?
Accepting returns directly into your warehouse or physical stores not only speeds up the returns and refund process, but also reduces management costs.
And as an added bonus, this method often leads to additional sales when the customer goes to the store to return the item!
Allow the exchange of products
More than half of online shoppers are dissatisfied with online return processes
Not all customers are unhappy with their purchase. In some cases, they just want a different size or color of the product they originally purchased.
So it's a good idea to allow them to trade products. An exchange, while being a type of return, has a much smaller impact on your balance sheet than a permanent return.
As with returns and refunds, describe in plain language the process for making this exchange. Will it be a return followed by a refund and a new purchase, or a simultaneous return and exchange process, all done online?
Consider making returns free
Almost 80% of consumers want a free return
With so much competition, the power is really in the hands of the consumer. So as not to deter customers from returning, it is in your business' best interest to provide a streamlined and hassle-free return process from start to finish. Loyalty can be achieved by providing an easy and enjoyable experience, even if a product or service does not quite meet the customer's expectations.
In this sense, it is recommended to make returns free of charge.
The easiest way to do this is to offer your customers the possibility to print a return label from your e-commerce site, or to slip it directly into their package. This eliminates extra steps and inconvenience for the customer and greatly improves their shopping experience.
One study found that stores that offer free returns see customers spend up to 457% more than before. And repeat purchases dropped by 75-100% for customers who were asked to pay return shipping. Just goes to show, free returns are a real selling point!
Consider creating an online returns management portal
At least 30% of all e-commerce orders end up being returned
An emerging trend in 2019 is to not include a return label in the order, but to have an online portal specifically dedicated to managing returns.
A centralized portal ensures a consistent and convenient user experience for customers. It gives them more control over the return process, as well as a variety of return options: UPS, FedEx, USPS, in-store returns…
Another advantage is the flexibility to change your return policy without having to update the same information on packing slips and informing suppliers and delivery partners each time.
A centralized online return system also eliminates the possibility of drop-shipment suppliers packaging the wrong return label with a particular SKU.
Careful packaging
Take the time to evaluate your packaging and determine if it can be reused. If not, talk to your manufacturer and change them so that the customer can repackage the product and send it back to you.
You must also ensure that the packaging is capable of protecting the product from any damage that may occur during shipping or return. Reusable packaging also allows you to package returned products and prepare them for sale.
Finally, don't hesitate to include small details in your package that can make a difference, such as discount coupons, personalized notes, user manuals or branded goodies.
This extra effort reinforces your brand image, makes for a pleasant surprise and is a smart way to compensate for the disappointment a customer might face if the product doesn't meet their expectations.
Returns and refunds are a costly and resource-intensive process. If they are too long and confusing, or if the customer has the impression of being "cheated" in one way or another, he may abandon his purchase and not return to your e-commerce. Fortunately, implementing an easy and customer-friendly return policy can really pay off in the long run!