Why and how to take care of your Google reviews?
If you have been in the wonderful world of e-commerce for any length of time, you know that a satisfied customer is a customer who will convert others by leaving a positive review of their experience. Mainly for this reason, but also for many others, the reviews left by customers on a website or e-commerce play an important role in the success of a business on the web.
Before we get into the nitty-gritty, let the statistics speak for themselves:
Only 5% of consumers say they do not look at reviews left by other shoppers
In 91% of cases, the reviews consulted were the number one reason for making a purchase.
4 good reasons to take care of your customer reviews
1 – Customer reviews increase visibility
They are also highlighted through rich snippets. These optimize your presence on the web as they allow you to occupy a maximum of space on the pages of Google search results. They also make your search result more visually appealing.
2 – Customer reviews improve E-reputation
Consumers place a great deal of importance on opinions from outside the company. Queries about products, brands or companies related to the keyword "reviews" are increasingly being typed into Google by Internet users. Of course, the websites and companies with the most positive reviews are at the top of the search results for this type of query.
Not only do customer reviews help you make a good impression on potential buyers, but they also create added value for your business. The majority of Internet users are indeed more sensitive to recommendations left by their peers than by a company's speech without feedback.
3 – Customer reviews improve SEO
Just like web pages, each review and comment is reviewed by the Google robot and indexed. And, as any SEO knows, Google wants to offer the best to its users.
Thanks to the indications they give to Google on the quality of your service and user experience, reviews have a positive impact on the ranking of your e-commerce site in the SERPs.
4 – Customer reviews boost sales
When shopping online, the consumer is a suspicious specimen. Like word of mouth recommendations, online reviews are equivalent to advice passed on by Internet users. These reassure and comfort undecided consumers who are hesitant to take the plunge.
Thus, after consulting the reviews left by other buyers, 1 in 4 people decide to finalize their purchase.
The different types of customer reviews
Professional press reviews and specialized magazines (travel guides, etc.)
Recently Google announced the launch of a new range of reviews in its local search results: professional reviews of local businesses (cafes, restaurants, shops, etc.). This option in Google search results is currently only available in English in the US, but should soon arrive in France.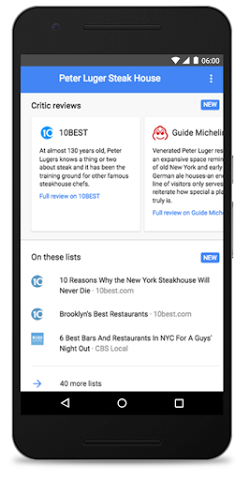 Opinion about the company
Customer reviews of a company allow you to :
to reassure the Internet user about his choice and about the secure sharing of his banking and personal information
confirm to the Internet user that an e-commerce is reliable and respects its commitments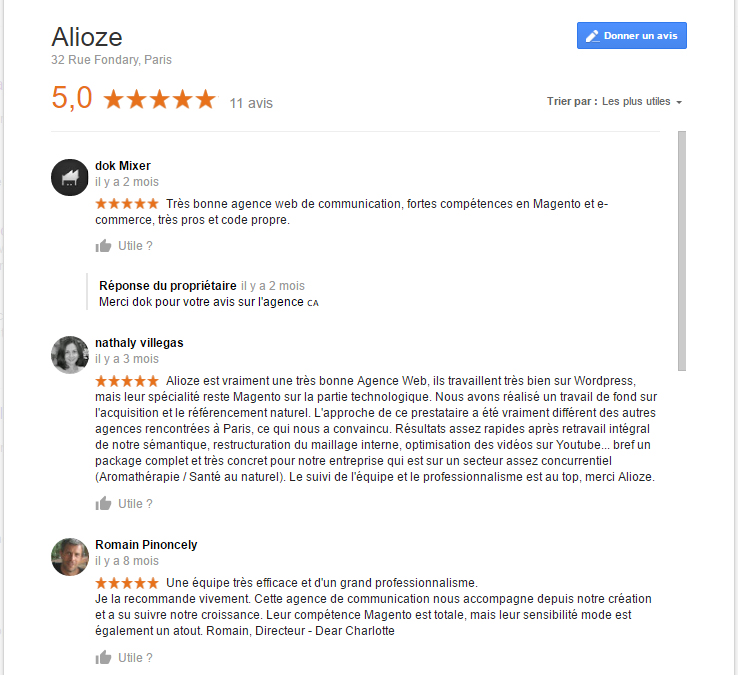 Google Maps Reviews
There's no secret: when searching locally, Google recommends the best addresses, i.e. those with the most positive reviews. Having many positive reviews is therefore a real strength to put your business forward in geolocalized search results.
Product Reviews
The customer reviews left on articles often give very precise and complementary information to the information presented in the product sheet. They allow us to guide hesitant buyers by confirming that the product corresponds to the description that was made.
The reviews will also reassure the last undecideds who fear a galley with the delivery times or the communication of the company. That's why a "I recommend" or "everything went smoothly" posted by a customer will carry a thousand times more weight than a company's own self-congratulatory speech.
Google AdWords and Google Shopping reviews
According to a recent study, Google AdWords and Google Shopping ads with stars and ratings increase CTR by 17%.
In order to be displayed in Google AdWords, these reviews are collected by independent third-party sites that certify to Google their authenticity. All of this is aggregated in the Google Seller Ratings system and inserted into the ad as small stars and an average rating.
How to improve customer reviews on your company / e-commerce?
Add structured data to your web pages
In order for your reviews to show up in the SERPS as rich snippets, you need to add the structured data to your web pages, especially to your product pages.
Secondly, three conditions must be met for customer reviews to be displayed in the form of stars and an average rating:
at least 30 reviews collected
an average score higher than 3.5/5
notices less than one year old
Learn how to add structured data to your website
Start collecting reviews
Invite customers to leave a review of your company or an ordered product by sending them an email after the purchase. The latter must contain a link to an evaluation form or a comment box.
You can also set up a reward system, rewarding customers with a discount coupon on their next order if they take the time to leave a review of the business. Feel free to respond and thank those who take the trouble to leave comments. This will motivate them to leave more.
Rely on the spontaneity of customers
Leave them several places dedicated to leave their opinions. Directly on the e-commerce and product sheets or on your social networks. Thus, customers will generate information by themselves and will enrich the content of your page.
Don't ignore negative comments
On the contrary: react! They can even turn the situation to your advantage. No negative review of an establishment or an e-commerce can almost seem suspicious.
A word of advice: don't panic when you see a negative review. Contact the customer, and above all, respond quickly and courteously to their comments. Invite them to come and try again (show that you believe in the value of your product/service) and possibly offer them a discount on their next order/visit.
Maintain your social networks
Facebook, Twitter, Instagram or Pinterest fully participate in improving your e-reputation, involve customers and motivate them to share their experience with your business by leaving (positive!) comments to continue the interaction.
It's up to you!