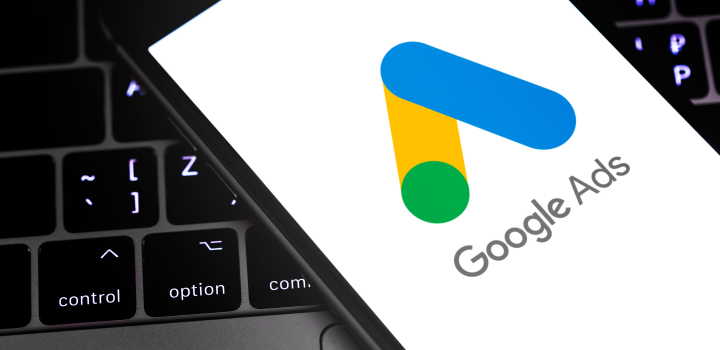 Google Ads: best practices to be the 1st result on Google in 2023
In 2023, Google Ads is still one of the most popular PPC (pay per click) advertising platforms. Managed by Google, it allows businesses to advertise in search results pages for specific keywords and phrases.
And, in 2023, the first page of Google search results has changed!
Google is constantly making changes to the SERPs. Changes that are sometimes so small that many users don't even notice them.
Yet, when small adjustments are made to a tool that people use every day, habits gradually change to accommodate.
So, in order to plan profitable Google Ads campaigns, it's first useful to look back to understand how the advertising medium set up by Google remains one of the best ways to get your business to the top of the search results and boost your sales.
Ten years ago, this is what a Google search results page looked like: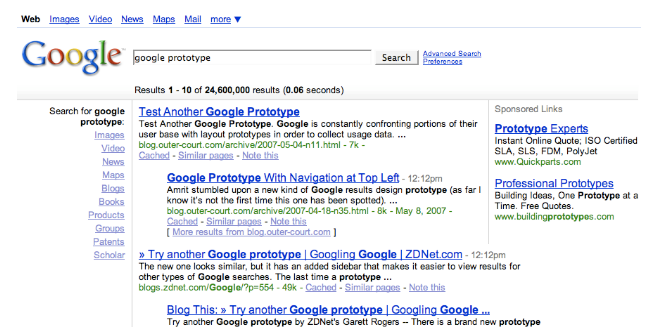 Apart from the different interface, the paid ads were clearly located on the right side of the search engine results page and the natural results had much more importance.
AdWords was introduced by Google in 2000. For more than 15 years, paid ads were most frequently found in the right sidebar of the SERPs.
Then, in February 2016, Google announced the end of Google Ads on the right side, moving them to the top of the search results. As a result, in many cases, users now have to scroll down to see a natural search result, regardless of the device (desktop or mobile) they are querying with.
Very often, Google Ads are the only way to be positioned in first position in search results. However, this does not mean that you should focus all your attention on paid ads.
Why?
Because Internet users will continue to rely on natural results. Even though Google makes it very easy for searchers to interact with paid ads, people will always feel that unpaid results point to trusted sites that can answer what they are looking for.
Because not all Internet users are at the same stage of purchase intention when they carry out a search. A user in an emergency situation will probably interact with a paid ad if they need a quick fix. But a user with time to invest in his search will instead take the time to examine and compare different options, and will therefore pay attention to a number of results.
To maximize your SEO 2023, the ideal is to be on both sides: both natural search results and paid search results.
Google Ads 2023: what's changing
Although the basics of Google Ads remain the same for 2022, this year has still seen some notable changes.
"Expanded Text Ads"
Just a year ago, Google Ads announced the arrival of its new text ad format and began allowing advertisers to create ads with multiple headlines and a longer description.
While more text means more visibility, this change means the end of practices usually used for Google Ads. In the past, advertisers could run out of space to get their message across. Now it is a matter of making the best use of these additional characters.
With two 30-character headlines instead of one 25-character headline and one 80-character description line, you need to get creative with your advertising!

For example, include your company slogan or unique value proposition in your first headline. Your second headline gives you more creative freedom: use it to highlight an irresistible promotional offer, a powerful call to action or a question that sparks curiosity.
In your description, offer benefits, provide more information and appeal to the consumer's sensibilities.
These new large format ads also give advertisers the ability to add two new navigation path fields of 15 characters each. Take the opportunity to promote other services, such as free shipping, to entice your potential customers to click on your ad.
SMS Extension
"SMS extensions have been designed to be delivered only to mobile users using a phone capable of sending and receiving SMS" – Source: Google Ads Help Center
In 2021, users appreciate the convenience and speed of SMS and chat. For this reason, Google Ads has launched the SMS extension, which allows customers to contact a business directly via SMS.
You can add SMS extensions at the account, campaign, ad group or ad level. Then users simply click on an icon that appears in the ad to contact you.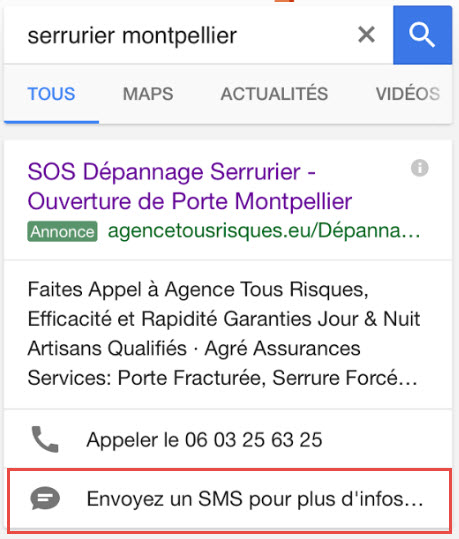 Targeting by similar audience
"Targeting by similar audience types allows you to serve ads to people who have something in common with users on your existing remarketing lists. " – Source: Google Ads Help Center
With this feature, Google will look at browsing activity on Display Network sites and on its search engine to find similarities in search behavior (intent, context).
If users show similar search behavior to your current customers, then a new remarketing list is created and you end up with a whole new group of potential customers.
Demographic targeting
"In Google Ads, demographic targeting can help you reach users who are likely to belong to the demographic groups you select. " – Source: Google Ads Help Center
Google now gives advertisers the ability to target users based on specific demographics. Like geographic or remarketing targeting, demographic targeting allows advertisers to increase or decrease targeting based on the age or gender of the searcher.
This new targeting option is extremely useful for businesses that see most of their business activity as being aimed at a specific age or gender group, as it allows them to spend more on the searchers most likely to convert.
Auction adjustment according to the device
"Use device-based bidding adjustments to deliver your ad more or less frequently during searches on specific devices: computers, tablets or mobile devices. " – Source: Google Ads Help Center
While until recently there was no differentiation between computers and tablets, advertisers can now adjust bids on all 3 devices.
In other words, this new feature allows you to set separate bids for the different devices (mobile, tablet or computer), but also to choose one of the three devices as the main bid and make adjustments to the other two.
Previously, the tablet/computer bid was used as an anchor, which meant that if you wanted to make adjustments, you had to increase or decrease the mobile bid. A very useful feature useful, therefore, especially for companies focusing more on a mobile experience.
When starting a Google Ads campaign, you can first look at your Google Analytics results to see if there are any specific trends on the devices used to visit your website. This data can be used as a starting point to define bidding adjustments for different devices.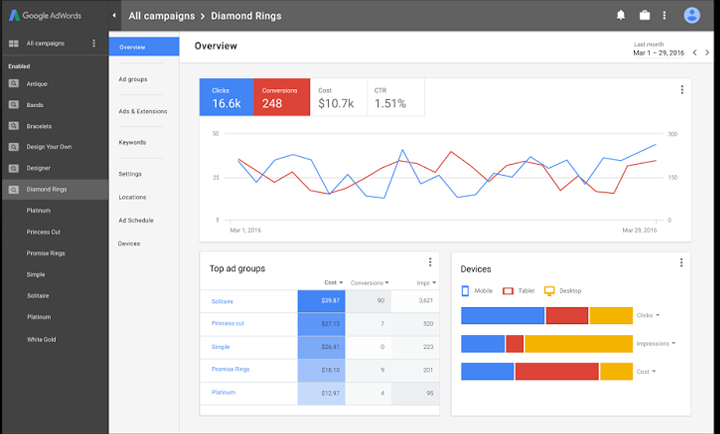 For new campaigns, you'll need to collect a few months of data to understand whether you're better off spending more on mobile users or computer users.
Video Remarketing
"You can serve personalized ads to millions of viewers on YouTube and partner video sites based on their previous interactions with your videos or YouTube channel." – Source: Google Ads Help Center
If you want to add a new advertising platform to your campaign, YouTube can be a great option. In YouTube, you can now target your ads based on the user's past interactions. All you have to do is link your Google Ads account to your YouTube account, and then create video remarketing lists targeting users based on certain actions they've taken in the past.
In terms of video advertising, the TrueView ad format is also a great option as it allows users to choose whether or not they want to view your video ad. You only pay when users interact with your ad. With this technique, you can ensure that you are only targeting people who are truly interested in your ads.
Ad extensions
"Ad extensions are an ad format where you can include additional information about your business." – Source: Google Ads Help Center
Ad extensions are the little extras that will help your ads stand out from the rest. This feature is simply adding additional information about your business: an address, phone number, reviews or more links to your web pages.
Ad extensions provide users with more reasons to click on your ad, giving it more value and increasing its visibility in search results.
You can add ad extensions manually, but Google Ads often displays them automatically when it determines that they will improve your ad's performance.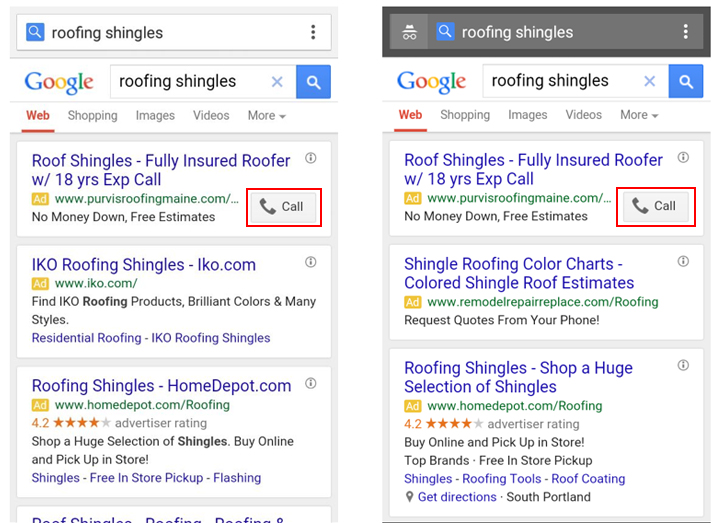 For example, if your campaigns link to landing pages that feature a phone number, then Google Ads will automatically display a call extension with that number.
How to create effective Google Ads campaigns in 2021?
Budgeting
Budgeting is not only about how much you want to spend each day on your paid ads, but also how you choose to divide your budget between different campaigns.
For example, if a seasonal business sells Christmas trees, it can set a budget of 0€ in the low season and increase it as the end-of-year holidays approach.
Key words
"These arewords or phrases of your choice describing your product or service, which help determine when and where your ad is likely to be shown. " – Source: Google Ads Help Center
For each of your campaigns, you should have ad groups that represent a handful of keywords each for even better performing ads.
Keyword selection is a relatively complex and time-consuming process. It requires you to put yourself in the head of the researcher to determine which keywords are linked to the different stages of the purchase path.
By bidding on keywords relevant to your business, you can place your ads in the SERPs when people search for what you offer. Keyword tools can help you discover the cost, competition and volume for search terms at each stage of your sales channel.
Finally, in 2021, you can now specify a list of keywords to exclude in order not to show ads on keywords lacking relevance.
For example, if you sell used appliances and you exclude the word "new", then Google Ads will not show your ad to users who have made a query like "new appliances".
Text of the ad
"In order toreach potential customers effectively, your text ads need to be specific, relevant, engaging, and provide opportunities. " – Source: Google Ads Help Center
On average, consumers would be reached by 5,000 ads/day. Writing an excellent text ad can therefore be a real challenge for any merchant.
Google Ads imposes a limit on the total number of characters and within that limit you should try to present the following details as best as possible:
Value proposition (what makes you unique)
Prices or promotions
A strong call to action
A keyword on which you position yourself
A landing page that matches your ad
Ad rotation
"Ad rotation refers to how your ads are served on the Search Network and Display Network." – Source: Google Ads Help Center
By default, ad rotation is always set to "Optimize for clicks," the setting that " prioritizes ads that are likely to attract more clicks than others in the group, based on your previous click-through rates (CTR)." In other words, over time, Google will serve the strongest ad based on click-through rates.
Other ad rotation options are available on Google Ads:
"Optimize for conversions": relatively similar to "Optimize for clicks", this setting will provide the ad likely to generate more conversions (purchases and registrations, for example).
"Alternate evenly": all ad variations will rotate evenly at the ad auction. This option is used for the first 90 days when a new ad is introduced in a campaign. At the end of this period, " the campaign automatically begins to be optimized for increased clicks or conversions. "
"Alternate indefinitely": this setting rotates the ads regularly for an indefinite time. There is no optimization with this option.
It is recommended to have rotating ads on the "Optimize for clicks" setting. However, the test period for a new version of your ad is of great importance, as it will highlight the best performing ones.
Geographic targeting of ads
"Select the language and geographic areas (a country, region or city, for example) where your potential customers are located. " – Source: Google Ads Help Center
Geo-targeting is a Google Ads setting that allows you to be very strategic with your budget.
It ensures that ads are only shown to users living within a targeted geographic area. You can also ensure that specific storage bins are excluded. In addition, the configuration of specific zones allows you to create geographic bid adjustments based on performance.
When starting a Google Ads campaign, you can first look at your Google Analytics results to see if there are any specific trends in where customers are visiting your website.
If you are limited by budget, it is best to focus on specific geographical areas first. Once one of your existing campaigns is performing well, you can then start targeting additional locations.
The next best thing is to regularly review your data to see if conversions are costing more or less in geographic areas.
Planning of announcements
"An ad serving schedule allows you to serve ads or change bids at certain times." – Source: Google Ads Help Center
This Google Ads setting is typically used by service companies that do not want their ads to run on holidays.
However, there is a strategic opportunity to leverage the ad schedule to spend more or less during various times of the day/days of the week.
If you are only open during specific hours, don't use your ads 24/7. On the other hand, if you have an e-commerce, make sure that your ads are always working.
Again, after a few months of data collection, you can look at your day of the week and day of the week reports in Google Ads to understand when you convert the most. Some will find that they are more successful in the middle of the week, while others maximize conversions on weekends or in the evening.
Whatever your case, you can choose to spend more during your peak hours and days. But if your budget is not limited, it's better to be on the ball 24/7.
In 2022, a handful of changes affect Google Ads advertisers. Understanding these new options and possibilities can help you stay ahead of your competition and perform better in the coming year. Finally, and this will be the last word, do not neglect your landing page: they will determine if the Internet users who clicked on your Google Ads convert or not!
For more info on landing page optimization, see our article :
Sources:
e-marketing.fr :
powertraffic.com:
agence90.fr :
leptidigital.fr :
bruno-guyot.com :