4 major changes to Adwords announced at Google Summit Performance
Major changes to come for the Adwords advertising network were announced this Tuesday, May 24 at the Google Summit Performance in San Francisco, an annual event designed to communicate about Google Adwords and Analytics innovations.
Among the changes planned are the appearance of geolocated ads via Google Maps, the launch of responsive ads, but also a lengthening of the length of the text of ads.
Modification of the format of text ads
Let us go back three months to mid-February. Google then changed the display of ads on its search results pages, removing the ads from the right sidebar and increasing the number of ads in premium position from 3 to 4.
These updates were intended to prepare the arrival of this new format of text ads called "Expanded Text Ads" (ETA). Starting in November 2017, the current ads will disappear to make way for longer ads that include two 30-character headlines, instead of the current one 25-character headline, and an 80-character description line versus two 35-character lines at the moment.
The display URL is also eliminated and replaced by an auto-extracted URL from the final URL domain. Another improvement: two navigation path fields of 15 characters each can be added to this new URL.
Responsive ads for display
The figures provided by Google alone justify the need to adapt Adwords campaigns to the mobile browsing experience. Billions of searches now come to Google and more than half of them occur via smartphones and tablets.
In the coming months, the ads will be automatically resized and adjusted to the look and feel of the site. Advertisers will only have to provide the title, description, image and URL, and then Google will take over by adapting the ads to the content of the site on which they appear.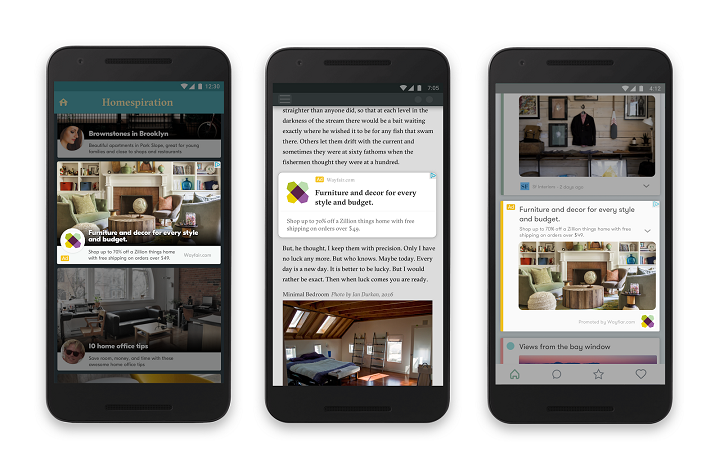 Local search ads
Research related to the geographical area has increased by 50%. So Google decided to add local searches for Google.com and Google Maps.
These new local search ads will give advertisers the opportunity to rank on specific product or service queries made in their geographic area.
Adjustable bids depending on the search device
Advertisers will be able to set separate bid adjustments for mobile, desktop and tablet. They will therefore be able to choose how they define their offers according to the type of device.
It will be possible to determine a base bid for a type of device, defining it as a reference device for its Adwords business, and then adjust the bids up to +900% for the other two.