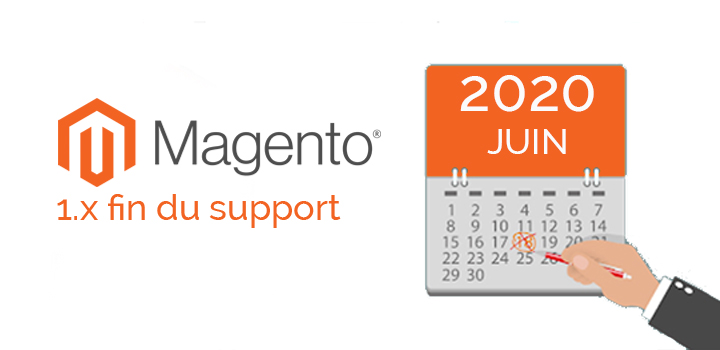 End of Magento 1 support in 2020: prepare your Magento 2 migration
The end of Magento 1 support, is it soon? Yes, and very soon!
Originally scheduled for November 18, 2018, three years exactly after the release of Magento 2, the end date for Magento 1 was recently officially pushed back.
Magento managers have announced that the end of support for all 1.x versions will not take place before June 2020, in order to give e-tailers enough time to plan their Magento 2 migrations.
Since its first public release in 2008, Magento has become the most popular e-commerce platform in the world. Between 25% and 30% of all e-commerce sites on the web use it. Worldwide, about 420,000 e-shops are Magento, but less than 20,000 of them use Magento 2.

These figures are explained by the many difficulties and worries associated with migration. And they are perfectly justified, since Magento 2 is not a simple facelift of Magento 1. Unlike previous updates to Magento 1.x versions, version 2 is a complete rebuild of the platform from scratch, not a patch to the previous version.
As a result, thousands of e-merchants, discouraged by the time and cost, are still legitimately hesitant to migrate.
However, from this "end of life", no more new patches, security updates and new features will be available for Magento 1. As a result, the e-shops of hundreds of thousands of companies will become vulnerable and obsolete if they decide not to migrate to Magento 2.
The end of the support is therefore planned for June 2020. In 18 months. It may seem like a long time, but it's actually tomorrow. If you are still using a 1.x version of Magento, it is therefore better to start planning a migration as soon as possible so as not to be caught off guard when the deadline approaches.
And while it may seem painful and worrisome in the short term, there are considerable long-term benefits to switching to Magento 2.
To get into the nitty-gritty, let's take a closer look at what's new in Magento 2 and how the migration will benefit your business in the future.
Advantages of migrating to Magento 2
Magento 1 versions already have limited features compared to those provided with Magento 2, with significant improvements such as :

✓ Up to 50% faster loading time.

✓ Enhanced security via multiple payment gateways.

✓ New B2B and B2C features.

✓ A responsive platform that can be used on any device.

✓ A more intuitive and user-friendly administration panel.

✓ More flexibility for custom features and easier extension upgrades.

✓ A verification process that requires less customer information and has fewer steps, saving time and reducing cart abandonment rates.

✓ Enhanced search features and a simplified checkout process that make navigation more convenient for mobile users.

✓ Three separate databases to avoid overload: one for products, one for payments and one for orders.
It is also important to realize that Magento is now focusing on the development and support of the second version, at the expense of Magento 1. All developments, new extensions and improvements will now be for Magento 2.
A Magento 1 e-commerce site will not stop working on June 20, 2020… but it will inevitably become obsolete.
Disadvantages of migrating to Magento 2
The migration to Magento 2 is far from being simple and fast. This is a tedious process that leads to a number of issues, including:
❌ The impossibility of migrating your e-commerce site without a team of developers to set everything up and make the necessary adjustments.
❌ Creating new themes and templates from scratch.
❌ The inability to import your Magento 1 theme and templates directly into Magento 2.
❌ The disappearance of some Magento extensions.
❌ The risks of SEO and indexing problems occurring.
What are the risks of staying on Magento 1?
Currently, Magento 1 sites remain secure thanks to regular patches and upgrades released to combat vulnerabilities and issues found in the system.
But since the end of support will also mean the end of the release of security updates, Magento 1 sites will be left to their own devices to deal with any future security flaws.
In concrete terms, this means that all websites that continue to use Magento 1 will be able to become prime targets for :
server attacks ;
website attacks;
spam attacks;
capturing payment details.
In addition to security risks, performance issues that could result in reduced traffic, customers and sales will continue to need to be managed.
When to start a migration to Magento 2?
For the moment, staying on Magento 1 is not a problem. But with the imminent arrival of the end of support, choosing not to move to Magento 2 involves many risks, especially from a security point of view.
According to our web agency, migration is no longer a question of if it should be done, but rather of when it should be done?
On this subject, read also our article: Magento 2 migration, is it the right time?
No two e-tailers will have the same answer to this question, as there are many different factors to consider.
For example, if your Magento 1 has many bugs and problematic features, we advise you to start the migration process as soon as possible instead of continuing to invest in a platform that will eventually be abandoned,
On the other hand, if your Magento 1 site is working properly, there is no need to rush. However, that doesn't mean you shouldn't start preparing. You can already start to formulate a migration plan so that the big jump to Magento 2 is not done in a hurry!
Since this is a long process, there are a few steps that will help you make the transition smoothly:
a compatibility check of your server, the server requirements being different for Magento 2 ;
a reflection on the features to add to your e-commerce Magento 2, the extensions of Magento 1 being for the most part incompatible with Magento 2. You can take advantage of this apparent drawback to reconsider the extensions currently installed on your e-shop and identify the features that are really necessary. Note that most of the important extensions have already been upgraded for Magento 2 ;
a reflection on the migration of your themes and templates, these can not be directly migrated to Magento 2. As a result, you will have three options: create a new theme, choose one from the Magento marketplace or use the default Luma theme.
Don't see your Magento 2 migration as a constraint, but rather as an opportunity to rethink and improve your site.
Instead of simply transferring the current features to a Magento 2 store, take the opportunity to analyze the performance and customer experience by involving all stakeholders: marketing teams, web development team…
You will then be able to set up a migration plan that will positively evolve the activity and performance of your e-commerce site.
Conclusion
As a web agency specialized in Magento, we are now developing new e-commerce websites only on Magento 2. As the end of Magento 1 support is coming soon, we can only recommend you not to create new e-shops on Magento 1.
For e-merchants with a Magento 1 site, we strongly advise you to start the migration process to the Magento 2 platform.
We are convinced that moving your site to the Magento 2 platform is the "future" of Magento. From a technical point of view, Magento 2 is more advanced and durable than Magento 1, even with its few flaws and complexity in some respects.
Inevitably, a migration is the safest choice for the future of your e-commerce site and your business.
Our team will be happy to help you with your Magento 2 migration and answer all your questions regarding this process.
[Editor's note: this article is subject to updates]
---
Did you like this article?
Subscribe to our newsletter and you will receive our other articles once a month in your mailbox