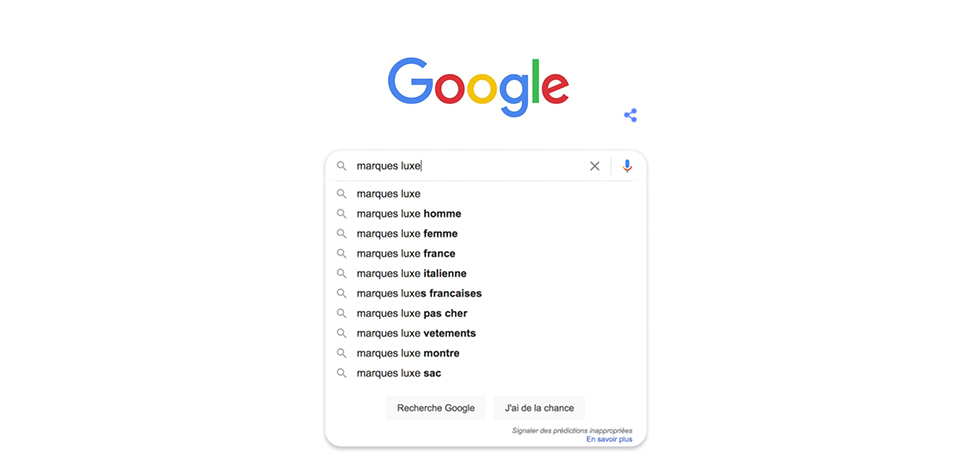 Top luxury searches on Google in France
True leader of the Internet, Google dictates its law in the rules of referencing and the quest for the Grail: the first page of the search. When you want to increase your visibility, it is essential to know the search trends and luxury keywords to work on your SEO. Here are the top luxury searches on Google in France.
The dependence of luxury brands on Google
Consumers of luxury goods do not ignore the use of the Internet, quite the contrary. 61% search on the web before buying a luxury product and use a search engine. Even if 92% of them end up buying a luxury product in a shop, it is their web searches that lead them there.
A study conducted by PMX Agency among 80 brands (Louis Vuitton, Hermès, Ralph Lauren, etc.) indicated that 54% of the traffic of luxury brands comes from natural referencing, against 46% from advertising. Search is therefore very important for visibility and luxury companies can no longer ignore SEO in their communication strategy.
The most searched luxury brands on Google
The SEO platform SEMrush used its powerful tools to calculate the number of searches performed on Google and deliver an average by brand. The big winner is the world-renowned French luxury leather goods manufacturer.
Here are the top luxury brands searched monthly:
The " Louis Vuitton" brand receives approximately 700,000 searches per month.
"Balenciaga" 420,000 times.
"Gucci" 410,000.
"Dior", 320,000.
"Hermes", 230,000.
"Alexander McQueen", 220,000.
"Chanel" 210,000.
"Yves Saint Laurent", 150,000.
"Versace", 130,000.
Top of the most popular luxury watches
Luxury pre-owned watch company Watchfinder & Co. analyzed Google queries and keywords to see which products consumers are most interested in. Worldwide, the total number of searches related to watches is around 63 million per year (or about 170,000 per day) and concerns 2,080 different models. Rolex was unanimous and took the first four places on the podium. The watch brand is clearly showing its leadership and power here.
Here are the 5 most popular luxury watches among Internet users:
"Rolex Submariner", 5.1 million searches per year.
"Rolex Daytona, $3.8 million.
"Rolex Datejust, $2.5 million.
"Rolex Oyster Perpetual, $1.8 million.
"Audemars Piguet Royal Oak, 1.4 million.
Concerning France alone, Watchfinder & Co counts 4.8 million searches on luxury watches, i.e. 8% of the world's queries, approximately 400,000 per month. Here are the top 10 keywords on luxury watches in France where Rolex still holds a considerable place:
"Rolex Submariner", 486,000 searches.
"Rolex Daytona", 397,200.
"Audemars Piguet Royal Oak", 177,600.
"Rolex Datejust" 177,600.
"Patek Philippe Nautilus" 118 800.
"Rolex Oyster Perpetual" 97,200.
"Tag Heuer Monaco" 97 200.
"Breitling Navitimer 79 200.
"Rolex Day Date 64 800.
"Cartier Santos" 64 800.
Research trends on fashion and luxury jewellery
Stylight, the search engine specializing in fashion and beauty products unveils the Google search trends of winter 2021 through a comparative study of the behaviors of 12 million users during a four-month period between 2019 and 2020.
The most clicked products on Google reveal that pearls are back in fashion. They made a comeback last year. Clicks on pearl rings increased by 226% and clicks on pearl necklaces by 161%. Coloured beads are very popular. Stones also make a comeback, with a 1,100% increase
Layering is also very successful. Internet users are marking an interest in accumulating accessories like flat herringbone chains that show an interest rate of over 4,000% from 2019! Another piece of jewelry that can be stacked and is all the rage is the ring (+ 1,600%).
The third trend in jewelry is animal-inspired. Luxury jewellery has a lot to offer, such as the snakes at Bulgari and Gucci or the famous Panther by Cartier, which adorn rings, bracelets and pendants.
Top of the most typed luxury hotels on Google
Another interesting category in the luxury field is the hotel industry. Let's travel a bit by discovering the top 5 most searched luxury accommodations on Google :
"The Bristol Hotel in Warsaw" in Poland.
"The Borgo Egnazia Hotel in Savelletri, Italy.
"The Sol y Luna Hotel in Peru.
"Turtle Island Resort Hotel" located in Fiji.
"The Post Ranch Inn" in California.
Alioze, SEO agency specialized in luxury marketing, helps you to increase your positioning on Google and other search engines, to improve your visibility and your sales.
Sources:
ya-graphic.com:
femmeactuelle.fr :
watches-of-luxury.com :
7sur7.be :