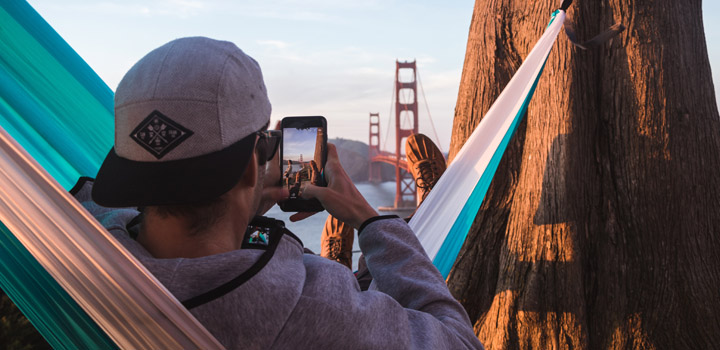 Top 6 tourism influencers in France
Travel bloggers and influencers are paid to travel.
Behind this enticing vision of the world of influence lies a profession and a reality that is much more professional than it seems. Today's explorers create content about a destination, place or tourism experience and share it with the community they have built over the years.
For tourism companies, working with these globetrotters is a real marketing lever as their recommendations are followed.
Here are the top 6 tourism influencers in France.

Les artisans de demain
Camille and Illiès define themselves as "two travelers in search of encounters and adventures". For the past 4 years, they have been travelling the roads of East Africa, the Middle East and South Asia in search of the "Artisans of Tomorrow". Men, women, families or communities who, in their own way, participate to a better world. Thanks to their camera, Camille and Illiès share their daily adventures and inspirations. The reports are available on their YouTube channel Les Artisans De Demain and their social networks.
Bruno Maltor
Influencer Bruno Maltor addresses his community directly with the name of his blog " Your World Tour ". He knows how to make you want to go there thanks to his sympathy and his ultra-professional videos that take us with him to discover a destination.
As an ace in digital marketing, he regularly sets up original advertising campaigns. For example, his campaigns " the best internship in the world " or " I'll go sleep at a subscriber's house " made the buzz on the networks. He works with major tourism companies such as Air France, SNCF and AccorHotels.
Bestjobers
In 2013, Elisa won the Best Job in The World competition organised by the Australian Tourism Board from over 330,000 applicants. For 6 months, she became a Park Ranger and promoted the Australian fauna and flora to her community. She brings along her companion and photographer Max.
Since then, they have become the bestjobbers and travel around the world thanks to collaborations with tourism actors. Their reports focus more particularly on nature and animals.
The pink bird
At 23 years old, Camille leaves alone to do a 3 month internship in Thailand. She returns transformed and the journey will never leave her. With her boyfriend, she left for a 15-month world tour in Asia and South America.
Through her blog, she wishes to share her peregrinations and pass on tips and tricks to travel in complete serenity. A popular influencer, she has worked with many travel brands.
Alex Vizeo
Alex Vizeo is one of the most influential tourism bloggers in France. Awarded several times, first at the Golden Blog Awards in 2011 and then at the Travel d'Or in 2017, Alex Vizeo is terribly endearing thanks to his humor and good humor.
He makes quality videos of his adventures that really make you want to go with him. With his sidekick Loris Monteux, he is using his influence to make a humanitarian film in 2019, First Steps to an Engaged Journey.
World Else
Pauline and Benoît are passionate about travel and adventure. This loving couple decided to leave everything behind in 2013 to travel 6 months in Asia and create the blog World Else. Through it, they want to share travel stories, tips and recipes from around the world. Their favourite themes are ecology, adventure and gastronomy.
Do you want to develop your influencer marketing? If you want to work with influencers and gain visibility and notoriety, our communication agency specialized in tourism will help you develop your strategy.
Discover also our tips to find and contact influencers
Sources: