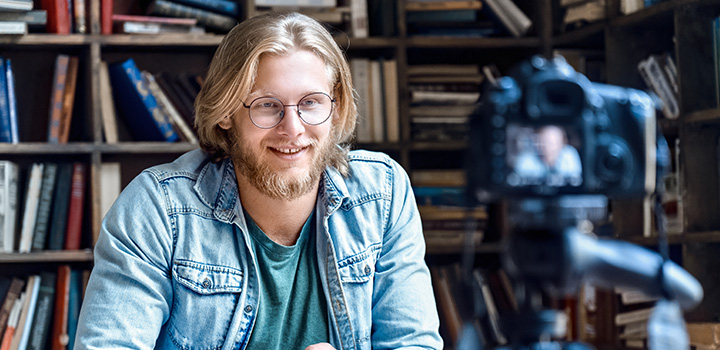 Top influencers in teaching and education in France
Traditional advertising is still omnipresent in our daily lives: press, urban billboards, TV and radio. However, brands in all fields are increasingly turning to influencer marketing. Education companies are also adept at this strategy. Who are the key figures in the sector who can be real communication levers? Here are the top 7 education influencers in France.
Dr. Nozman, the scientific influencer
Germain O'Livry was born on January 2nd 1990 in Brittany. French graphic designer and video artist, he has millions of subscribers on the Youtube platform. He started in 2009 with a channel about video games, then created the character of Dr. Nozman in 2011. As an education and science influencer, he covers topics such as biology, chemistry and object mechanics. His biggest fans? Fred and Jamy, the scientific duo of the 90's who crossed France by truck and popularized scientific subjects in their TV show. Dr. Nozman was inspired by it and made a hit. He does his own research and writes all the texts, which he has validated by experts. He is considered the most popular French-speaking popularizer of science on Youtube.
Cyrus North, the philosopher 2.0
Cyrus North is passionate about philosophy. In his videos entitled Le coup de Phil', he spends ten minutes explaining a thought or concept. With humour, he teaches philosophy to his thousands of subscribers on Youtube. Born in 1990 in Clamart, he studied business in Bordeaux where he met his friend and co-author Tom Aguilar during an internship. He founded his first channel in 2013. Since then, he has presented a daily show on the website 20 minutes, collaborated with France TV éducation, Google Arts & culture, the Louvre Museum and is currently presenting the web series Homo digitalis on Arte. Another channel, created in 2017 and co-written with Tom, focuses on middle and high school curricula. Thanks to his quirky tone and pop culture references, the philosopher-influencer is a huge success and fascinates thousands of teenagers.
Mistresses in Sneakers, teacher influencers
Nina and Anaïs form the Mistresses in Sneakers. These two teachers met during their training and are still together. Their Instagram account has about 30,000 followers and they share lots of information about being a teacher on their blog, as well as curriculum-related teaching resources. They are also intended for those who wish to take the CRPE exam to become a school teacher. They are taking advantage of their micro-influencers' hats in education and teaching in France to invest in a humanitarian project, that of participating in the construction of a school in the Moroccan desert.
See this post on Instagram
Top influencers in higher education in France according to HEADway Advisory
Each year, the strategy consulting firm, HEADway Advisory, reviews the actions of education professionals on twitter. The specialist in higher education, research and training unveils its ranking of education influencers in France.
Jean-Michel Blanquer, all categories
Jean-Michel Blanquer has established himself thanks to his numerous subscribers and an indisputable presence on the web. Director General of Essec, the Minister of Education has understood the role of networks and communication. You can find him on twitter, but also on LinkedIn and Facebook where he defends his breakthrough ideas on education and teaching. He is the author of numerous books and regularly hosts symposiums and conferences.
Thomas Porcher, in the teacher category
Thomas Porcher wins the first place in the faculty category of the HEADway ranking. A member of the collective Les économistes atterrés, he is now a professor at the Paris School of Business, after having taught at the largest Parisian universities: Paris-Dauphine, the Sorbonne and Paris-Descartes. Often interviewed in the media, he has been seen in C dans l'air, CNews and LCI. The economist is very popular and gets a lot of media coverage. In 2020, he is ranked 42nd in Richtopia's top 100 most influential economists in the world.
Thomas Froehlicher, in the Presidents and Directors category
As far as university presidents and directors of grandes écoles are concerned, Thomas Froehlicher, director of Rennes SB, is in first place on the podium of education and teaching influencers in France. Very active on the networks, he has a large number of subscribers and regularly posts on Facebook, LinkedIn and Youtube. He remains a researcher at the University of Lorraine, a professor in Liège and writes on the EducPros.fr blog
Louise Tourret, in the influencer category
Louise Tourret is a journalist specializing in education at France Culture. She has produced and presented the program Rue des écoles since 2009. She worked at Europe 1, and was editor-in-chief at Canal +. She is a regular contributor to the webmagazine Slate on topics related to education and its place in society. She has also become a specialist in the mechanisms of national education and its many reforms. She is one of the most influential teachers in France.

Twitter : Louise Tourret
Alioze supports you in your influence strategy. Our agency develops for you the best partnerships to increase your visibility to a qualified audience.
Sources: