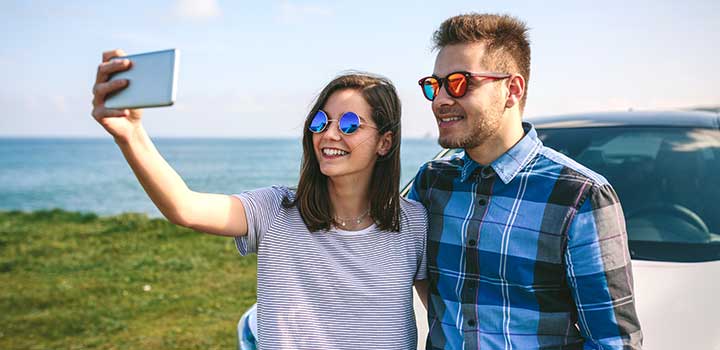 Top automotive influencers
Companies in the automotive sector can no longer ignore influencer marketing as a way to get the word out and build their brand. Automotive influencers have considerable power over their community and companies need to use it. As car enthusiasts, they pass on mechanical tips, model reviews and recommendations to their fans. Alioze has compiled a list of 10 automotive influencers you absolutely must know!
Top 3 highest paid automotive influencers
UK website Allacarleasing has delivered a ranking of the highest paid automotive influencers in 2020. Here are the top 3:
1. Super Car Blondie
The most influential and highest paid person in the automotive industry is a woman. She is by far the top of the podium. With nearly 9 million followers on Instagram and 7 million on Youtube, Super Car Blondie aka Alex Hirschi, reportedly earns an average of 22,000 euros per post. Enough to turn heads.
See this post on Instagram
Born in Australia, she graduated in journalism and moved to Dubai to work as a radio host. A marketing genius, she surfs all the social networks to conquer her millions of fans: Twitter, Youtube, Instagram and Facebook hold no secrets for her. She is the envy of many, as she tests the most expensive and fastest cars in the world. The press also praises her, she appears in Forbes, Maxim, GQ and Esquire, to name a few.
2. Chris Fix
The second highest paid automotive influencer in the world is Chris Fix, who reportedly earns almost 9,000 euros per publication. On his YouTube channel, he offers his 7.7 million subscribers videos that explain a whole host of technical tips. It is aimed at both beginners and experts and teaches them how to repair a car on their own. Surprisingly for an automotive influencer, he never shows his face.
3. Salomondrin
Salomondrin is in third place. He earns an average of about 8,000 euros per publication. He is less active on Youtube where he has "only" 1.64 million subscribers to his credit. His estimated salary for making a video on the platform would be 832 euros. Instagram earns him more, a publication on the network with its 2.7 million followers allows him to earn an average of 7,500 euros.
7 other automotive influencers to follow
Here are seven more must-follow car influencers to get the lowdown on all things automotive. What if you collaborate with one of them?
1. François Pog
François alias POG has become a key influencer in the automotive world. Franco-Belgian, François Dequidt made his fortune thanks to the development of a computer graphics software. It is thanks to this activity that he was able to afford luxury sports cars: Lamborghini, Ferrari or Audi, no brand resists him. In addition to sharing his passion on the networks, he is known for his POG Tour, a rally between friends from Belgium to Monaco with stops to meet his fans and show his cars. A marketing pro in short!
See this post on Instagram
2. Margot Robbie
Automotive companies don't just use influencers. Nissan, for example, has chosen a film icon as its ambassador. He decided to collaborate with Australian actress Margot Robbie to promote Nissan Electric and launch the new LEAF.
3. Mathieu Bonnevie
On his Instagram account, Mathieu Bonnevie combines his two passions, photography and cars. The Rémois artist sublimates the vehicles and gives them life. The cars are often staged in cityscapes, countryside or even on circuits, often at full speed, sometimes at a standstill.
See this post on Instagram
4. Becky Evans
Becky Evans is a young Englishwoman who has been passionate about cars since she was a child. Even though her fans are more than 90% male, they make videos that are also aimed at women. Her Girls Guide to series is the most viewed. She explains the advantages and disadvantages of the cars she tests. She regularly collaborates with certain brands, and is an ambassador for Redbull.
5. Ms Motors
Ms Motors is a garage based in Cannes that buys and sells high-end vehicles. The three partners, passionate about mechanics and racing cars, specialize in customizing cars. Since 2007, they have been taking care of their customers by offering a personalized service. They have a huge showroom to welcome the public in the heart of the French Riviera city and are very active on social networks, where they have more than 500,000 followers.
See this post on Instagram
6. Maxime Langlais
Maxime Langlais and his friend Alizée became famous after their participation in the TV game show Pekin Express. As a fan of cars, but also of travel and fashion, Maxime regularly partners with car companies. He has also just created his own brand of clothing for sale in e-commerce.
See this post on Instagram
7. Sophia Floersh
Sophia Floersch is a German racing driver. Considered as a mid-influencer, she had to appear in our ranking of automotive influencers. At only 19 years old, she is already recognized in the industry. On Instagram, where she has over 450,000 followers, she doesn't hesitate to value her femininity in this masculine world.
See this post on Instagram
If you want to gain visibility and notoriety, theAlioze agency can help you develop your influence strategy.
Discover also our tips to find and contact influencers
Sources: