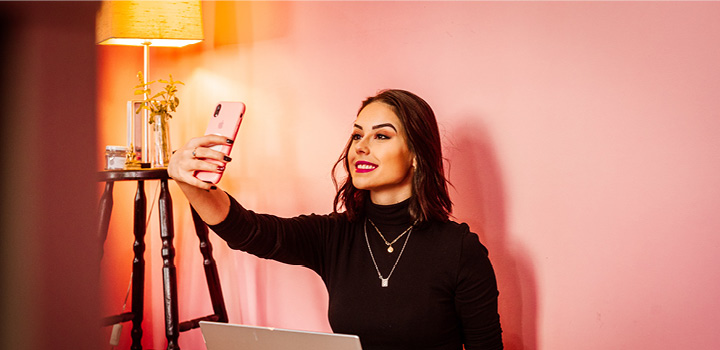 Top 5 beauty influencers in France
Beauty influencers have a lot of power. The impact they have on their wider community is an essential element for companies in the sector to take into account. They are listened to daily by their fans who are eager for recommendations. They share practices and tips in posts, articles, photos and tutorials. To improve your communication, influencer marketing is a must, from basic product placement to more substantial partnerships.
Alioze offers you a top 5 of beauty influencers in France that you absolutely must know!
1 – Enjoyphoenix's revenge
Behind the Enjoyphoenix account born in 2015 is Marie Lopez. With over 5 million followers, the young woman has become a true businesswoman specializing in the fashion and beauty industry. With her youtube channel followed by more than 3.5 million people and her online cosmetics shop, the beauty influencer has taken advantage of social networks and the web. She is a young teenager who feels bad about herself when she creates her first video at the age of 16 to escape a difficult daily life. She is the first French youtuber to reach 100,000 subscribers.
In 2015, she published an autobiographical book that was a big hit with her growing community. She took part in TV shows such as Top Chef, Danse avec les stars and Fort Boyard, which clearly increased her fame. She became an ambassador for Gemey Maybelline and Benefit and confirmed her status as the queen of beauty influencers.
2 – The endearing Horia
With nearly 4 million followers on various networks, Horia is the second favorite influencer of the French. She started her career on the net under the pseudonym "Un monde au féminin". Originally from Valenciennes, the young woman from Grenoble gives advice, tutorials and tests make-up, skincare and hair colour products, etc. Always in front of the camera, her amazing naturalness brings a certain lightness and closeness to her subscribers. Many of her fans see themselves in her. She likes to stage herself with humour and her simplicity makes her an endearing person.
It has a very good visibility and makes an average of 500 000 impressions per video. That's why many brands have collaborated with her. For example, with the help of L'Oréal, it has developed its own beauty product.
3 – ElsaMakeup
Elsa started on Youtube in 2010 and is one of the young women of the new generation who have made a mark on the minds of Internet users. However, her background is atypical, to say the least, as she became a paraplegic in her teens following an operation for her rare disease. She fights every day and talks about her disability to her fans with sincerity.
She now has over 750,000 followers on Instagram and nearly 1 million on Youtube who follow all of her beauty tips to the letter. She takes advantage of her fame to support humanitarian and associative projects as an ambassador for Marie Claire.
4 – Sandrea
Sandrea has moved to the United States, although she continues to address her French fans. She reveals her recommendations on cosmetic products that are released before their time on the other side of the ocean.
The beauty influencer films herself in her daily life and seduces over 2.6 million people on Instagram and Youtube. Frank and eccentric, she collaborates with many brands and is the official ambassador of Terry Paris.
5 – Sananas' relaxed attitude
Underneath a very studied look, there is a little woman who communicates simply and with humour to her community of over 5 million people. She offers, among other things, videos where she tests makeup and other beauty products. She has become one of the most influential youtubers after taking a long time to get visibility. Her BTS in communication allowed her to know the tricks of the trade and to be able to undertake partnerships with big cosmetic brands such as L'Oréal or Clarins.
You want to work with beauty influencers? Alioze is a communication agency specialized in beauty and accompanies you in your influencer strategy.
Discover also our tips to find and contact influencers