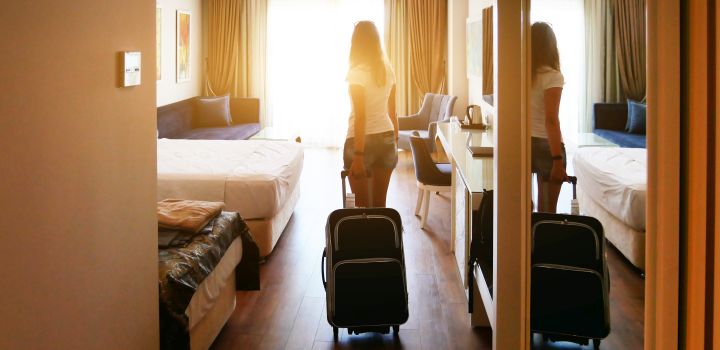 Top 7 hotel influencers
According to a study by Voyages-sncf, 70% of Millenials chose their holiday destination thanks to a photo seen on Instagram. Social networks have become an essential part of a communication plan. As a hospitality professional, it is essential to create partnerships with tourism influencers. By sharing their desires and favorites with their community, they reach thousands of people. It's a great way to promote your establishment. Focus on 7 hotel influencers.
Wonguy
According to Statista, he would be the French travel influencer with the highest media value. The media value is an estimate of the amount of budget a hotel would have to spend to get the same results as a single post written by the influencer.
Olivier Wong is a French photographer, born in Reunion Island, who shares his most beautiful shots to his 800,000 Instagram followers. Whether abroad or in Paris, the city where he now resides, he offers shots with a sharp eye, with original points of view.
In his front page stories, he has a hotel category in which he creates content and promotes high-class Parisian accommodations.
See this post on Instagram
Little Gipsy

A funny and quirky little lady who works full time as a hotel and travel influencer. An adventurer, she has been travelling the world since she was 23 years old.
It has more than 200,000 subscribers on all networks. She makes all the videos on her Youtube channel by herself, where she tells about her travels with humour and pep. She also talks about the problems that the traveller may encounter and offers practical tutorials.
The Droners
Claire and Arthur form a duo, both in their private and professional lives. Professional pilots, they created the blog Les droners to talk about travel, but also about drones. They advise on the practice, the type of equipment to buy, the training to be done, etc.
Working with droners is therefore a good solution to have great visuals seen from the sky of a hotel and its environment. This allows you to offer your customers new points of view on your establishment and to take the height, all in finesse.
Through their blog and social networks, they show us great places around the world in pictures and videos.
Zane's Blog
Zane is a young man who started blogging in 2013. He began his adventure by writing articles and reviews of luxury hotels. Very quickly, the communication teams of major hotels contacted him to test their rooms and services.
Thanks to many years of experience, Zane's blog is now getting a lot of visibility on the net and on social networks. It's a whole small team working to test and recommend the best hotels to 100,000 followers on Instagram, 30,000 on Facebook and on Twitter.
See this post on Instagram
André De Mello
Do you want to promote your hotel to the world to attract foreign tourists? André is a well-known hotel influencer in the United States. Born in Brazil, he moved to New York at 19 to study film.
He has produced television programs including Amazing Hotels for a channel broadcast throughout South America. He filmed more than 100 hotels around the world.
He is also a content creator and photographer, which has allowed him to collaborate with major hotels such as Four Seasons, Six Senses, Aman and Mandarin Oriental. Club Med also called on his skills.
See this post on Instagram
My Dolce Vita
This account is held by Laetitia, a lover who loves to go on weekends in France with her other half, to disconnect. She's also in love with beautiful places, which she showcases on her Instagram profile.
Every 15 days, she highlights a charming hotel, a guest room or other type of cosy nest through 14 photos. The accommodations are always chosen for their elegance, their standing, their history and their chic and vintage atmosphere.
She sometimes puts herself on stage in her pictures (taken by her lover?) to bring sweetness and poetry in the daily life of her 12 000 subscribers.
See this post on Instagram

Earthpix

Eric Damier is the creator of the earthpix account where he inspires his 18 million followers by sharing his inspirations daily. It encourages you to discover new cultures, taste new foods and never stop exploring. He considers earthpix to be the largest community of travelers.
He has thousands of fans on his own account. He has been an entrepreneur since the age of 14 and has created his own communications agency Damier Media based in Los Angeles. Working with him will be a great adventure that will bring results and success.
If you want to gain visibility and notoriety, the Alioze agency, specialised in the hotel sector, can help you develop your influence strategy.
Discover also our tips to find and contact influencers
Sources: