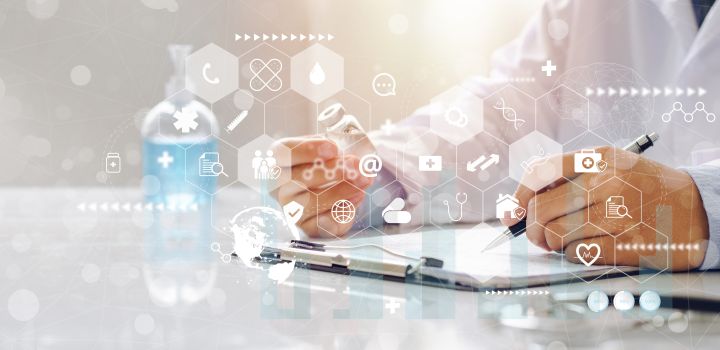 SantExpo 2022: what will be the hospital of tomorrow in Europe?
On May 17-18-19, 2022, the 56th edition of SANTEXPO will take place, the annual meeting of the hospital digital health sector, with 600 exhibitors (equipment manufacturers, software publishers, suppliers, e-health entrepreneurs, health data hosts, medical device manufacturers, IS architects, caregivers, institutions, etc.) and more than 20,000 professionals expected to attend: caregivers, experts, decision-makers, users and healthcare professionals involved in the management, digitalization, equipment and construction of healthcare institutions.
SANTEXPO, which has been approved by the PFUE22 (French Presidency of the Council of the European Union), will bring together all the players in the health sector around a common theme: "Health, Europe's new frontier? After the launch in 2021 of the Ségur de la santé program, a 3-year funding program, this gas pedal for the deployment of the digital shift of the "Ma santé 2022" plan, the year 2022 will allow us to envisage the Momentum of digital health for the years to come. Indeed, many European health projects are taking shape: Sesali and MaSanté@UE for a better care of patients residing in the European Union, X-eHealth aiming to establish a common framework for the exchange of patient data, TEHDAS aims to support European states in the development of the use of secondary health data, for the benefit of a public research data and a European innovation initiative
The show's program includes FHF conferences, the 22nd ICT & HEALTH plenary session, the SNITEM symposium, expert trails (cybersecurity, remote monitoring, Segur and interoperability), themed villages (Wellness, Training, Start-ups, Catel showroom, Leem, etc.), and the Innovation Awards.
SANTEXPO explores other themes such as the digitization of patient pathways, the hospital metaverse, digital sobriety in hospitals, the augmented operating room, the use of disruptive technologies, in particular AI and blockchain, and connected medical devices.
Enjoy the #SantExpo show!
Alioze, the healthcare communication agency in the UK, supports your company or brand in its marketing strategy thanks to its team of experts dedicated to the sector.