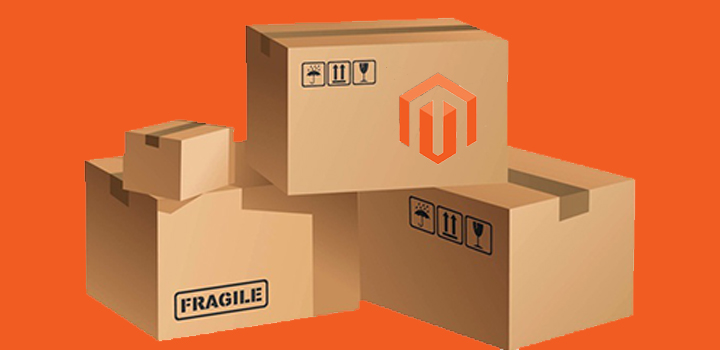 How to optimize the delivery for your Magento e-commerce ?
What would be the purpose of a Magento e-commerce without delivery? To his loss. As soon as a purchase is made online, delivery is inevitable.
On this subject, cyber buyers all have different requirements and budgets, as shown by the study "E-Commerce 2016 – The new buying paths" recently carried out by CC Benchmark Institut, which targets the habits and preferences of Internet users with regard to delivery.
In order to satisfy all types of customers, your Magento must therefore offer a multiplicity of choices. If an express home delivery is suitable for a buyer with a large budget, others will prefer to wait a few days and travel to pick up their purchases free of charge at a relay point.
E-commerce: the delivery business
With the explosion of smartphones and internet at your fingertips, the 2017 trend is all about everything, right now. The ordering process is easy, and cyber shoppers can make their purchases in a few clicks.
Amazon has understood this: the impatience of Internet users has propelled express delivery to the heart of e-commerce issues. As such, the American e-commerce giant launched its "Prime now" fast delivery service for its premium subscribers in Paris last June.
The promise? Unlimited free home delivery of"thousands of everyday products" (food, drinks, cleaning products, beauty, high tech, sports, games, toys or gifts) in only 2 hours. For those in a hurry, Amazon even offers 1-hour delivery for 5.90 euros. A total of 18,000 products can be ordered with Prime Now, which is more than 13% of Amazon's catalogue.
Other major retailers such as Fnac, Cdiscount or Rueducommerce have followed Amazon's lead and are also offering free delivery in record time to their subscribers. Proof that express delivery has a future: according to CC Benchmark's study, nearly 50% of cyber shoppers say they are interested in or have already subscribed to an e-commerce offer such as Prime Now.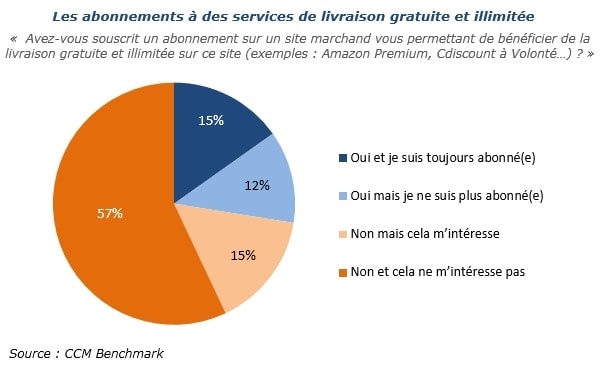 Like Amazon, many start-ups have sniffed out the opportunity and are looking to entice e-retailers by making a place for themselves in the fast delivery market for 2017. This is the case of Stuart, a company that offers to send a courier to pick up the products from the merchant.
Think about it: if the immediate delivery business is flourishing, it is promising. So is it worth implementing on your Magento in 2017?
Home delivery does well
When a customer places an order on your Magento e-commerce, he must be offered the possibility to choose between several delivery methods. But which ones appeal most to cyber shoppers?
Home delivery: preferred by 93% of consumers, traditional home delivery remains the preferred option for Internet users. In a few hours or days, the package is delivered directly to the cyber buyer.
Click and collect: at the frontier of e-commerce and traditional commerce, click and collect allows Internet users to reserve products online that are available in stores. This free service automatically informs the Internet user of shops near him/her that have the desired products in stock. All that remains is for the Internet user to select the store where he wishes to pick up his order. Click and collect requires that you can manage stocks in real time via your Magento, but the main advantage is that you save on delivery costs.
Pick-up in a relay point: 87% of cyber buyers regularly choose this delivery method, which provides customers with their order within a few days.
In-store pick-up: favoured by 48% of cyber shoppers, in-store pick-up has a double advantage: the supply is done internally and therefore costs the company less while pushing the consumer to spend more once they are there. In 57% of cases, customers leave with an additional purchase.
Pick-up at the post office: favoured by 47% of cyber shoppers.
Pick-up in an automatic locker: the order is delivered to lockers that are accessible 24 hours a day thanks to a code. Automatic locker withdrawal may well become a trend in the years, if not months, ahead. Although little known, this method of delivery is of interest to 28% of consumers surveyed. Its development is probably due to the limited number of e-traders offering it.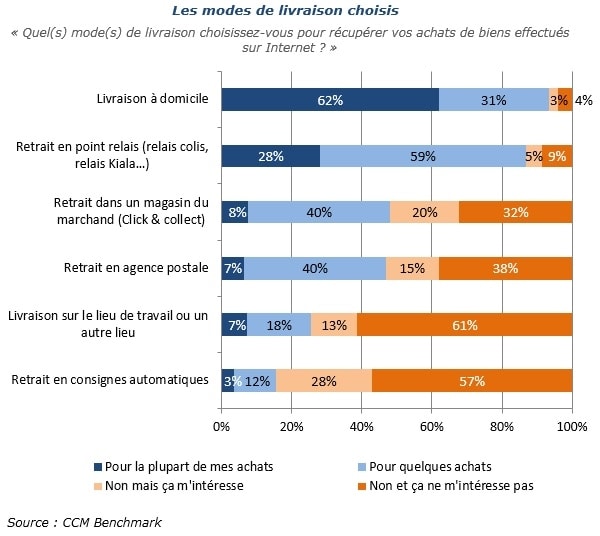 You are free to make available one or more of these delivery methods for your Magento e-commerce, and to enhance them with additional options such as traceability of the order or guarantees of proper delivery.
In order to take advantage of this multiplicity of delivery choices, many Magento modules offer the possibility to add new delivery methods to the default one. The best known, Owebia Shipping, is particularly accessible and allows you to configure shipping rates based on several variables to customize your own delivery options, but also to add carriers near configured (Colissimo, Chronopost and Export 3J). The most experienced e-merchants can develop their own module or use a competent web agency.
Free delivery, a purchase trigger
While à la carte delivery offers a wide range of delivery times, from fast to long, the question of delivery costs remains unavoidable.
While more and more e-tailers are working to reduce delivery times as much as possible, Internet users still take another criterion into account: the price. According to the study carried out by CC Benchmark Institut, only 9% of them are ready to pay more in order to benefit from more convenient delivery conditions (at home, in the evening, express, etc.).
And when it's free, it's even better! 23% of online shoppers even prefer to abandon their purchase rather than pay delivery charges.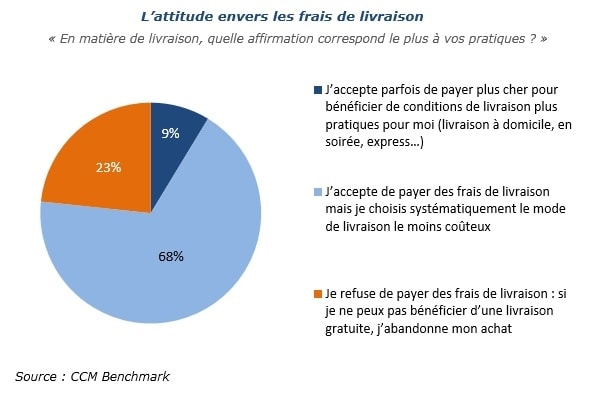 The free service has a price, which can be balanced by the increase in sales, loyalty or the increase in the average amount of a basket. Make it a real marketing asset: it's up to you whether you opt for free delivery without conditions, whether you prefer to offer it to members, subscribers or loyal customers or whether you want to make it available from a certain amount of the basket.
Whatever the case, if you decide to implement free shipping on your Magento e-shop, mention it in a visible way. You can even specify it in your Google Adwords ads and product titles, to maximize the visibility of the service offered.
The important thing to optimize your Magento e-commerce delivery service is to live up to your customers' expectations!