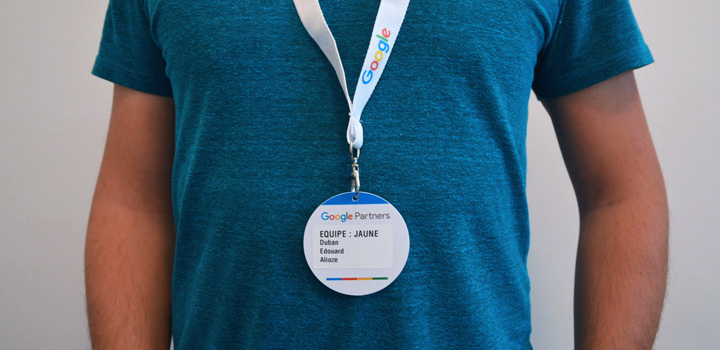 Launch of the One Google Partners: Alioze was there
As part of its partnerships, Google communicates its SEA innovations with a small handful of privileged partners. Alioze is one of the agencies selected to attend the launch of the "One Google Partners" support program.
Red thread of the evening: the presentation of the latest developments and formal improvements of Google Adwords.
Meet our Adwords consultants
Red, blue, green and yellow. Immediately after passing through the amazing coloured portal, we are transported into the enchanting world of Google. So it was in the modern Parisian offices of the search engine giant that we went to meet the new team of Googleurs.
From now on, they will be our privileged interlocutors. Their role? To guide us in the development of even more effective Adwords campaigns for our clients. On a day-to-day basis, our Google referents will be able to support us in the creation, improvement and monitoring of the advertising campaigns we manage with Google tools – Adwords, but also Analytics -.
In concrete terms, we will be given advice on the best ways to proceed to optimize an Adwords strategy.
Agencies approved by Google thanks to their Adwords skills
Google regularly organizes this type of special event in a small group. Guests receive recommendations on the latest innovations, allowing them to be at the forefront of creation.
Several years of collaboration with Google and nearly ten years of intensive experience in natural and paid search engine optimization have enabled Alioze to be one of the agencies invited. We use Adwords during our traffic acquisition missions for websites and e-commerce sites of all sizes.
The recognition of our skills by Google puts us among the first to know about their news. A real opportunity for our agency to offer bold advertising campaigns across the entire Google network.
Our impression of the "One Google Partner" program? It should live up to the firm's reputation: avant-garde and fun.