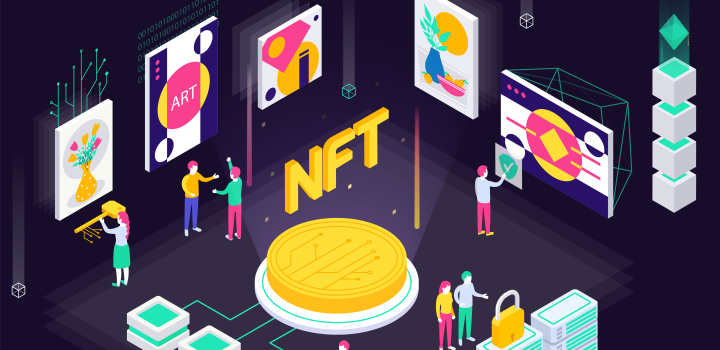 NFT: the future of marketing?
We are witnessing the strong growth of a new phenomenon in the digital world: the NFTs, the non-fungible tokens. From culture to fashion, luxury, cosmetics, food or real estate, the market is exploding. More and more consumers are investing in this technology linked to the blockchain. These digital tokens are shaking up codes and pushing major brands to reinvent their marketing and communication strategies.
NFTs: what are they?
Definition of NFTs
The acronym NFT stands for "non fungible tokens". They are cryptographic and virtual elements based on blockchain technology. What is special about NFTs? They have unique identification codes. They are immutable digital property titles, thus guaranteeing authenticity to buyers. They can neither be exchanged nor used for trading, unlike cybercurrencies.
The emergence of non-fungible tokens
Born from the world of cryptocurrency / virtual gaming, non-fungible tokens were originally favored by a niche population: geeks. They were used to acquire virtual game cards on specific platforms, such as NBA Top Shot. The NFT then spread thanks to the game Cryptokitties, unique virtual kittens to be raised.
This new technology, heavily linked to the metaverse concept, conquered new markets, notably with digital art and extended to fashion, luxury, food or even real estate. At the beginning of 2021, the NFT market represented 2.7 billion dollars and reached 10.7 billion in the third quarter of 2021, an exponential growth that convinced brands to invest in this technology and integrate NFTs into their communication strategies and marketing campaigns.
NFTs: a great marketing opportunity for brands
Non-fungible tokens are the new trend not to be missed. In order to develop their services and stay on the cutting edge of technology, brands are adopting NFTs. A winning strategy that allows them to skillfully diversify their revenues and attract the interest of new customers. It's a new way to create a privileged link between the brand and the consumer and to strongly engage their community.
A technology that is a hit in the cultural sector
These digital tokens have quickly found their way into the art world, giving rise to crypto-art. A new form of digital art that originates in blockchain technology, in the form of videos, images or music, or GIFs.
Many artists, such as Beeple, are offering original digital works for sale in their entirety or in part. Thanks to the NFT technology, the works have a unique serial number and are protected from any reproduction. A small revolution since until now artistic works were fungible. Buyers and collectors are thus assured of having in their possession a unique and unchanging piece of art.
On the art market side, it is a real revolution that breaks the codes of this sector. NFTs make it accessible to a larger number of people and attract new targets, who would not necessarily have invested in traditional art. Millenials are particularly fond of this emerging art.
In cinema, the NFT trend is also seducing. The Vuele platform distributed the first fiction film, starring Anthony Hopkins, using non-fungible tokens. Soon, Quentin Tarantino will unveil 7 exclusive scenes from his famous movie Pulp Fiction.
NFTs take on the food industry
After conquering the cultural world, it is now the turn of fast food giants to be seduced by this technology. In March 2021, it was the fast-food chain Taco Bell that jumped on the bandwagon to offer collectible tokens, called Taco Art, which represented artistic illustrations of the chain's offerings.
It was quickly caught up with Burger King, which launched its own "Keep it Real Meals" marketing campaign. A range of digital collectibles to be obtained in the form of a game, which provided access to unique gifts upon obtaining three NFTs.
McDonalds also joined the trend, celebrating the return of its McRib. The American subsidiary launched a limited edition of non-fungible tokens in honor of its sandwich. As for its Chinese franchise, it created 188 NFTs for customers and employees to celebrate its 31st anniversary. In France, the brand with the iconic yellow M offered 4 digital artworks, in 5 copies, to be won via a contest on social networks. An operation that was a great success!
In Canada, the Pizza Hut restaurant chain has innovated by offering virtual pizzas, sold separately.
In the wider food industry, the Pringles brand has released a product that is original to say the least: 50 virtual "CryptoCrisp" packages.
Fashion and luxury are diving into digital fashion
The big luxury fashion brands are shaking up the codes and reinventing fashion in favor of digital. Big names, in search of originality and constant innovation, have invested in NFT. Non-fungible tokens in fashion and luxury can come in various forms: digital doubles, rare digital assets in a metaverse or even digital collections.
NFTs offer the fashion and luxury sector the opportunity to fight counterfeits, offering exceptional goods.
In March 2020, it was the Italian brand Gucci that launched a virtual duplicate of its Virtual25 pair of sneakers. Just over a year later, Nike jumped on the trend and auctioned off completely fictional sneakers. Recently, Dolce & Gabbana offered an NFT collection of nine clothes and jewelry, which would have brought him 6.6 million euros.
The success of NFTs with the general public
Digital scarcity
It is no coincidence that the use of NFTs is so successful. Consumers are conquered by the possibility of acquiring digital objects with a symbolic, unique and commercial value. They become the happy owners of a work or an authentic good, neither reproducible nor falsifiable. It is therefore the collectibility and rarity that strongly attract users of NFTs.
For others, NFTs are tools for investment and speculation. Acquiring the right NFT can lead to large profits. This explains the continuous growth of the NFT market in all sectors.
A new customer experience
Cutting-edge technological innovation, such as NFTs, allows brands to reinvent themselves and offer a better customer experience. This is, for example, the case with Kinahan's metaverse projects. The famous whisky house has announced the creation of its own metaverse (a virtual world) with the aim of having digital ambassadors. The ambassadors participate to the different campaigns of the brand. A close and exclusive relationship that promotes loyalty.
The NFT phenomenon allows brands to offer a unique digital experience to their customers, while providing them with an increasingly exclusive service.
With such a development, and the important role that technology will play in the metaverse (virtual and augmented reality could boost the global economy by 1.4 trillion pounds by 2030 – source: Pwc), NFTs are becoming the new playground for brands, and the marketing trend to follow closely!
Alioze, the specialized NFT agency, accompanies you in your communication strategy with tailor-made services,handled by a team of experts.
Sources :