Magento 2 migration: is it the right time?
Since its release in November 2015,Magento 2 has been the talk of the town in the specialized community. Is this new version stable? Subject to bugs?
As the release of Magento 2 is now almost three years old, more and more merchants are wondering – and rightly so – if the time for the migration for their e-commerce.
What makes Magento 2 different from its predecessor?
The very first version of Magento dates from March 2008. It was built as a flexible platform where users can create online stores with a variety of features, using pre-built or self-developed extensions.
However, natively, Magento 1.x lacks tools that every e-commerce needs, such as performance optimization, mobile adaptability and administration capabilities.
So it makes sense that the Magento team has decided to make the most of what they have created, and rebuild their platform on the latest technological frameworks.
Thus, Magento 2 was designed with the intention of building on the strengths of its predecessor, while overcoming some of its known weaknesses.
To take just one example: Magento 1 lacks speed. To answer this, experts have determined what makes a Magento site faster, but it still doesn't change the basic speed problem. To solve these problems, the Magento 2 team has improved its platform in terms of page loading speed, including a native FPC cache.
Discover also our article about the
end of Magento 1 support, and how to prepare for the migration

Benefits of a Magento 2 migration now
Compared to the first version, Magento 2 has new native features and improved functions that make it a better platform overall.
Its big asset is also a user-friendly, responsive and personalized customer experience on any device.

✓ Improved performance
Speed is often cited as the main drawback of Magento 1.x, and Magento 2 has gone a long way to address this with a complete structural overhaul.
With an average page load speed 20% faster than the first version, performance is at the heart of Magento 2 to improve customer experience, conversions and search engine optimization.
The page caching built into the platform means that pages are loaded much faster, 1-2 seconds compared to 5-10 seconds for uncached pages.
Magento 2 can also better manage many catalog pages without slowing down. This makes it scalable for large stores and able to keep up with the growth of an online business.

✓ User-friendly payment
As you know, reducing checkout time is closely linked to reducing the number of abandoned carts and increasing conversions. That's why the majority of Magento 1 stores had to change the checkout process to make it more user-friendly.
One of the advantages of Magento 2 is that it has built-in features by default to make the checkout process easier and more intuitive, allowing customers to move more quickly from the shopping cart to the completion of their purchase.
This means that the payment process requires fewer steps and less consumer information. When a customer decides to check out, they are taken to a default guest payment screen where they enter their email. If the latter corresponds to an existing customer, he or she can pay more quickly thanks to stored information. As for new customers, they can create an account in one click from this same page.

✓ Key integrations
Security is a key component of Magento 2, which integrates many popular extensions on Magento 1 so that e-tailers have better functionality natively.
These include payment platforms such as PayPal, Braintree and Authorize.net. Most users choose to integrate them, and Magento 2 facilitates their accessibilities.

✓ Best administration interface
Managing the front end of your online store can be complicated. Fortunately, much more user-friendly and intuitive, the new Magento 2 administrator interface is designed to reduce the time of managing an e-commerce. Its design has been redesigned, compared to the slightly outdated Magento 1.x, and it is now responsive.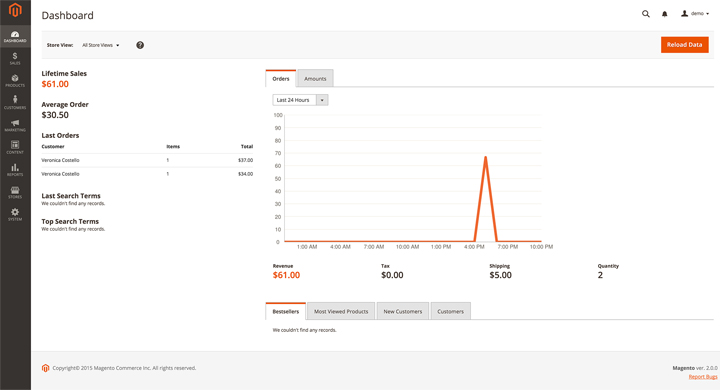 On Magento 2, the dashboard allows you to monitor sales with quick access to orders, search terms, and best selling products. You can also configure and save different views of the order and customer maintenance screens.
Each user can customize the administration interface to quickly access important business information and increase productivity when managing products, orders and customer data.
Product creation is also easier than before, with 4x faster product import capabilities.
On the other hand, the Magento 2 administrator interface includes drag and drop layout editing. This means that an administrator does not need complex coding knowledge to change the look and feel of the e-commerce.

✓ More mobile-friendly
Mobile responsiveness is essential to improve sales, as more and more customers browse the web with a smartphone or tablet.
The Magento team has taken this into account, making mobile responsiveness a priority for its Magento 2 platform, which features new themes, integrated videos and easier checkout. All this improves the look and functionality of Magento eCommerce on mobile devices.
And, as a bonus, the administrator interface is touch-sensitive so you can manage your e-shop even on the road!

✓ Visual Merchandiser
Displaying and promoting the right products in the right place is essential to engage your customers and generate more sales. Good news: the Visual Merchandiser feature, which was designed to help you achieve this goal, is delivered with Magento 2!
The manual process of position numbering can be quite tedious, especially with a category containing a large number of products. This is where Visual Merchandiser becomes an essential tool, allowing you to dynamically modify a selection of products and automatically include products based on the rules you set.
You can manually position products by drag and drop or automatically position them by availability, price, name, SKU number and more.
For example, you can create a category that automatically includes all discounted clothing. Or, you can create categories for certain brands where adding a product to the catalog causes the product to automatically appear in the corresponding brand category.
Disadvantages of a Magento 2 migration now
The main drawbacks of Magento 2 are around stability and the small amount of extensions available.
❌ Cost of custom extensions and integrations
Even though this situation is improving day by day, one of the major problems for merchants looking to migrate their Magento 1.x e-shop to Magento 2 is the cost associated with replicating their existing functionality.
Indeed, many extensions easily accessible on Magento 1 are not yet available on Magento 2, which can cause additional costs to the project to develop them.
The same principle applies to integrations with other third parties, such as ERP and inventory management systems, which can be very expensive to create custom connectors.
❌ Bugs encountered
Magento 2 has already improved a lot since its launch, but on some points, the platform can give the impression that there is still progress to be made.
Indeed, some unusual bugs may cause a problem or additional work that would not have occurred in Magento 1.
When to consider a Magento 2 migration?
For online retailers using Magento 1.x for their e-commerce, the question of when/if they should consider a migration to Magento 2 is likely to arise.
The first important thing to understand is that merchants who want to stay on Magento will, regardless, have to do this migration project at some point.
However, you still have time. Magento will stop supporting Magento 1.x only in June 2020. At that point, many merchants and developers will continue to trade on Magento 1.x, but they will do so without Magento support.
This essentially means that security patches will not be released for Magento 1.x eCommerce. Magento will also stop working on the system internally and there will be no new features released.
So the decision to migrate from Magento 1.x to Magento 2.x is not a simple one, as there are different factors and variables.
One of the biggest considerations is how much work you'll be putting into your existing Magento in the coming months. Indeed, there is a good chance that you will have to repeat this custom development work or a basic work on the new Magento 2.
Therefore, if you are planning to invest in major changes, it is best to migrate to Magento 2 now to save money in the long run.
For example, if you plan to revise your front-end or apply big changes to your online store, it is better to migrate to Magento 2 as soon as possible to avoid launching two large development projects and paying for the work twice.
It's really important to realize that the migration project is essentially going to be a rebuild. Magento 2 is very different from its predecessor, meaning that any custom work done on a Magento 1 site will have to be redone for the new e-shop.
If you prefer to stay on Magento 1 for the moment because you consider that it suits you and works well, it may be worth waiting slightly longer and not rushing to upgrade. In this case, put a stop to your desire to develop larger tasks.
In any case, the decision to migrate remains company-specific. Some merchants will prefer to start the project next year and simply reduce the development work before then.
5 examples of Magento 2 website
The websites featured in this list were all built on Magento 2 by agencies in the UK or the US. All of them provide a good user experience because of their designs.
1 – Helly Hansen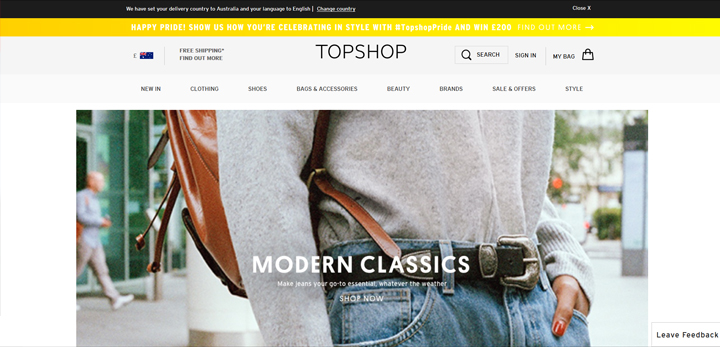 3 – Land Rover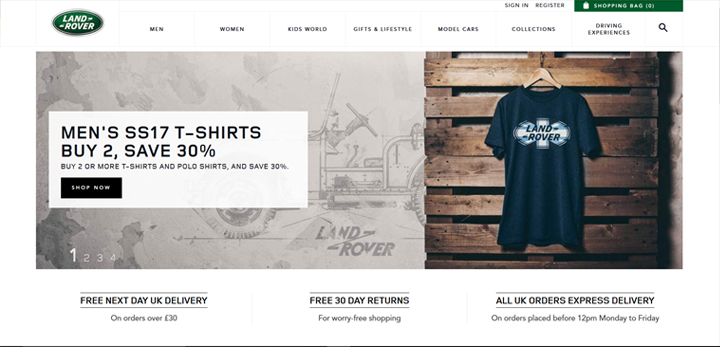 4 – Banbayu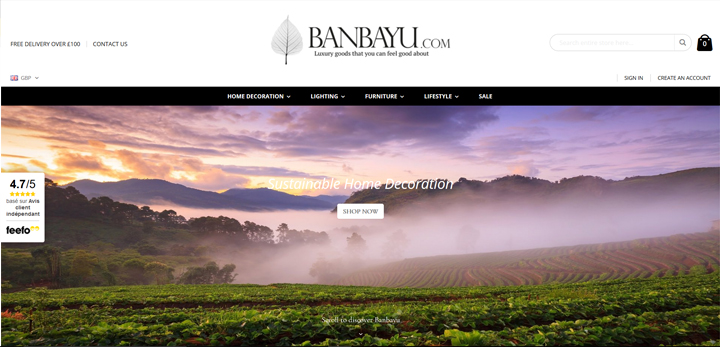 5 – Seat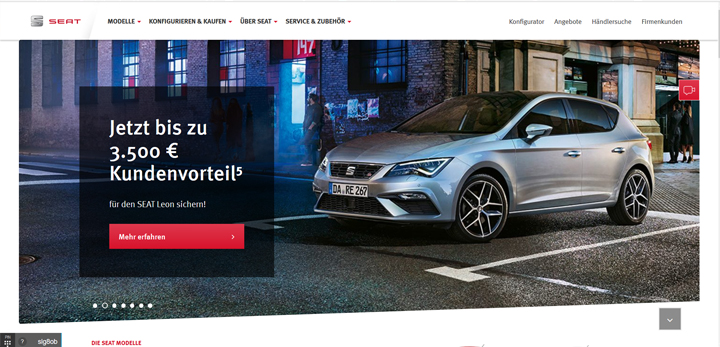 Conclusion
While some may have reservations about the Magento 2 migration, it is clear that this platform was designed to provide a better experience for customers and the administrator. Magento 2 maintains the flexibility that made the success of its predecessor, while adding very useful features.
While it can be a tedious process, upgrading to Magento 2 is necessary if you want to keep up with the innovation in e-commerce. That's why it's important for e-tailers to plan their migration to Magento 2 sooner rather than later.