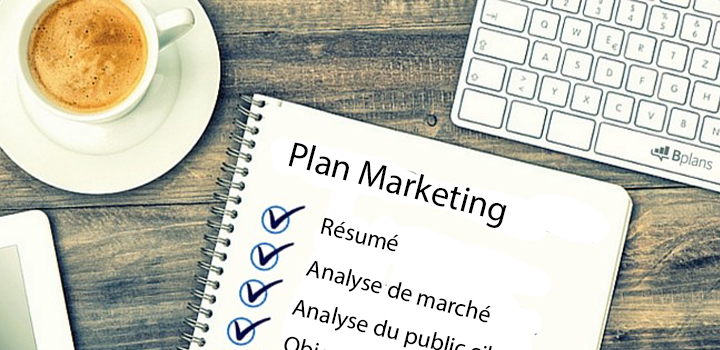 How to make a good marketing plan in 5 steps
Whatever your marketing strategy, its effectiveness will depend on how you execute it. That's what a marketing plan is for.
Like a roadmap, making a marketing plan will allow you to define your objectives and what specific actions to implement to reach them.
It will also allow you to measure your results and learn from your mistakes.
What to put in a marketing plan?
Using numbers and facts, a good marketing plan lays out all the tools and tactics you will use to win and retain customers and achieve your goals.
It generally consists of 6 sections:
Short summary of the different sections (to be written at the end).
Analysis of your market and your competitive positioning.
Identification of your target audience.
List your goals.
Strategic description and planning of each marketing action to be implemented.
Budgeting.
As for formatting, note that a marketing plan is not necessarily long or particularly well written. Above all, it should be readable and to the point, so use tables and bulleted lists when developing it.
5 Steps to a Marketing Plan
Step 1: Analyze the target market
Goal: to define and analyze the current situation of your company and the characteristics of the products/services you offer, in order to understand what distinguishes you from your competitors.
Whatever your industry, the competitive positioning of your product or service requires a good understanding of your market.
In this first step, you must therefore be able to describe what you sell, determine what the added value of your product/service is, and clearly understand what your competitors are offering.
Start by examining your current marketing advantages and challenges.
What currently attracts customers to your business? What attracts customers to your competitor's business? Do you have the same business opportunities as when you launched your products or services? Is your market changing? Has it gone up, down, and what impact does it have on your business and your customers?
For clarity, make your situation analysis a succinct overview of your company's strengths and weaknesses, and then the opportunities and threats in your market using the SWOT method. Strengths and weaknesses refer to the internal characteristics of your company, while opportunities and threats refer to external factors:
Strengths: Your company's strengths refer to the benefits customers get from doing business with you. What do you offer that gives your company a competitive advantage? Potential strengths may be low cost, excellent customer service or speed of execution.
Weaknesses: Weaknesses in your business refer to problems or reluctance that a customer may have in doing business with you. Weaknesses may, for example, be due to a lack of experienced staff.
Opportunities: External opportunities are things you can capitalize on, such as a growing market for your product.
Threats: External threats are those that reduce your company's ability to gain market share.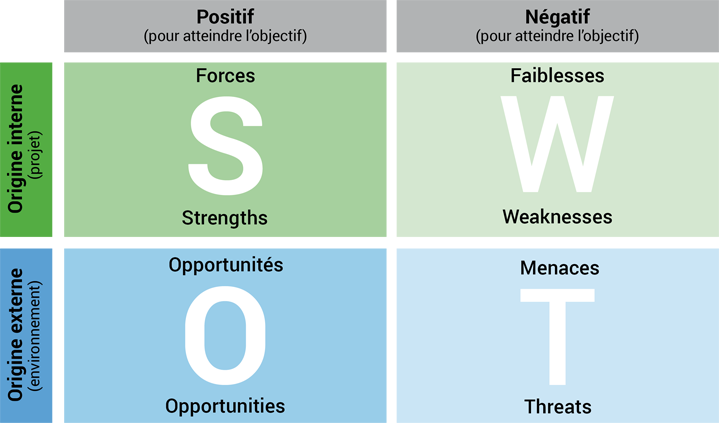 Cross-reference this analysis with the identification of competitors in your market.
Do they offer better prices? Faster turnaround times? If so, how do they provide these benefits?
Knowing your competitors and their key competitive qualities will help you to offer your customers something that sets you apart, that makes you unique, and therefore to develop an effective marketing plan.
Step 2: Describe target audiences
Goal: describe the customers you are targeting, understand their needs and how to meet them.
How to put your target audience at the heart of your marketing strategy? Making sure you describe it accurately in this second section!
Yes, if you don't know your target market intimately, you won't be able to determine how to reach them, nor will you be able to communicate effectively about how your products and services meet their needs.
Describing your target audience does not have to be complex. A simple paragraph or bulleted lists will suffice to allow you to identify the problems they are experiencing, how you can solve them and how to address them.
The ideal method is to create well-fleshed-out, well-thought-out personas, of which you will describe the following information:
Demographic characteristics: age, gender, family composition, geographic location, occupation and/or income.
Psychological and emotional profile: lifestyle, interests, needs, preferences, aspirations and/or fears. Ask yourself the following questions: Are my customers conservative or innovative? Leaders or followers? Traditional or modern? Introvert or extrovert? How often do they buy what I offer? In what quantity? The creation of your personas is also the ideal time to identify the people who have an influence on them.
To identify the main characteristics of your personas, don't hesitate to dive into the "Audience Reports" in your Google Analytics account.
After completing these last two steps, you will be able to write your company's unique selling proposition(USP): a compelling sentence that describes the essence of your business and how you will meet your customers' needs.
Step 3: Define the objectives
Purpose: to list the objectives you are aiming for with your marketing plan and the means to measure them.
This third step is to list the business objectives you want to achieve, or in other words, what you hope to achieve by developing a marketing plan.
Is your goal to expand your customer base? To let your customers know about your new services / promotions? Do you expect to increase sales of your product by X% per quarter? Expand to a new region / demographic? Or something else?
When setting your goals, remember to apply the SMART method:
S – Specific
M – Measurable
A – Achievable
R – Realistic
T – Temporally defined.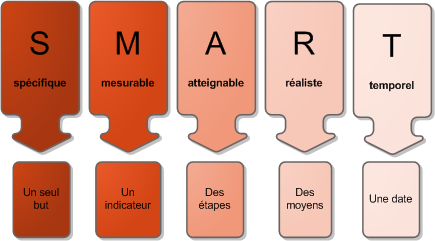 For each of your objectives, don't forget to define key performance indicators(KPIs) that will allow you to measure the effectiveness of your marketing plan over time.
Metrics such as increased sales, increased public awareness or the number of new customer accounts created are all KPIs that can be used. But these are just examples, and they can vary greatly from one company to another.
Discover also the top 9 KPIs to monitor for your e-commerce
Here is a typical model to be adapted according to your own objectives:
(Insert goal, e.g. "Increase traffic") by (insert number)% in (insert number of months)
To help you set realistic numbers to achieve, first analyze your previous marketing strategies to aim for a realistic increase over your current results, while avoiding setting expectations too high.
Finally, for each of your KPIs, identify the tool or method that will allow you to measure them. Will you use Google Analytics to measure your conversions, Facebook Insights to track the engagement your posts are getting, or a tool like BuzzSumo to measure the success of your content marketing?
Step 4: Develop marketing communication strategies and tactics
Goal: find the best ways to reach your target audience and define your marketing methods to achieve your goals.
This fourth step is the heart of your marketing plan. Having identified the "what" (your market, your target customers and your objectives), you will now detail the "how" (the tactics and means you will use to achieve them).
To do this, you'll need to go through a thought process where you'll need to keep in mind that a good marketing plan targets your prospects at all stages of your sales cycle. In practical terms, this means that your marketing plan should target three types of potential customers:
Cold prospects: those who don't know your business at all. Advertising, public relations and direct marketing are good tactics for reaching these types of prospects.
Hot prospects: those who know about your company or have at least been exposed to it. Loyalty programs, contests, events and emails engage these types of prospects well.
Your prospects/customers: those who know and are interested in your company, or who have already done business with you. Email campaigns and other forms of personalized marketing work well to close sales with these types of prospects.
To identify your ideal marketing mix, start by determining which media and channels are best suited to reach your target audience, which ones they are sensitive to, and which ones they turn to for information about the type of product or service you are selling.
Once you determine where your prospects spend their time, you'll know that you need to invest in these platforms to reach them at any point in your sales cycle.
Then, for each objective that you have previously defined, you will be able to clearly describe the marketing actions and tactics to be implemented to achieve it.
Are you going to advertise in print, AdWords, display or on social networks? Using mobile marketing? Implementing an influence strategy? Launch a contest on social networks or in store?
In marketing, there is no magic formula, and you can combine all of these tactics to reach your different types of prospects.
Once you've made your choice, use a timeline to decide when to implement each of the marketing tactics, based on the most appropriate times to act.
Step 5: Define a marketing budget
Goal: identify your resources and associate a cost to each marketing action.
This last step is to define the total amount of money allocated to the realization of your marketing plan, and how it will be spent.
Yes, implementing a marketing strategy is an investment. It is therefore important to define a budget when writing your marketing plan. You can have a ton of ideas on how to reach your prospects, but if your budget doesn't follow, you'll be forced to make choices.
That's why your budget should be realistic and reflect both the current state of your business and its potential growth. To help you, you can start by identifying your means by taking stock of your resources:
Look at your current team and assess what you can realistically accomplish.
Identify if you need to hire more people and if you can afford to do so.
Decide if all your marketing will be done in-house or if you will have to outsource some elements to a third party agency.
Review your current digital marketing channels and decide which ones to keep and which ones to invest in (depending on where your customers are and how much time you have).
As you begin to associate a cost with each of the marketing tactics described in the previous step, chances are you'll find that you're over budget. Then just go back and adjust your tactics until you have an affordable marketing mix.
Once you have finished making your marketing plan, remember that it is not a fixed document. While it helps you visualize how to achieve your goals, circumstances can change and make it obsolete.
Therefore, take the time to regularly update your marketing plan based on the results and new goals you may set. Don't be afraid to stray from your original document. If one of the actions undertaken does not bring you the expected results, invest the time and money allocated in the channel or means that brings you the best results.