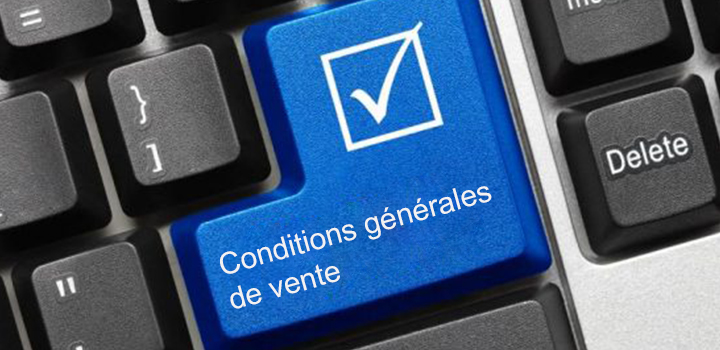 What to put in the general conditions of sale of its E-commerce?
Writing general terms and conditions of sale (GTCs) is one of the essential steps in the redesign or creation of an e-commerce… And it is also one of the most demanding tasks.
Most consumers assume that a website's T&Cs contain complex and unintelligible legalese, so they simply skim through them or don't read them at all.
However, you can't cut it! The drafting of general conditions of sale for an e-commerce site is not only mandatory, but also essential in order to protect yourself legally.
What are the general sales conditions of an e-commerce site?
The general terms and conditions of sale, also known as GTC, define a set of rules, terms and conditions that govern the commercial relationship between a company and its customers.
In other words, they are a form of legal agreement that governs the rights and responsibilities of each party.
A company is required to inform its customers of its GTCs if it offers online sales of common (unregulated) and intangible goods, such as :
clothing, food and cosmetics ;
electronic products ;
gift boxes ;
handicrafts and jewelry ;
digital files: documents, videos, music, text content ;
software ;
customized products ;
etc.
Why write GTCs?
The purpose of the GTC is multiple:
they provide consumers with all the necessary information about products and the purchasing process;
they establish rules for the use of an e-shop;
they provide legal protection;
they define how disputes will be handled and what action will be taken in the event of a trade dispute;
they limit the company's liability in the event of product or service failure.
Another important point is that having well-written terms and conditions on a website can help build trust with customers.
Drafting your GTCs: how to proceed?
General terms and conditions of sale are often considered as a dense text, difficult to navigate and understand.
This is often the case.
However, it is increasingly common to find GTCs written in clear, concise and sometimes even warm language!
ASOS e-commerce, for example, has terms and conditions that are both binding and easily understood by the user: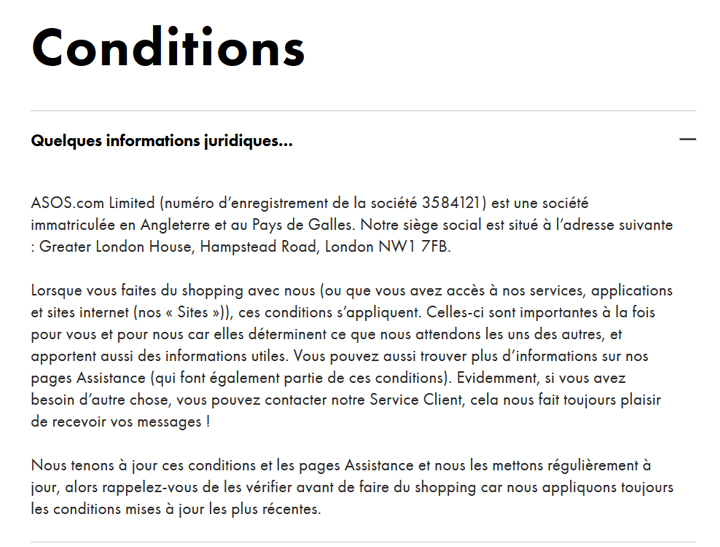 This proves that even if your e-commerce terms and conditions contain legalese, you don't have to make them indigestible and incomprehensible. The goal is not to scare or intimidate your customers! On the contrary: it is in the interest of both parties to avoid confusion and to inform consumers of your terms and conditions in a clear and positive manner.
We therefore recommend using clear titles for each clause and, as far as possible, intelligible and accessible language.
Although there are free templates and T&C generators available, every business is different. Adopting a "one size fits all" approach to drafting your terms and conditions can be detrimental and may not provide adequate protection in the event of a dispute.
You can also take inspiration from the terms and conditions of similar companies, but it is of course forbidden to copy them.
In case of doubt, we always advise you to ask forprofessional help to write general sales conditions adapted to your e-commerce site and your activity.
What to put in your general conditions of sale?
There are generally several clauses to include in the drafting of general conditions of sale for an e-commerce:
Introduction and acceptance clause.
Disclaimer of warranties and limitation of liability.
Intellectual property clause.
Confidentiality and data protection clause.
Clause on products, payment and delivery terms.
Return, refund and cancellation clause.
Termination clause.
Challenge clause.
Amendment Notification Clause.
Introduction and acceptance clause
The first clause of an e-commerce terms and conditions usually contains a general introduction to your company (company name, contact details, registered office address, place of registration and company number, etc.) and the overall services you provide.
Usually, this introduction is accompanied by a paragraph that corresponds to an acceptance clause. This should indicate to the customer that by accessing and using your website, they agree to the rules and terms of your T&Cs.
Often, it is sufficient to formalize this acceptance clause with a simple sentence such as: " the use of our services constitutes acceptance of the general conditions ". This will help to ensure that your T&Cs are legally binding and that the user has actually accepted them.
Like on Airbnb for example:
Or Zalando, which explains that the validation of an order " implies unreserved acceptance of these Terms and Conditions of Sale":

Warranty and Limitation of Liability Clause
The drafting of general conditions of sale for an e-commerce site must include a clause allowing the company to legally protect itself from any liability resulting from the use of its product and / or service.
In practical terms, the liability waiver allows you to be held harmless from any loss, damage (direct, indirect or consequential), injury or expense of any kind that the customer may suffer as a result of using your website and your services/products.
Here is an example from Apple's T&Cs: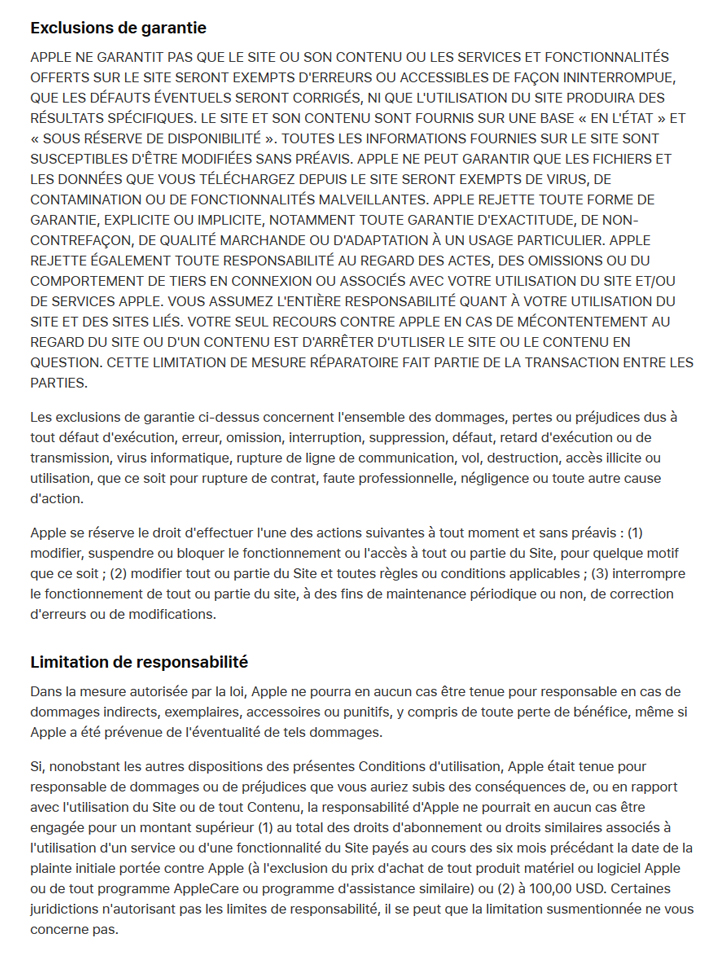 You can see that Apple's limitation of liability terms are very clear and describe all potential situations. Also note that much of it is written in capital letters.
Your limitation of liability clause will depend primarily on the products/services you sell. If you offer clothes for sale, and one of your items is defective, the risk of loss to your customers is minimal.
But if your e-commerce offers climbing equipment for sale, the risks are of course much higher in the event of a product failure. Your terms and conditions should reflect these risks and cover your potential liability accordingly.
It is also in this section of your T&Cs that you will be able to specify the guarantees that one party (e.g. the e-commerce) will have to provide to the other party (e.g. the customer) in case of default.
It is also best to disclaim any responsibility for the accuracy of the information on your website. In the context of an e-commerce, you can add a mention of this type:
« [Mon magasin] tries to be as accurate as possible. However, [Mon magasin] does not warrant that product descriptions and website content are accurate, error-free, complete or current. »
For example, the Doctissimo site, which provides medical, health and well-being information, clearly states in its general terms of use that it " does not guarantee any result following the application of the information published on theServices " to avoid any misunderstanding.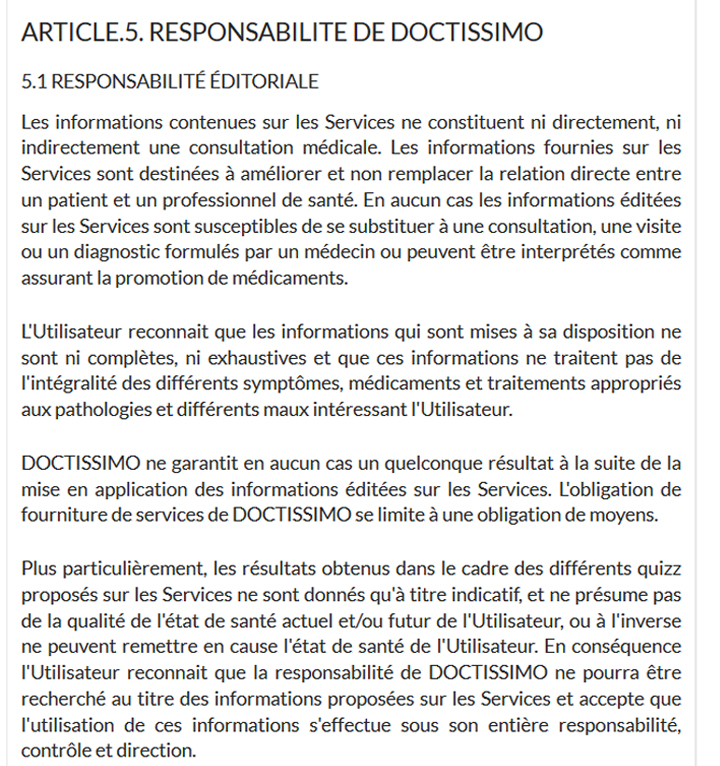 In the same vein, you can also notify that the use of your website may involve risks for the user. Even if you believe that this possibility is low, you are not responsible for any incident that may result from the use of your site.
This will protect you in certain scenarios, for example if a user has an incident while following advice you give or if a user has an epileptic fit while watching one of your videos.
Intellectual Property Clause
Online stores are often more vulnerable to theft, copying and misappropriation of images, design elements, content, logos, product descriptions, etc.
The intellectual property clause is therefore an important section to include in the drafting of your terms and conditions. It will ensure that your content and brand images are not abused or misused.
In the notice, you must explain that the use of your intellectual property without permission or license is an infringement and is subject to prosecution or a ban on access to your services. Make it clear that nothing on your website may be used for commercial or professional purposes without your prior written consent.
Here is an example of an intellectual property clause from Apple's T&Cs: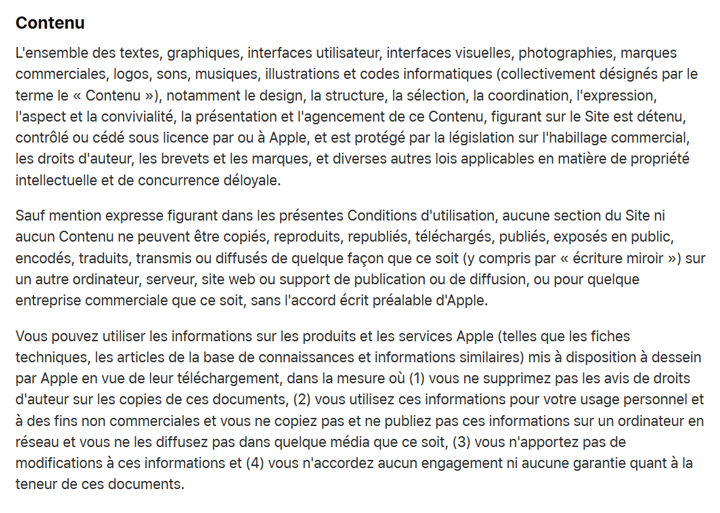 Apple begins by defining the elements of the website that are protected by intellectual property laws. It is then stated that the customer may not use, modify, sell or create derivative works from these materials in any way, except as otherwise permitted by the terms.
If you distribute user-generated content (UGC), i.e. contributions from your consumers such as image uploads, reviews or a forum, you can also insert a topo about it, like ASOS: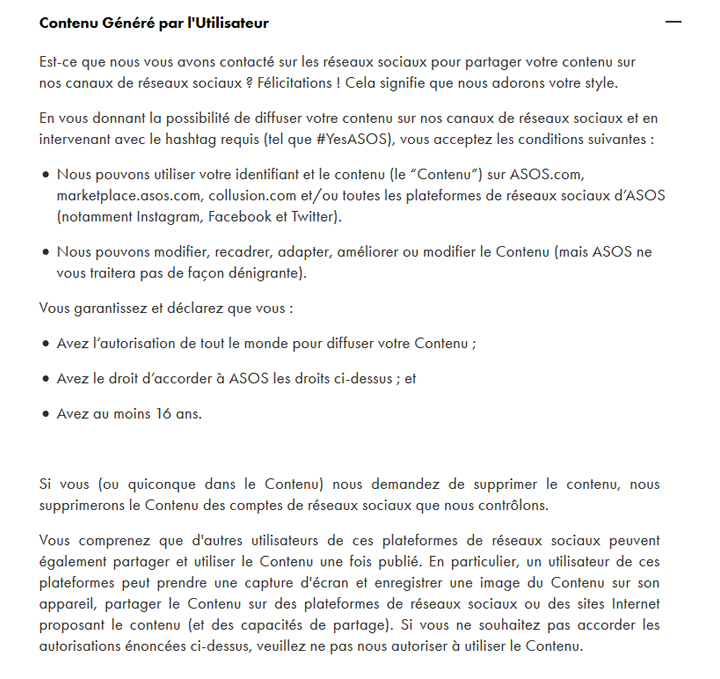 Confidentiality and data protection clause
As a business, you often hold private and sensitive customer data (contact information, credit card numbers, purchase history, etc.).
It is therefore necessary (and mandatory) to reassure your customers by explaining the type of information you collect, but also how it is stored, processed and used.
Generally, it is sufficient to include a reference and a link to your privacy policy, like the clothing resale site Vinted :

When drafting your T&Cs, also remember to specify that your company is compliant with the regulations in force (RGPD).
Not sure if you are compliant with the General Data Protection Regulation? Read our article on the RGPD.
Don't forget to include your cookie policy, in accordance with the European directive known as the "telecom package", which states that " Internet users must be informed and give their consent prior to the insertion of tracers " (see the CNIL website on this subject).
Clause on products, payment and delivery terms
When drafting the general conditions of sale of your e-commerce, it is essential to clarify the terms of payment and delivery of your products.
Usually, this clause defines how your products/services can be purchased, how they are shipped and how quickly.
You can use this opportunity to inform your customers if there are any purchase restrictions, for example if some of your products are subject to an age limit.
You will also need to give some information about the prices of your products, including the currency in which your prices are expressed, whether they are inclusive of VAT and whether they include shipping costs. Here is an example, with the Playmobil T&Cs:

It is also in this clause that you will define the different payment methods you accept and how the payment must be made for the purchase to be validated.
In practice, most e-tailers specify that no order will be shipped until the full payment has been made.
This clause also includes your basic delivery policy. The different delivery methods, the shipping costs and the way they are calculated must be indicated, as well as the delivery time, bearing in mind that this may not exceed 30 days from the placing of the order online.
We advise you to commit yourself to deliver your customers within a certain period, as many e-commerce companies do. In reality, the shipping time does not affect the condition of the products anyway, and most consumers understand the occasional delivery delay (unless they are ordering food or for a special occasion or event).

As in the example above from the Aquarelle florist's GTC, it is also important to specify that you are only partially responsible for the delivery and the condition of your products upon receipt. Make it clear that you are dependent on your carriers and conditions outside your company, and that they are responsible if the product arrives late or in poor condition.
Finally, remember to explain what happens if you are unable to supply the product ordered. This will protect you from supply shortages or circumstances where you cannot deliver to your customers for any reason.
Return, refund and cancellation clause
Your e-commerce terms and conditions should specify to customers your return and refund procedure, and in what cases you accept them.
In this regard, note that the withdrawal is a right for the customer, and that he has a period of 14 days to withdraw.
Only certain types of products and services do not allow the customer to withdraw. This is the case, for example, with perishable or custom-made products. The full list of affected products is available here.
Explain to your customers when and under what circumstances they can exercise their right of withdrawal and the process they will have to follow to obtain a refund, as Sephora did: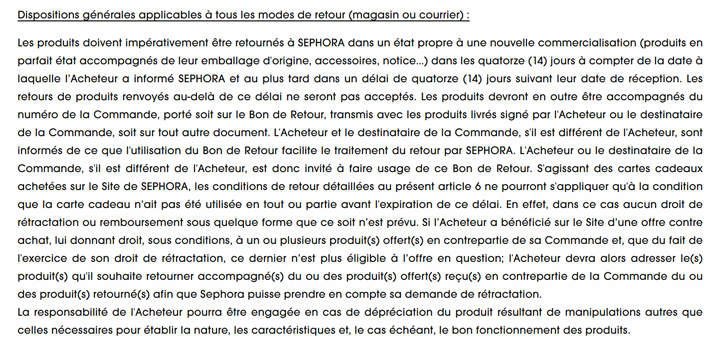 If you wish, you can require that the cost of returning the goods be borne by your customers. You also have the option of requiring that the goods be unused and returned in their original packaging to refund a customer.
Discover also our advice on the
return and refund policy of an e-commerce

Termination clause
You can include a cancellation clause when you draw up your general terms and conditions of sale.
Generally, you can simply list the user's violations that may result in termination of their use of your website or services.
Dropbox, for example, explains that users can stop using the services at any time and that a violation of the terms and conditions will result in account termination: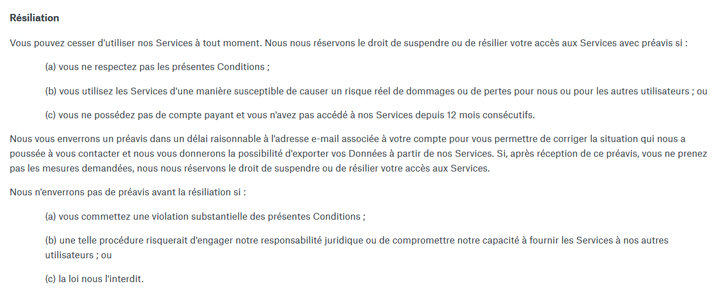 Challenge clause
You can finish writing the general conditions of your e-commerce by inviting users to contact you in case of problems.
List all the contact points through which your customers can reach your Customer Service team (phone number, email address, postal address, social accounts…). You can also specify how conflicts are handled and resolved.
In addition, you will need to add some legal information to this dispute clause. It is usually sufficient to explain the law and jurisdiction to which your contractual relationship with your customers is subject.
For example, if your company is located in France, your T&Cs should state that disputes, if not resolved amicably, are subject to French law and will be dealt with by the French courts.
Notification of changes clause
The general terms and conditions of sale of your e-commerce are likely to change over time. That is why it is advisable to include a clause at the end stating that you can modify your GTC at any time.
You can explain that these changes can be made without notifying the client or, on the contrary, that you undertake to notify them in the event of major changes.
Here is an example of a notification of changes clause taken from the Calzedonia website T&Cs:

Where to post your terms and conditions?
Once you have finished drafting your terms and conditions of sale, you must make them easily accessible on your e-commerce site, via a link.
Most companies usually display this link in the footer of their website and in their transactional emails.
Discover also our tips & examples to create a good footer

Ideally, your users should be informed as well as possible that they are obliged to accept your terms and conditions. This is why many websites warn their users that by creating an account or placing an order, they accept their T&Cs.
This is the case of Amazon for example:
In conclusion, properly drafting your e-commerce terms and conditions of sale can help protect you from any potential liability arising from the sale of your products.
Your T&Cs also allow you to manage user behaviour, maintain your rights and keep your customers informed.
Always clearly display your terms and conditions on your website, and make sure they are written in a fair and understandable way.
---
Did you like this article?
Subscribe to our newsletter and you will receive our other articles once a month in your mailbox