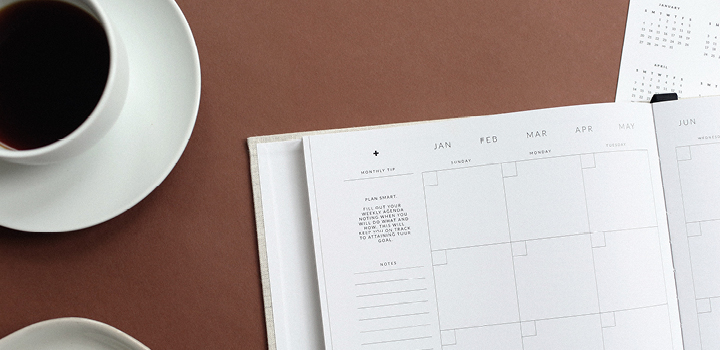 Food Marketing Calendar 2021 (key dates and events)
The food marketing calendar lists all the important dates in the gastronomic and culinary sector. If you are a professional in the sector, this tool is essential for you to develop your communication strategy. Depending on the news, important events, national or international holidays and days, you will be able to adjust your blog posts and your messages on social networks to promote your products or services.
Thanks to our food 2021 marketing calendar, let yourself be guided and think today about your communication of tomorrow.
Food marketing calendar January 2021
It's back to school after the Christmas holidays. The French are going on a diet, before taking a break for the Galette des rois on the 6th and eating Italian on the 17th. The fairs are in the spotlight, don't miss the gastronomy fair in Paris. For wine lovers, head to Burgundy at the end of the month to celebrate the Patron Saint of winemakers.
New Year's Day: 1st
Europain – Paris and Intersuc : from 3 to 6
Back to school for Christmas holidays: 4
Epiphany and Galette des rois : 6
Start of sales in France: 6
International Day of Italian Cuisine: 17
Popcorn party: 19
Wine and food fair / Saint-Malo : from 23 to 25
The Overseas Gastronomy Fair: from 29 to 31
Salon de la gastronomie Paris : from 29 to 31
Feast of the patron saint of winegrowers, Saint Vincent Tournante: 30 and 31
Truffle Festival in Sarlat: to be confirmed
International Final of the Taittinger Prize: to be confirmed
Food marketing calendar February 2021
February holidays are on the agenda. The month is greedy and festive. Chocolate fans should not miss the Nutella Day on the 5th and the Brussels Fair on the 14th. Carnival in Venice, Nice and Rio, Chinese New Year, Mardi Gras, there are many occasions to make your taste buds travel.
Holidays: zone A (6 to 22), zone B (20 to 8 March), zone C (13 to 1 March)
Candlemas: 2
World Nutella Day: 5
Wine and food fair / Biarritz : from 5 to 8
World No Phone Day: 6
Venice Carnival: 6 to 16
Chinese New Year : 12
Nice Carnival : from 13 to 27
Menton Lemon Festival: from 13 to 28
Salon du Chocolat – Brussels: 14
Valentine's Day: 14
Mardi Gras: 16
Rio Carnival: 21
International Agricultural Show: 27 to 7 March
Day without Facebook: 28
Wine Paris Vinexpo – Paris: dates to be confirmed
Food marketing calendar March 2021
Taste is in the spotlight, as are vegetarians, macaroons, water, cheese and homemade ice cream, enough to create a varied menu for the month of March.
Grandmother's Day: 7
International Women's Rights Day: 8
International Start-up Day: 11
Taste of France: 15
Saint Patrick's Day: 17
World Recycling Day: 18
Wine and food fair / Caen : 19 to 21
Spring: 20
International Meatless Day: 20
International Macaroon Day: 20
International Day of Happiness: 20
World Water Day: 20
European Day of artisanal ice cream: 24
National Cheese Day: 27
Changeover to summer time: 28
Printemps du cinéma: from 29 to 31
Omnivore Festival Paris: dates to be confirmed
Food marketing calendar April 2021
The bells ring and drop treats in the garden. We're looking forward to the final of the French Dessert Championship on the 8th and we're going to the snack fair.
Holidays: zone A (10 to 26), zone B (24 to 10 May), zone C (17 to 3 May)
April Fools' Day: 1st
Easter: 4
Easter Monday: 5
European Arts and Crafts Days: 6 to 11
Final of the French Dessert Championship : 7 and 8
World Health Day: 7
Sandwich & Snack Show, Parizza and Japan Food Show: from 7 to 8
Paris Marathon: 11
Digital Women and Creativity Day: 21
World Earth Day: 22
World Book Day: 23
Food marketing calendar May 2021
May is the month of delights when it is forbidden to deprive yourself on International No Diet Day. We celebrate work, movies, museums, neighbors and moms, five good reasons to get into the kitchen.
Labour Day: 1st
International No Diet Day: 6
Armistice 1945: May 8
Cannes Film Festival: May 11 to 22
Ascension: 13
Night of the museums: 15
World Bees Day: 20
Opening of the French Open: 23
Pentecost: 23
Neighbours' Day: 29
Mother's Day: 30
European Food truck festival – Belgium: to be confirmed
Marketing calendar food June 2021
In June, summer arrives, the beautiful days are here and we reconnect with our bodies during the day of well-being, environment and yoga. We take a step back to eat healthily and cook good homemade food. It's time to take advantage of the sales to buy the kitchen utensils we need.
World Environment Day: 5
World Wellness Day: 13
World Hunger Day: 15
International Picnic Day: 18
International Sushi Day: 18
Father's Day: 20
World Yoga Day: 21
Fête de la musique and summer: 21
Summer sales: 23
Saint John's Day: 23
Stars of Mougins: dates to be confirmed
Food marketing calendar July 2021
It's the holidays! We forget what we just learned to eat fries on the 13th and continue the fat on World Junk Food Day!
Tour de France: July 2 to 25
Summer holidays : 6
International French Fry Day: 13
National holiday: 15
Festival des vieilles Charrues : 15 to 18
World Junk Food Day: 21
Tokyo Olympic Games: 23 to 8 August
Food marketing calendar August 2021
We're taking advantage of the quiet month of August to discover new beers and to think about our blog editorial schedule on the 31st.
World Beer Day: 7
International Cat Day: 8
World Lion Day: 10
World Elephant Day: 12
Assumption: 15
World Photography Day: 19
World Dog Day: 26
World Blogging Day: 31
Food marketing calendar September 2021
It's back to school, but also back to taste and gastronomy. September is the month of discoveries. We're already making an appointment for the Gourmet selection show.
Back to school: 1st
Taste Week: 11 to 18
Heritage Days: 18 and 19
Fall: 22
Car Free Day: 22
World Maritime Day: 24
Gastronomy festival: 25 and 26
Gourmet selection : 26 and 27
Food marketing calendar October 2021
The month of October is rich and varied with so many special days.
Between vegetarianism, chocolate, coffee, egg, hamburger, bread, cooks and pasta, there is plenty to do to find ideas and promote your brand!
World Vegetarian Day: 1st
World Chocolate Day: 1st
World Coffee Day: 1st
Pink October: 2
Destination Vignobles 2021: 5 and 6
World Egg Day: 13
International Hamburger Day: 13
Wine and gastronomy fair / Colmar : from 15 to 17
World Food Day: 16
Day against food waste: 16
World Bread Day: 16
All Saints' Day holidays: from 16 to 31
International Cooks' Day: 20
World Pasta Day: 25
Chilli Festival in Espelette : from 21 to 26
Salon du chocolat : from 28 to 1 Nov
Wine and gastronomy fair / Rennes : from 29 to 31
Halloween: 31
Winter time : 31
Food marketing calendar November 2021
In November, the festivities continue with the Beaujolais, Thanksgiving and the beginning of the Christmas markets. For the French of the great west, it is the turn of Nantes to welcome the wine and gastronomy fair.
All Saints' Day: 1st
World Vegan Day: 1st
"World Sandwich Day: 3
Armistice: 11
Beaujolais nouveau : 18
Wine and food fair / Nantes : from 19 to 21
Davis Cup: 22
Black Friday: 26
Thanksgiving: 26
Christmas market in Strasbourg: dates to be confirmed
Food marketing calendar December 2021
The end of the year is approaching and with it, the family celebrations. It's time to think about your gourmet menus and go Christmas shopping.
Beginning of Advent: 1st
Wine and food fair / Angers : from 3 to 6
Total solar eclipse: 4
World Climate Day: 8
International Mountain Day: 11
International Tea Day: 15
International Christmas Sweater Day: 18
Christmas holidays: 18
Winter: 21
Christmas: 25
Actors of the food and culinary sector, take note of the important dates and events of this 2021 food marketing calendar; and don't forget to keep an eye on the news and trends throughout the year in order to complete and refine your food communication.