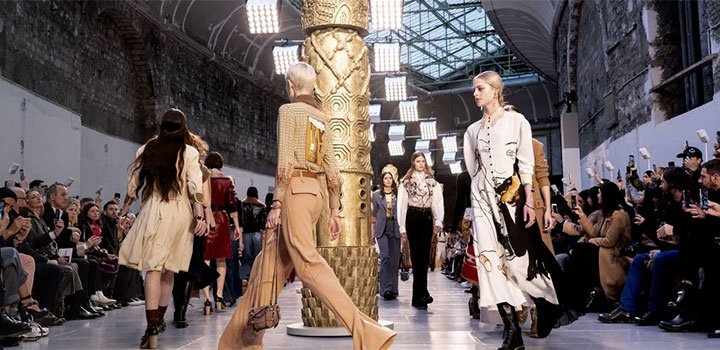 Fashion Marketing Calendar 2021
For clothing and ready-to-wear professionals, a calendar listing all the important dates in the fashion sector is essential for developing a communication and editorial strategy. You can then surf on an event in your social networks or schedule blog posts on ready-to-wear news. All occasions are good to promote your products between trade shows, fashion shows, parties and holidays, big events and special days.
With the help of our 2021 fashion marketing calendar, you can start thinking about your future communication now and anticipate as much as possible.
Fashion marketing calendar January 2021
It's back to school after the Christmas holidays, we are full of good resolutions for the new year. Recovery is never easy, but fortunately, fashion is also making a comeback. We run to the sales before the new collections arrive. Then, the fashion shows and trade fairs for fashion professionals follow one another. Fashion Week is coming to Paris. The Haute Couture shows will take place from January 25 to 28, 2021.
Fashion is no longer just for women and Men's Fashion Week starts on January 19.
New Year's Eve: 1st
Epiphany: 3
Back to school for Christmas holidays: 4
Start of sales in France for the Autumn-Winter collection: 6
World No Pants Day: 13
Blue monday : 18
Paris Fashion Week Men's Fashion : from 19 to 24
Who's Next – Traffic : from 22 to 25
Haute Couture fashion show: from 25 to 28
International lingerie trade fair / Interfilière: 23, 24 & 25 January
Grammy Awards: 31
New York Fashion Week: dates to be confirmed
London Fashion Week: dates to be confirmed
Milan Fashion Week: dates to be confirmed
Fashion marketing calendar February 2021
February holidays are on the agenda. At the end of the sales, the boutiques are delivered with the collections from last year's October fashion shows. We dress up for Carnival in Venice, Rio and Mardi Gras and we put on our best outfit for the lovers' night.
Holidays: zone A (6 to 22), zone B (20 to 8 March), zone C (13 to 1 March)
VI Nations Rugby Tournament: 6 to 20 March
Venice Carnival: 6 to 16
Valentine's Day: 14
Mardi Gras: 16
Rio Carnival: 21
Shelving of the "Cruise/Cruise/Resort" collections for the shows presented in October 2020
Fashion marketing calendar March 2021
The beautiful days are finally here and the days are getting longer with the time change. We're pulling out our spring wardrobe. March is also the month of the arts.
Theatre, film and fashion are in the spotlight. It's the Parisian week of ready-to-wear fashion shows. The renowned Fashion Week unveils the trends for the upcoming season. The great luxury brands, Dior, Isabel Marant, Chanel, or Louis-Vuitton present their new collections during this mythical week.
Paris Fashion Week Women's Fashion : from 1 to 9
Première classe, the accessories show: from 5 to 7
Grandmother's Day: 7
International Women's Rights Day: 8
International Start-up Day: 11
Saint Patrick's Day: 17
World Recycling Day: 18
Spring: 20
International Day of Happiness: 20
World Theatre Day: 27
Changeover to summer time: 28
Printemps du cinéma: from 29 to 31
Fashion marketing calendar April 2021
The spring holidays allow us to take a break. April starts with a joke, then it is chocolate, art, sports, creativity and literature. In fashion, the spring-summer collections are put on the shelves. We're jealous of the stars' beautiful dresses at the 93rd Academy Awards.
Holidays: zone A (10 to 26), zone B (24 to 10 May), zone C (17 to 3 May)
April Fools' Day: 1st
Easter: 4
European Arts and Crafts Days: 6 to 11
Coachella : 9 to 11
Paris Marathon: 11
World Art Day: 15
Digital Women and Creativity Day: 21
World Earth Day: 22
World Book Day: 23
93rd Academy Awards: 25
World Dance Day: 29
Shelving of the year's spring-summer collections in the shops
Fashion marketing calendar May 2021
May 1 and 8 are Saturdays this year. Fortunately, Ascension Thursday and Whit Monday allow for extended weekends. The rise of the steps of the Cannes Film Festival and the Haute Couture clothes of the celebrities make you dream. We wear our sportswear during the Grand Prix in Monaco, the French Open or the Champions League.
Labour Day: 1st
Armistice 1945: May 8
Cannes Film Festival: May 11 to 22
Ascension: 13
Night of the museums: 15
Eurovision Final: 22
Monaco Formula 1 Grand Prix: 20 to 23
Opening of the French Open: 23
Pentecost: 23
Champions League Final 2021: 29
Mother's Day: 30
Fashion marketing calendar June 2021
Summer is the end of school and the time for summer holidays. It's time to take advantage of the summer sales to prepare your suitcase for the next destination. Men are honored between Father's Day and Paris Fashion Week for men.
World Bike Day: 3
World Environment Day: 5
Miniskirt Day: 6
World Oceans Day: 8
24 H of Le Mans : 12 and 13
World Wellness Day: 13
International Surfing Day: 20
Father's Day: June 20
World Yoga Day: 21
Fête de la musique and summer: 21
Paris Fashion Week Men's Fashion: from 22 to 27
Spring-summer collection sales: 23
Fashion marketing calendar July 2021
We start the month of July naked with the World Day of Naturism. The opportunity to divert this event for a fun communication. Japan's Olympic Games originally scheduled for 2020 have been postponed to July 23, 2021. The great Parisian fashion houses unveil their creations during the Haute Couture shows. Showrooms, parties and nearly 100 fashion shows are part of this crazy week.
World Naturist Day: 1st
Tour de France: July 2 to 25
Haute Couture fashion show: 4 to 8
Summer holidays : 6
National holiday: 14
Tokyo Olympic Games: 23 to 8 August
Fashion marketing calendar August 2021
August is a month to celebrate animals. The days for the cat, the dog, the lion, and the elephants follow one another. Why not focus your communication on this idea?
World Blogging Day is a chance to showcase your blog.
World Beer Day: 7
International Cat Day: 8
World Lion Day: 10
World Elephant Day: 12
Assumption: 15
World Photography Day: 19
World Dog Day: 26
World Blogging Day: 31
Shelving of the year's pre-fall collections in the boutiques.
Fashion marketing calendar September 2021
The first day of school this year is September 1. The glitter is also back. The planned festivities allow for the sublimation of fashion with the Deauville Festival, before attacking the Women's Fashion Week at the end of September.
Back to school: 1st
Deauville Festival: 5
World Beard Day: 5
Heritage Days: 18 and 19
Fall: 22
Gastronomy festival: 25 and 26
World Maritime Day: 24
Paris Fashion Week Women's Fashion: from September 27 to October 5
Première classe, the accessories show: dates to be confirmed
Bijorhca jewellery fair: dates to be confirmed
Fashion marketing calendar October 2021
Contemporary art is having its moment of glory with the FIAC, scheduled to take place in Paris from 21 to 24 October 2021, and it's a good thing it's also the school holidays. On Halloween, you can put on your best disguise.
Pink October: 2
All Saints' Day holidays: from 16 to 31
International Contemporary Art Fair: 21 to 24
Halloween: 31
Winter time : 31
Fashion marketing calendar November 2021
Autumn is here and the days are getting shorter. Indulge yourself on Black Friday, a great sales opportunity. The day before, fashion is celebrated on Saint Catherine's Day at the Paris City Hall. The designers show their know-how by creating beautiful hats that will be worn at the next fashion shows.
All Saints' Day: 1st
Armistice: 11
Beaujolais nouveau : 18
Davis Cup: 22
Saint Catherine's Day, fashion festival: 25
Black Friday: 26
Fashion marketing calendar December 2021
The end of the year is approaching and so are the events that come with it. Entertaining with family and friends is the time to put on your best dress, your best shirt or your Christmas sweater!
Total solar eclipse: 4
International Mountain Day: 11
International Christmas Sweater Day: 18
Christmas holidays: 18
Winter: 21
Christmas: 25
New Year's Eve: 31
The coronavirus crisis has had an impact on fashion, which was already widely criticized for its practices. Professionals have had the opportunity to rethink the sector in order to make it evolve. One of the main issues is precisely the mismatch between the fashion calendar and the actual consumer market. In the future, the fashion shows should correspond to the seasons and be closer to store deliveries. To be continued.
Alioze is a creative and strategic communications agency specializing in digital fashion, offering a range of services adapted to the challenges of each company.