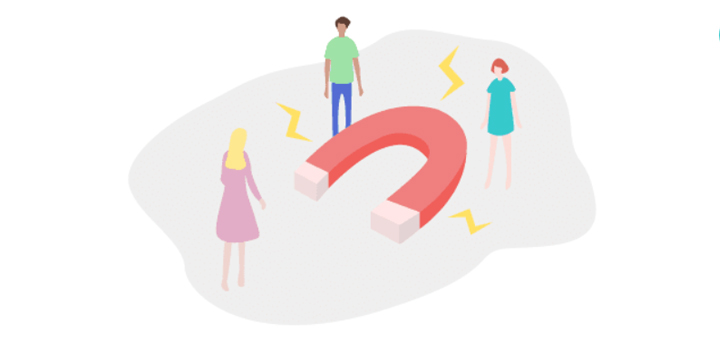 11 effective levers for customer acquisition on the web
Customer acquisition: this is a concern shared by all e-tailers!
There are many strategies to develop your customer base on the web; SEO and paid advertising being the two most popular.
But what about other acquisition strategies? What are the most effective web acquisition levers to attract new customers to your e-commerce?
We've compiled 11 of our favorite acquisition levers (to be adapted to your own business of course 😉 ) to give you ideas for growth opportunities for your e-commerce.
1 – Form strategic sales partnerships
Objective: to acquire new customers by leveraging the customer base and know-how of other companies.
How: by partnering with other brands/retailers whose products are not in direct competition with yours, but complementary, to mutually boost your sales.
When looking to acquire through sales partnerships, the hardest part is often finding the right partner.
When you consider this type of partnership, you must indeed find a partner who offers complementary products to yours and who adds value to the offer, products and / or services that you offer on your e-commerce.
Of course, a partnership must also be beneficial to both parties. You must join forces to achieve common benefits.
For example, you can develop strategic partnerships with other companies that could use your product as part of their offering or offer it to their customers, and vice versa.
The elements to take into account when looking for partners are the following:
Their total customer base.
The probability that their customers will be interested in your product (and conversely that their customers will be interested in yours).
Their online reach (mailing list, community on social networks, etc.).
Example of web acquisition through sales partnership

Aquarelle, a company specialising in flower delivery, has teamed up with beauty salons throughout France to offer its customers a gift box containing a bouquet of flowers and a gift voucher for a massage.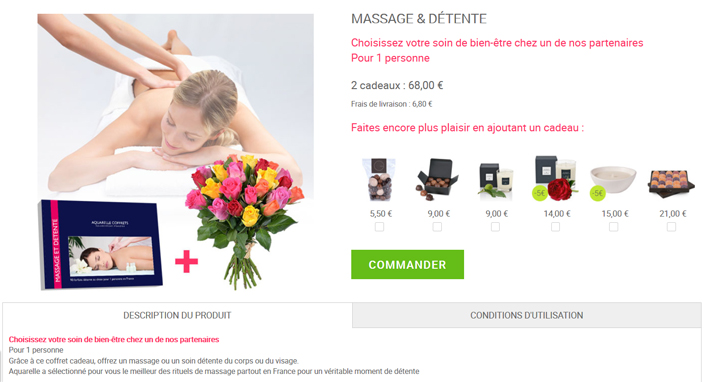 2 – Publish content on external sites
Objective: make your company known to a new audience and increase the volume of targeted traffic on your e-commerce, while optimizing your natural referencing thanks to the obtaining of backlinks.
How: by Guest blogging, i.e. by creating unique content that will be published on the blog/site of another brand or person outside your company with an audience that is highly relevant to what you offer.
A tip: instead of writing content and distributing it to different websites, spend time developing specific content that is fully adapted to the audience and the editorial line of the site on which you will publish.
To find a website where you will benefit from publishing content, ask yourself the following questions:
Does every article on the desired website generate engagement? (comments, shares, etc.)
Does the website have a significant traffic? (use a tool like SimilarWeb)
Is the website audience similar to my customer profile?
Will it bring targeted traffic to my website?
Example of acquisition through guest blogging

If you publish an article on another e-merchant's blog with 1000 readers, then you expose your business to 1000 prospects. And if you have chosen the right partner, someone whose business is complementary to yours, you have a good chance of converting them into customers!
3 – Create co-branded content
Objective: to increase the reach of a content as well as the customers generated.
How: by creating content (video, advertising campaign…) with another brand, and then both promoting it.
The success of this customer acquisition lever will largely depend on how well your product/service complements the other brand's offering.
Again, it is important to partner with a company that has a large audience among your target consumers, but is not in direct competition with you.
To set up a co-branded content campaign, you'll need to follow several steps:
Make a list of companies that target a similar audience, but have an offering that complements yours.
Contact them to find out their total reach (mailing list size, site traffic, etc.).
Work together on a content idea that respects and enhances your respective brand identities.
Create references, including a landing page on each of your respective websites.
Example of acquisition with co-branded content
In the "Stratos" campaign, Red Bull and GoPro took skydivers Felix Baumgartner on a freefall from the stratosphere to create stunning co-branded content.
4 – Cross promotion on social networks
Goal: Drive traffic to your content that has the potential to convert based on your business goals.
How: by agreeing with a company to mutually promote your content on each other's pages/profiles, be it Facebook, Twitter, Instagram, YouTube or Pinterest.
As for the strategic partnership, find partners whose products / services are related to yours, or have affinities. Also, make sure that your respective brand images are well aligned.
Example of acquisition with cross promotion
You can, at a defined pace (once every two weeks for example), share the content of your partner, who will do the same on his side. The content to be shared can be links to your respective blogs or products from your e-commerce.
Let's say you have 500 followers on Facebook while your partner has 600 followers on Twitter. By agreeing to promote each other's content, you will potentially reach 1100 people instead of 500 or 600!
5 – Set up an affiliate program
Objective: to generate new customers through incentive referrals.
How: by giving a commission to an influencer or company every time they bring you a new customer.
It's a win-win! While you increase your ROI through customer acquisition, your partner generates additional revenue through the commissions you pay them.
To make your e-commerce acquisition via an affiliate program work, you will need to identify potential affiliates in your brand universe. Their audience should be your target market, and their message should correlate with yours.
While there isn't necessarily a typical approach to building an affiliate program, you should at least consider these three points before you get started:
The maximum amount you can give to affiliates to keep a profit.
According to which objectives you will compensate your affiliates (per click, per registration, per sale, etc.)
The system you will use to track your affiliates' referrals.
Note that there are a lot of different affiliate software to let you start your own affiliate program: Post Affiliate Pro, Affilae, GetAmbassador…
Example of acquisition through affiliate marketing
Partner A has agreed to receive a 20% commission on the cost of a product each time it initiates the sale of that product.
With this commission as an incentive, this partner will now be more willing to promote your product through all the marketing tools at their disposal.
6 – Participate in forums and question and answer sites
Objective: generate referral traffic to your website and position yourself as an expert in your industry.
How: by answering questions from Internet users and talking about your company and your products/offers on sites like Quora (or Yahoo Questions/Answers), or on specialized forums.
For those of you who have never used it before, Quora is a question-based social network. In short, users ask questions that all other users can freely answer. The questions and answers cover everything from the meaning of life to tips on unclogging a sink.
From a customer acquisition point of view, Quora gives you the opportunity to drive traffic and increase brand awareness by commenting on the questions your content answers.
However, you'll need to be subtle about not posting a link to your content. The Quora moderators might delete your answer in no time.
You can still insert links in your answers, but don't do it systematically. Every answer you publish should have intrinsic value without having to visit your site. For the sake of credibility, also try to show some goodwill in the community by answering a few unrelated questions.
As far as responses in the specialized forums go, you can start to spot conversations you can join.
Watch for mentions of your product or any related terms and participate when you can add valuable information to the discussion. And, when the opportunity arises, you can talk about your products/services.
You can also join discussions on Twitter and LinkedIn groups that are relevant to your industry and provide helpful responses whenever possible.
7 – Implement a customer referral program
Objective: to acquire new customers through a mechanism that encourages your existing users to recommend your products / services to their friends, family, colleagues…
How: by relying on the virality of the web! Offer personalized coupons or promotional codes to be shared via referral.
Before you set up a customer referral program that can go viral, ask yourself these few questions:
What features of your product are most popular with your customers?
Do you have any features that have usage caps that can be increased?
By inviting others to use your product, would your existing customers benefit from any kind of network effect?
What can you use as incentives for existing users to attract new users that will have minimal impact on your customer acquisition cost?
Example of acquisition through a referral program
Dropbox uses an incentive-based referral program that involves getting more free storage space by inviting a friend to use their service. The guest also receives 500 MB of additional storage.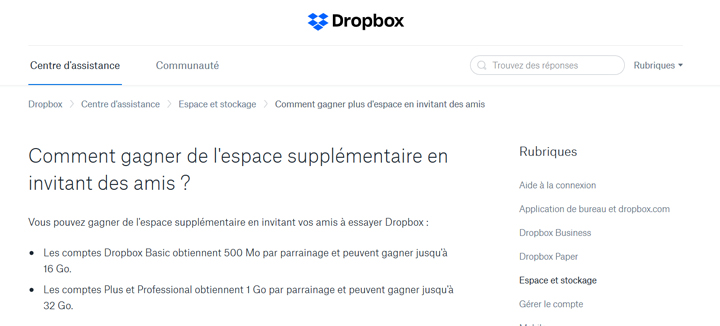 Airbnb also has a good viral mechanism built into its service. They offer a travel credit to spend on their website for each new Airbnb guest, as well as a discount coupon to each guest.

8 – Doing influencer marketing
Objective: increase the visibility of your company, promote your brand image, and optimize your natural referencing.
How: by contacting influential people in your industry and asking them to test your products/services on their blogs or social profiles.
Apart from the obvious benefits of acquiring new customers, an influencer campaign can have a lot of positive effects if it is done well.
Note that it will be more interesting to choose leaders in your industry, or influencers whose profile is really in line with your brand, rather than having a bunch of less targeted bloggers recommending your product.
You can then create a special landing page on your e-commerce site, where each influencer will drive traffic, or create a specific offer linked to each influencer.
You can follow these few steps for your influencer campaigns:
Make a table with the names and contact information of a number of influencers within your industry.
Contact them individually, describing what you are looking to do, emphasizing exclusivity, and what they will get in return.
Work with each influencer to set up a personalized offer.
Create content for each influencer: dedicated landing page, montage, visual, promotional code…
Discover also our tips to find and contact influencers
9 – Launch a promotional offer
Objective: attract new customers by "pushing" them to buy.
How: by broadcasting your promotional offer via ads on social networks, or by sending an email containing a discount code to your mailing list.
Depending on the calendar, the holidays, the seasons, the trends or the events of the moment, you can offer a discount code that can be used on your e-commerce or offer the delivery costs.
If you have a less popular item in stock, you may also consider offering it on orders over a certain amount.
Whatever your preference, a promotional offer is always a great web acquisition strategy because it makes customers feel like they got a good deal.
10 – Increase email engagement
Goal: Increase the number of people who read and interact with the emails you send to your subscriber list by specifically targeting those who have failed to open them.
How: About 48 hours after you send an email to your subscribers, go into your email marketing software and identify all of your subscribers who received your email, but did not open it.
Send your email with a new subject line to these people only.
This acquisition tactic gives you the opportunity to increase the open rate of your campaign, without seeming to spam the inboxes of subscribers who have already read it.
11 – Republish old content
Objective: drive more search traffic to your existing e-commerce content
How: by updating and republishing old content.
If you regularly publish content on your blog, some of your posts are probably buried deep in the architecture of your website – the older a blog post is, the lower it will be in the various archived pages of the blog.
A simple solution is to update the publication date of the article and republish it. This will bring it to the top of page 1 of your blog feed and give it a significant SEO boost.
Also take the opportunity to update its content (old stats and references for example) and promote it again (via social networks, emails, etc.).
Example of updating old content
The infotainment site Topito does this very well, regularly republishing content that is sometimes one, two, three, four, even five years old!
Illustration © Agence Graciet & Co
---
Did you like this article?
Subscribe to our newsletter and you will receive our other articles once a month in your mailbox