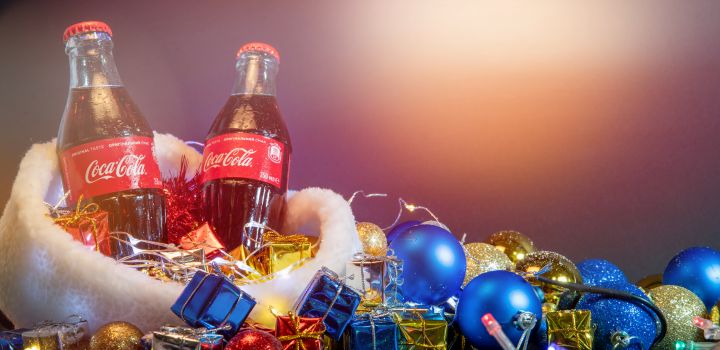 Coca-Cola launches its latest Christmas campaign via its new brand platform: Real Magic
Coca-Cola, the pioneer brand when it comes to holiday season marketing, has unveiled its latest creation for Christmas: a commercial produced by the agency dentsuMB. This campaign is the first one since the launch of the new brand platform of the multinational: Real Magic, last September.
Brand redesign and innovative communication for the American giant
The new communication strategy of Coca-Cola emphasizes the mutual aid and the community spirit. Values introduced in the Christmas marketing campaign of the brand. The advertising film, posted on its communication platform Real Magic, features a child who moves with his mother into a new apartment without a fireplace. To welcome Santa Claus, he enlists the help of his neighbors to build a chimney out of cardboard boxes.
The film is 2.5 minutes long and will be broadcast in a shorter format in 90 countries. The campaign will be promoted on digital channels, and partnerships will be organized with influencers.
As Manolo Aroyo, Coca-Cola's global marketing director, explains, "Coca-Cola has always believed in the magic of Christmas, and this year our campaign celebrates the true magic of human relationships. Through a simple and heartwarming message of togetherness, inclusion and positivity, it serves to remind us that all we need to have a magical Christmas is to share moments together with those we love."
After 18 months of a global pandemic, and many periods of loneliness and isolation, the red brand wants to be unifying and optimistic.
With this in mind, it designed its global Real Magic platform: a way to communicate with consumers in an innovative way by creating a new ecosystem of unique and customizable experiences.
For this brand redesign, the American giant has called on artists, photographers and illustrators who will take turns giving their vision of everyday magic.
As for this Christmas campaign, the Real Magic brand platform wants to highlight a new philosophy for Coca-Cola, and a new long-term relationship with consumers.
Source :