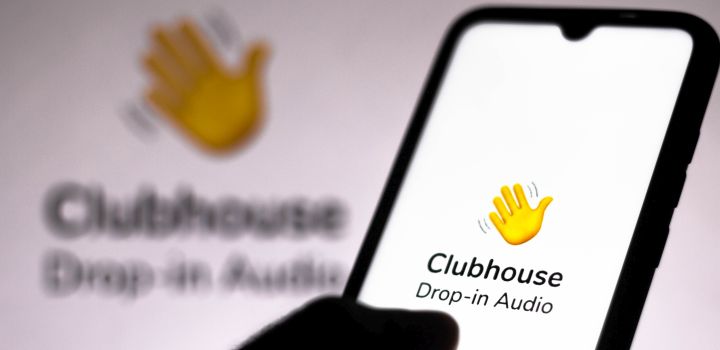 Twitter, Facebook, Slack… Social networks imitate Clubhouse with audio chat
The popularity of Clubhouse has not gone unnoticed in the social media world. Social networking giants such as Twitter, Slack, LinkedIn and Facebook are seizing on the live chat model to compete with the audio chat application.
Clubhouse, social audio
The digital audio application, which appeared in 2020, has been extremely successful, particularly during the health crisis.
Clubhouse is based on a simple concept: the user accesses a digital room, also known as a "room", where he or she can listen and intervene in person to interact with the other listeners present. No photos, no videos, the social network is based exclusively on live oral discussion. The platform is only available by invitation from a member.
The participant can also join, leave or change the conversation room as he or she sees fit, depending on the topic. The rooms can accommodate up to 5,000 participants and deal with a wide variety of topics.
Whether they are personalities or individual members, they have all quickly embraced this new principle. Why? Speech is free and respected and the audio model appeals to users because of its immediacy. Interaction is fluid, fast and each listener has the freedom to express himself or herself via a "Raise your hand" button.
The success of Clubhouse has, unsurprisingly, inspired other social networks to develop a similar function. These include Facebook, Twitter, Slack and LinkedIn.
Social networks take on audio chat channels
Virtual audio rooms have invaded the Twittosphere with the arrival of Spaces during 2021. The feature, now accessible from any Android or iOS device, competes with Clubhouse in journalism and tech circles. Users can now create their own chat rooms, which other members can join. It is also an opportunity for them to share audio clips. With Spaces, Twitter is hoping to win over new users.
The collaborative messaging service, Slack, has launched "Huddles", audio rooms for live conversations. The development of this feature aims to simplify collaboration, broadcasting and consulting information at any time.
Following demand from its members and content creators, LinkedIn plans to launch its audio events platform where each participant could participate as a speaker. A new channel to maximise members' attention, stay connected to its professional community and develop a unique user experience related to its professional identity.
The American giant Facebook has also followed the trend, developing "Lives Audi Rooms". Live audio rooms that can be created by groups, celebrities or influencers. Each user is invited to participate in audio conferences and to exchange with experts, personalities or other Internet users, directly from the application.
Social audio, brought to the fore by Clubhouse, is now widely used by social networks. And the enthusiasm of the social media giants for live audio chats indicates that the concept could well become the new way to communicate online.
Need advice on social media? Alioze, the communication agency in the UK, can help you with your social media marketing strategy.