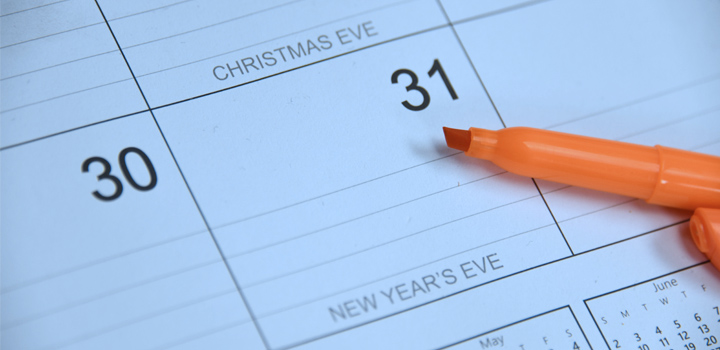 Tourism marketing calendar for 2021 (key dates and events)
When you are a professional in the tourism sector, referring to a tourism marketing calendar becomes essential in order to effectively manage your communication strategy.
By listing important dates related to the tourism sector, a calendar provides content ideas for social media posts, blog articles or advertising campaigns that resonate with current events.
Cultural events that encourage people to travel, school holidays, professional tourism fairs, national holidays or even world tourism days: many events and dates allow you to communicate and promote your products, offers, activities, brands or services.
Thanks to our tourism marketing calendar, let yourself be guided in 2021 and anticipate your communication.
Tourism marketing calendar January 2021
It's back to school after the Christmas holidays. Like every year, many French people take a deep breath and make good resolutions to attack the new year.
Tourism industry professionals can take advantage of the sales to attract travelers who are beginning to plan and organize their next 2021 vacation.
The tourism actors who offer stays, leisure and activities related to nature can also take advantage of the Lille Tourism Fair to make themselves better known.
New Year's Eve: 1st
Epiphany: 3
Back to school for Christmas holidays: 4
Start of sales in France: 6
International Comics Festival: 28 to 31
Lille Tourism Fair: 29 to 31
Tourism marketing calendar February 2021
February holidays are on the agenda. This is a boon for French ski resorts and for travel agencies offering foreign destinations in the sun.
In February, don't hesitate to take advantage of Saturday 6th, World No Phone Day, to share your wellness activities or disconnected moments with your family. Later in the month, take advantage of Mardi Gras, the carnivals of Dunkerque, Venice and Rio to invite you on a festive journey.
Other professional events not to be missed in this 2021 tourism marketing calendar: the National River Tourism Meetings and the Sustainable Tourism Awards, both dedicated to slowtourism and responsible travel.
Holidays: zone A (6 to 22), zone B (20 to 8 March), zone C (13 to 1 March)
Candlemas: 2
World No Phone Day: 6
VI Nations Rugby Tournament: 6 to 20 March
Venice Carnival: 6 to 16
Mardi Gras: 16
Valentine's Day: 14
Rio Carnival: 21
National meetings of river tourism
The Sustainable Tourism Awards
Carnival of Dunkerque
Tourism marketing calendar March 2021
The beautiful days are back with the arrival of spring. The 3rd month of the year is also the month of the arts. In March, theatre and cinema are in the spotlight and cultural tourism professionals can therefore consider taking advantage of this in their communication.
March is also one of the most important months in the tourism marketing calendar, as it is when the World Tourism Fair takes place in Paris: a must-attend event for all tourism stakeholders.
Mahana show in Lyon: from 5 to 7
Grandmother's Day: 7
International Women's Rights Day: 8
International Start-up Day: 11
Saint Patrick's Day: 17
World Tourism Fair in Paris: 18 to 21
Spring: 20
International Day of Happiness: 20
World Theatre Day: 27
Changeover to summer time: 28
Printemps du cinéma: from 29 to 31
Golden Travel
Tourism marketing calendar April 2021
Spring break is a great time for families to get away from it all. Easter brings its share of chocolate surprises. April is the month of literary discoveries and know-how.
The web is also in the spotlight with a focus on digital women and the role of bloggers in tourism marketing.
Holidays: zone A (10 to 26), zone B (24 to 10 May), zone C (17 to 3 May)
April Fools' Day: 1st
Easter: 4
European Arts and Crafts Days: 6 to 11
Paris Marathon: 11
Digital Women and Creativity Day: 21
World Earth Day: 22
World Book Day: 23
Travel bloggers and web influencers fair
Tourism marketing calendar May 2021
May 1 and May 8 are Saturdays in 2021. Fortunately, Ascension Thursday and Whit Monday allow travellers to organise weekends and extended stays.
Why not communicate around the Cannes Film Festival or highlight sports with the Grand Prix in Monaco, Roland-Garros or the Champions League final.
Labour Day: 1st
Armistice 1945: May 8
Cannes Film Festival: May 11 to 22
Ascension: 13
Night of the museums: 15
Monaco Formula 1 Grand Prix: 20 to 23
Opening of the French Open: 23
Pentecost: 23
Champions League Final 2021: 29
Mother's Day: 30
Tourism marketing calendar June 2021
June probably marks the beginning of the most important period in this tourism marketing calendar. Indeed, summer is the end of school and the time of the big holidays. Time is slowly getting longer, and the French have more time to visit, travel and organize activities.
On the tourism marketing side, people are encouraged to think about themselves during World Wellness Days. Ecotourism actors, we also think of communicating about sustainable and responsible tourism during the world days of the environment and the oceans.
The beginning of summer also launches the wedding season, and many future brides and grooms are looking for destinations, accommodations and activities to seal their union and share unforgettable moments with their loved ones.
It's also a good time to get outside for outdoor activities like surfing or biking. Don't forget to take advantage of the sales to do business and prepare your trips.
World Bike Day: 3
World Environment Day: 5
World Oceans Day: 8
24 H of Le Mans : 12 and 13
World Wellness Day: 13
International Surfing Day: 20
Father's Day: June 20
Fête de la musique and summer: 21
Summer sales: 23
Tourism marketing calendar July 2021
July is a month of sun, sea, holiday books and festivals. It's time for French tourism companies to pull out all the stops.
Note: Japan's Olympic Games originally scheduled for 2020 have been postponed to July 23, 2021.
Tour de France: July 2 to 25
Summer holidays : 6
National holiday: 15
Festival des vieilles Charrues : 15 to 18
Tokyo Olympic Games: 23 to 8 August
Tourism marketing calendar August 2021
Why not use animals in your communication? We celebrate the cat, the dog, the lion, and even the elephants in August. Think with Google's mapping of travel search in France shows that tourism queries related to the word "dog" are increasing. For example, " holiday village with dog " has increased by +20% and " dog plane cabin " by +93%.
We also think of highlighting our website during the world blogging day.
Mid-August often represents a peak of activity for the actors of the tourist sector, but the holidays continue after August 15! Until the end of the month, tourism professionals must not relax their efforts in terms of communication and marketing actions.
World Beer Day: 7
International Cat Day: 8
World Lion Day: 10
World Elephant Day: 12
Assumption: 15
World Photography Day: 19
World Dog Day: 26
World Blogging Day: 31
Tourism marketing calendar September 2021
End of the summer holiday season in the tourism marketing calendar. School resumed on September 1 and most workers returned to their jobs.
However, holidaymakers who are later than July and August can still take advantage of the good weather to go on a trip or organize a stay. In addition, the festivities with a strong tourist appeal make it possible to occupy the weekends of the autumn between the heritage days and the gastronomy festival.
Every year, on September 27, World Tourism Day is celebrated around the world. This is an opportunity to promote it, but also to take stock of the important place it currently occupies in our societies.
Back to school: 1st
Heritage Days: 18 and 19
Fall: 22
Gastronomy festival: 25 and 26
World Maritime Day: 24
World Tourism Day: 27
IFTM Top Resa Exhibition
Tourism marketing calendar October 2021
For wine lovers, Destination vignobles will take place this year in Aix-en-Provence.
For those who prefer contemporary art, the FIAC is scheduled to take place in Paris from October 21 to 24, 2021, and it's a good thing it's also the school holidays. Some travellers take the opportunity to choose a destination based on the fun and scary tourist activities that will be offered on Halloween 31st.
Destination Vignobles 2021: 5 and 6
All Saints' Day holidays: from 16 to 31
International Contemporary Art Fair: 21 to 24
Halloween: 31
Winter time : 31
Tourism marketing calendar November 2021
November. The days are getting shorter, it is dark at 5 pm.
From Friday 5th to Sunday 7th, you can take advantage of the Colmar Tourism Fair to promote your activities.
From a marketing point of view, with winter just around the corner, tourists and travellers are seriously starting to dream of sunny destinations, trips and activities that would take their minds off the weather. Why not let them give in to temptation by taking advantage of Black Friday to offer them an exceptional promotion on your offers, products, services or tourist establishment?
All Saints' Day: 1st
International Tourism and Travel Fair (SITV) in Colmar: 5 to 7
Armistice: 11
Beaujolais nouveau : 18
Davis Cup: 22
Black Friday: 26
Tourism marketing calendar December 2021
The tourism marketing calendar is coming to an end. The first date to remember for this 12th and last month of the year is the Cannes trade show, which welcomes luxury tourism professionals, and which will be held this year on December 6.
With the arrival of winter, the mountain is celebrated and the ski season begins its beautiful period. It's a good time to put on your Christmas sweater and start promoting activities that warm up or are related to snow and the great outdoors.
Finally, as the school holidays, Christmas and New Year's Eve approach, many French people go in search of a travel destination where they can celebrate the end of the year festivities and the passage to the new year. Travellers also have more time to spend with their families, couples or friends on tourist activities.
Total solar eclipse: 4
ILTM Cannes : 6
World Climate Day: 8
International Mountain Day: 11
International Christmas Sweater Day: 18
Christmas holidays: 18
Winter: 21
Christmas: 25
Actors of the tourism sector, take note of the dates, fairs and important events of this marketing calendar of tourism of 2021; and do not forget to remain on the lookout for the current events and the tendencies throughout the year in order to supplement and refine your tourist communication.
Discover also our 2021 marketing calendar of important dates and events for e-commerce.