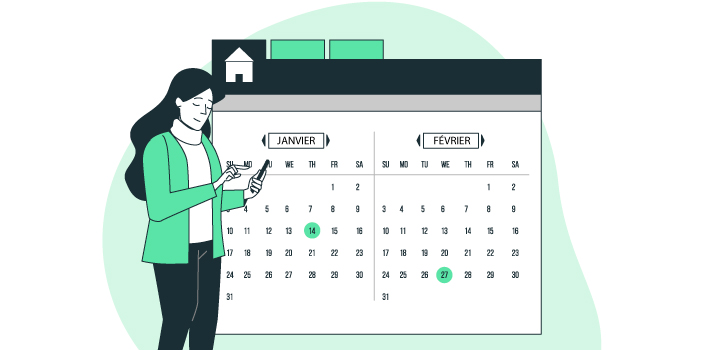 Real Estate Marketing Calendar 2021: Events, trade shows and key dates
Every time of year is an opportunity for real estate professionals to stand out and explore new opportunities. For real estate agents, representatives, developers and other professions in the sector, the year 2021 will be rich in events throughout the country. Presenting a summary of important dates and meetings, the Alioze agency puts at your disposal its 2021 real estate marketing calendar.
By its very nature, this market is subject to significant variations in prices and the number of transactions in a given year. Communication strategies must therefore take into account its seasonality.
Find out now about events, trade fairs, meetings and key dates in 2021.
REAL ESTATE MARKETING CALENDAR JANUARY 2021 : A new year for new real estate projects
A new year ahead and new objectives to be defined. It is the occasion to wish a very happy new year to your employees, your prospects and your customers. You can remind them that you will be by their side to help them realize their real estate project.
Facebook posts and personalized text messages will always be appreciated. On the other hand, you can take advantage of a quiet period to take stock of the new laws (legal, tax, etc.) that will come into force in 2021.
New Year's Eve:1st
Winter sales: from 2 to 29
Back to school for Christmas holidays: 4
Epiphany: 6
REAL ESTATE MARKETING CALENDAR FEBRUARY 2021 : The Forum to find new talent
This month, the capital invites future entrepreneurs to meet at a trade fair. Ambition, motivation and business ideas will be shared at this meeting. A real estate forum is also held in Paris. The various players in the sector will be able to show visitors their jobs. They will also be able to offer training, internships, work-study programs and, of course, to recruit.
As Valentine's Day approaches, you also have the option of customizing your ads to appeal to young couples in love.
Holidays: zone A (6 to 22), zone B (20 to 8 March), zone C (13 to 1 March)
Candlemas: 2
Salon des Entrepreneurs in Paris (to be confirmed): 3 and 4
World No Phone Day: 6
Salon de l'habitat : (precise date not known)
Valentine's Day: 14
Real Estate Forum in Paris : (precise date not known)
REAL ESTATE MARKETING CALENDAR MARCH 2021 : Numerous trade fairs throughout France
This month will be full of trade fairs across the country and will be a great month for those who are interested in field communication. For the promoters, the famous show of the real estate of the nine in Paris will take place this year between the 19 and the 21. As exhibitors, they will be able to display their programs and offer visitors the opportunity to invest in or purchase new homes. If you wish to participate in some of these events, be sure to prepare digital (video, slideshows, maps) and print materials (brochures, flyers, and business cards) in advance.
A date not to be missed if you want to gain visibility.
Grandmother's Day: 7
International Women's Rights Day: 8
International Start-up Day: 11
Saint Patrick's Day: 17
Spring: 20
International Day of Happiness: 20
Salon de l'immobilier Neuf à Paris : from 19 to 21
Saint-Etienne Real Estate Show : from 19 to 21
Real estate fair of the Haut-Rhin in Mulhouse : the 20th and the 21st
World Water Day: 22
World Meteorological Day: 23
Changeover to summer time: 28
The Purchasing and Working Environment Exhibition: from 30 to 1 April
The RENT show in Paris: April 31 and 1
REAL ESTATE MARKETING CALENDAR APRIL 2021: An action-packed period for real estate agents
With the return of fine weather, real estate agents, sales representatives and agents will not be short of actions to be carried out on the ground. In order to present the properties to potential buyers, it is necessary to have studied them sufficiently beforehand. Also, keeping up to date with the latest news in the area will be greatly appreciated by your contacts.
It would be wise to offer good quality virtual tours of the properties put up for sale by your agency. In the same way, you can present the neighbourhood or the nearby environment with videos filmed on sunny days. After visiting a property virtually, prospects have a better idea of its value. Afterwards, if they wish to make a physical visit, they have a greater probability of signing the sale. By doing so, you reduce the number of physical visits and save time. In the end, you will increase your chances of selling and realizing a real estate project.
For the spring holidays, you can put forward the seasonal hiring by presenting various advertisements located at the seaside, in the mountains, etc. Also, the publication of articles presenting the advantages of renting through an agency will be more successful at this time of the year. This content can then be shared on Facebook. In addition, it will be interesting to add links to rental ads that encourage a change of scenery.
Holidays: zone A (10 to 26), zone B (24 to 10 May), zone C (17 to 3 May)
April Fools' Day:1st
Easter: 4
ImmoExpo Marseille exhibition at the Parc Chanot: from 16 to 18
INTERMAT, the international trade fair for construction and infrastructure: from 18 to 21
World Earth Day: 22
World Mobility and Accessibility Day: 30th of the book: 23
REAL ESTATE MARKETING CALENDAR MAY 2021 : A gathering to promote yourself in your neighborhood
After sales in the month of April, you can build on these successes. Part of your energy is then focused on the people who sold their property the previous month. They will recognize your skills and expertise. There is a good chance that you will be approached again if they want to buy a larger home.
For Neighbours' Day, a local event can be organised by your agency. A convivial moment that often leads to meetings: new prospects or old customers.
Labour Day:1st
Easter Monday: 5
Armistice 1945: May 8
Europe and EU Day: 9
Cannes Film Festival: May 11 to 22
Ascension Thursday: 13
World Day of Families: 15
Pentecost: 23
Neighbours' Day: 28 (to be confirmed)
Mother's Day: 30
REAL ESTATE MARKETING CALENDAR JUNE 2021 : A must-attend event for all professionals in the sector
Finally, the arrival of summer with longer and sunnier days! This is the ideal month to recharge your batteries with the wellness day. Feel free to share your relaxation tips on Instagram, or your favorite songs on Music Day. Relational and human qualities, such as sharing and sympathy, are inherent to the real estate profession.
Do you claim to be a "green" and environmentally responsible promoter? World Ecology and Oceans Day invites you to communicate your material choices and building strategies.
The summer sales will allow you to find good deals if you want to invest in digital equipment for your agencies: cameras, drones, etc.
A must-attend event for all real estate professionals: the MIPIM in Cannes. From 7 to 10 June, you can participate in numerous training courses and exhibitions. Impressive real estate projects are to be discovered. Do you want to develop your networks or create new partnerships? This forum has more than 26,000 participants and will satisfy your desires.
World Environment and Ecology Day: 5
World Oceans Day: 8
MIPIM – International Market for Real Estate Professionals: From 7 to 10
World Wellness Day: 13
Salon des Entrepreneurs in Lyon: 17 and 18
International Surfing Day: 20
Father's Day: June 20
Fête de la musique and summer: 21
Summer sales: 23 to 20 July
REAL ESTATE MARKETING CALENDAR JULY 2021 : A quieter time to be creative
Take advantage of the month of July to update your ads with more attractive visuals. In this sense, you will be able to take high quality photos with natural light. Once they are online, they will have more chances to seduce your visitors.
A quieter period that can also be an opportunity to write some articles:
The 5 most beautiful regions of France to visit this summer ;
The 10 pitfalls to avoid when renting out your property;
The checklist for a successful holiday…
A bit of reading that will most likely be enjoyed and shared shortly before the holidays.
Tour de France: July 2 to 25
International Day of Cooperatives: 3
Summer holidays : 6
World Population Day: 11
National holiday: 15
Tokyo Olympic Games: 23 to 8 August
REAL ESTATE MARKETING CALENDAR AUGUST 2021: Pet-centric communication
This month of August dedicates two days to animals that make their owners happy: the dog and the cat. They are an integral part of many French families. They are therefore concerned about the well-being of their pets. In this respect, a household wishing to purchase a home takes into account the surface area, the presence of a garden or a terrace as well as the safety of the neighbourhood.
You can then write blog posts around this theme and include homes that meet these criteria. On the Web, humorous videos about dogs and cats are very popular. On this occasion, feel free to share some of them as well.
International Youth Day: 12
International Cat Day: 8
Assumption: 15
World Dog Day: 26
World Blogging Day: 31
REAL ESTATE MARKETING CALENDAR SEPTEMBER 2021 : A back-to-school season conducive to sales
After a relaxing summer holiday, the first days of September herald the start of the new school year. The end of the year is approaching and acquisition and sale projects are being made more quickly. Agencies are therefore more in demand at this time of year.
You might as well start this new school year with an updated contact list. After refreshing your addresses, a mail campaign will be the opportunity to share the properties sold by your agency. You can also include ads for properties near schools. These will have a greater impact on families planning to move in the near future.
For studios located in student cities, you can share rental ads on Facebook. They are likely to be of interest to students looking for accommodation.
Back to school:1st
International Day for the Protection of the Ozone Layer: 16
Heritage Days: 18 and 19
International Day of Peace: 21
Fall: 22
Gastronomy festival: 25 and 26
REAL ESTATE MARKETING CALENDAR OCTOBER 2021 : The must-attend show for developers
Are you a developer or asset manager? The Real Estate and Investment Fair is a must-attend event for market players. Taking place in Paris between 8 and 10 October, this event aims to advise and inform visitors wishing to invest in property projects.
For exhibitors and speakers wishing to participate, they will have to anticipate many questions from their audience. They will also make sure to offer a pleasant, dynamic and value-added speech.
World Habitat Day: 4
Real estate and investment fair in Paris: from 8 to 10
World Rural Women's Day: 15
All Saints' Day holidays: from 16 to 31
Halloween: 31
Winter time : 31
REAL ESTATE MARKETING CALENDAR NOVEMBER 2021 : The Salon de la Copropriété for all Syndics
As the festive season approaches, your agency can be decorated with Christmas trees and garlands. Without extravagance, this personalization will be noticed and appreciated by the inhabitants of the district and by the people passing by your premises. You can also welcome your visitors with some chocolates. During their tasting, their eyes can wander over the highlighted ads.
Your web pages can also be decorated with Christmas colours: a banner with mistletoe for example, or an animated tree with a light show.
In order to expand one's knowledge and learn about the latest developments in condominiums, the condominium show will open its doors on November 4 and 5. It will take place in Paris Porte de Versailles and will be of particular interest to professional trustees.
All Saints' Day:1st
Salon de la Copropriété in Paris Porte de Versailles : The 4th and the 5th
Armistice: 11
International Children's Rights Day: 20
World Television Day: 21
Black Friday: 26
FNAIM Congress: dates to be announced
REAL ESTATE MARKETING CALENDAR DECEMBER 2021 : A contribution to communal events
With the holiday spirit, you want to support a humanitarian cause or fight against a disease? The month of December offers you the opportunity to show your solidarity and generosity. A charitable action such as a fundraiser for an association fighting against AIDS will be a very nice proof of solidarity. You can relay this action on social networks and on your agency's blog.
In parallel, an SMS campaign or Facebook posts are good ways to wish your prospects and customers a happy holiday season. To build loyalty, the written card is distinguished by its personal approach and will have a stronger value with its recipients.
The municipalities usually organize local events in the last two weeks of December. Your agency will be able to participate in some of them and even contribute to them. This can be done through a competition with prizes to be won.
World AIDS Day:1st
Total solar eclipse: 4
International Day of Persons with Disabilities: 3
International Volunteer Day for Economic and Social Development: 5
World Climate Day: 8
International Mountain Day: 11
Christmas holidays: 18
International Human Solidarity Day: 20
Winter: 21
Christmas: 25
New Year's Eve: 31
Our agency Alioze, specialized in real estate, hopes that this calendar will help you plan your communication actions for 2021. Throughout the year, our team offers you a digital strategy adapted to your needs and to market fluctuations.