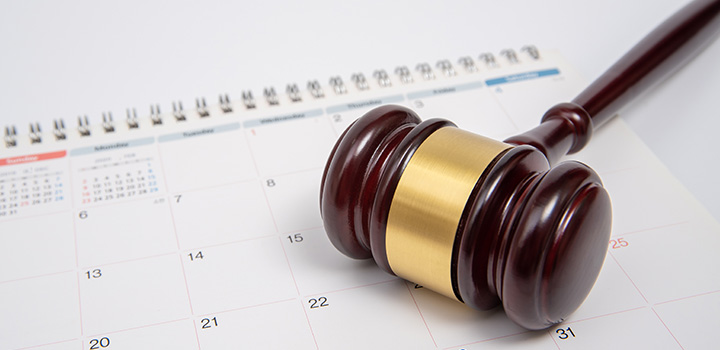 Marketing calendar for lawyers in 2021 (key dates and events)
The 2021 lawyer marketing calendar is available. Find important events, dates and days in the legal sector in this tool designed for legal professionals.
Do you want to build a coherent and effective communication strategy throughout the year? Our 2021 lawyer marketing calendar supports your digital transition. It will help you find inspiration to create new content and promote your practice.
Lawyers' marketing calendar January 2021
After a dark year, it is time to learn from the previous period and start afresh. If you are attending the Legal Careers Forum in Paris, share your experience on the following social networks: LinkedIn, Twitter and Facebook. At the same time, you can communicate your wishes to your customers, colleagues and staff.
New Year's Day and World Peace Day:1January
Epiphany: 3
End of Christmas holidays: 4
Start of sales in France: 20
Handwriting Day: 23
Legal Careers Forum at the Pavillon d'Armenonville, Paris: 25
Innovation & IP Forum and Awards Conference at the Pavillon d'Armenonville: 26
International Legal Alliance Summit & Awards Conference, Pavillon d'Armenonville: 27
Lawyers' Marketing Calendar February 2021
Is one of your firm's specialties employment law? February gives you the opportunity to show your commitment with World Social Justice Day and the Right to Strike Day.
Holidays: zone A (6 to 22), zone B (20 to 8 March), zone C (13 to1 March)
Candlemas: 2
World No Phone Day: 6
Safer Internet Day: 9
International Day of Women and Girls in Science: 11
Growth Company Summit at the Pavillon d'Armenonville, Paris : 11
Venice Carnival: from 6 to 16
Chinese New Year: 12
Mardi Gras: 16
Valentine's Day: 14
Right to Strike Action Day: 18
World Day of Social Justice: 20
World No Facebook Day: 28
Lawyers' Marketing Calendar March 2021
The month of March was particularly rich in events, including the Rendez-vous des transformations du droit: a not-to-be-missed meeting for lawyers. This will allow you to gain competence in order to better support companies that have experienced the full force of the health crisis.
Law Summit at the Pavillon d'Armenonville in Paris: 2
Grandmother's Day: 7
International Women's Rights Day: 8
International Start-up Day: 11
The Rendez-vous des Transformations du droit in Paris, Palais des Congrès Porte Maillot : 11 and 12
National Sleep Day: 13
General Congress of the European Bars Federation, at La Maison du Barreau in Paris: from 18 to 20
Saint Patrick's Day: 17
Spring: 20
International Day of Happiness: 20
World Water Day: 22
World Theatre Day: 27
Changeover to summer time: 28
Printemps du cinéma: from 29 to 31
Lawyers' Marketing Calendar April 2021
As the legal profession is predominantly female, the World Digital Women's Day and creativity offers you a theme for communication on social networks. You will be able to illustrate your profession on the web by being inventive.
Holidays: zone A (10 to 26), zone B (24 to 10 May), zone C (17 to 3 May)
April Fools' Day:1st
Easter: 4
European Arts and Crafts Days: 6 to 11
World Invisible Work Day: 7
Paris Marathon: 11
Secretaries' parties: 15
Digital Women and Creativity Day: 21
World Earth Day: 22
World Book Day: 23
93rd Academy Awards: 25
World Intellectual Property Day: 26
Lawyers' Marketing Calendar May 2021
On the occasion of the International Day against Homophobia, creating a digital event could be very appreciated by your prospects. Free online consultations could thus be offered by your firm to combat these forms of rejection or discrimination.
Labour Day:1st
Armistice 1945 and World Red Cross Day: 8 May
Europe Day: 9
Cannes Film Festival: May 11-22
Ascension: 13
International Day of Families: 15
International Day Against Homophobia, Transphobia and Biphobia: 17
Inbound Marketing France: 18
Eurovision Final: 22
Opening of the French Open: 23
Pentecost: 23
Champions League Final 2021: 29
Mother's Day: 30
World No Tobacco Day: 31
Lawyers' Marketing Calendar June 2021
As dedicated as they may be, lawyers must also take care of themselves! On World Wellness Day, share the tips that help you decompress and cope with pressure.
World Environment Day: 5
World Oceans Day: 8
Annular solar eclipse: 10
24 H of Le Mans : 12 and 13
World Wellness Day: 13
World Blood Donor Day: 15
Father's Day: June 20
Fête de la musique and summer: 21
Summer sales: 23
Lawyers' Marketing Calendar July 2021
Take advantage of the beautiful days of July: take pictures of your team and your offices to show them at their best. They will give a pleasant and friendly image of your firm once posted on your site.
Tour de France: July 2 to 25
Summer holidays : 6
National holiday: 14
Tokyo Olympic Games: 23 to 8 August
World Youth Day: 26
International Friendship Day: 30
Lawyers' Marketing Calendar August 2021
It's time to take a breather and recharge your batteries! Have you chosen a dream destination for your holidays? Feel free to share your photos on Facebook or Instagram. A simple and effective way to create a link with your prospects.
International Cat Day: 8
World Elephant Day: 12
Assumption: 15
World Dog Day: 26
World Blogging Day: 31
Lawyers' marketing calendar September 2021
A good time to recruit. If your firm is looking for new talent, it would be interesting to update the different sections of your site and to highlight the digital services offered by your structure.
Back to school:1st
Deauville Film Festival: 4 to 13
Literacy Day: 8
European Heritage Days: 18 and 19
Fall: 22
World Maritime Day: 24
World Abortion Rights Day: 28
World Translation Day: 30
Lawyers' Marketing Calendar October 2021
Do you regularly offer your support to health associations? For Pink October, renew this commitment by participating in various campaigns such as meetings or sporting events.
Pink October:1st
International Day of Non-Violence: 2
World Animal Day: 4
International Girls' Day: 11
All Saints' Day holidays: from 16 to 31
International Contemporary Art Fair: 21-24
Mother-in-law's Day: 24
Halloween: 31
Winter time : 31
Lawyers' Marketing Calendar November 2021
In order to inform landlords and tenants of their rights, you will be able to create articles about the winter break and share this content on the networks. In the same way, you can communicate around the World Day for Children's Rights.
All Saints' Day and beginning of the winter break:1st
Anti-Bullying Day: 7
Armistice: 11
World Children's Rights Day: 20
Davis Cup: 22
Thanksgiving: 25
Black Friday: 26
Cyber Monday: 29
Lawyers' Marketing Calendar December 2021
International Human Rights Day gives your firm the opportunity to organize an awareness-raising event, in the form of a videoconference, with a middle or high school.
The year is coming to an end: wish your customers happy holidays and thank them for their trust. On social networks, advice to be vigilant and careful while driving will not be superfluous… especially coming from professionals representing justice!
International Day of Persons with Disabilities: 3
Total solar eclipse: 4
World Volunteer Day: 5
World Climate Day: 8
International Human Rights Day: 10
International Mountain Day: 11
Christmas holidays: 18
Winter: 21
Christmas: 25
New Year's Eve: 31
Are you looking for a communication agency specialized in lawyers? Alioze welcomes you and supports your firm in its digital transformation.