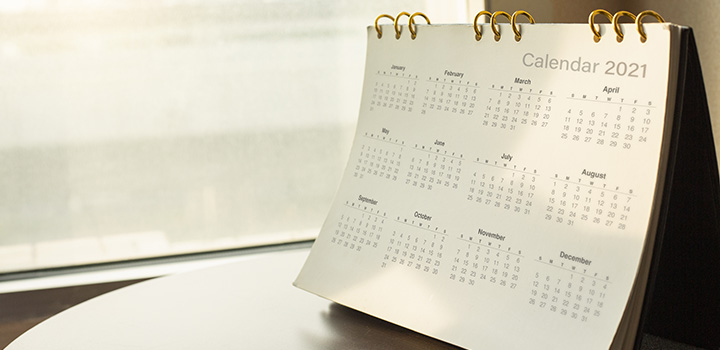 Hotel marketing calendar 2021
All hotel professionals need to know about the sector's key events, not only to take part in them but also to keep abreast of the latest news. This editorial calendar lists the useful dates for communicating about your hotel, via a website, social networks or a blog. Find all the hotel events and national days of 2021.
Hotel marketing calendar January 2021
The year 2020 has been a complicated year for the tourism sector. Even if the hotel industry has not escaped the crisis, investors are still present, which is somewhat reassuring. A few national dates such as the hug day or the no-pants day are a way to decompress and bring a little humor in these difficult times.
New Year's Eve:1st
Epiphany: 3
Resumption after the Christmas holidays: 4
First day of sales in France : 6
World No Pants Day: 13
Blue monday : 18
International Hug Day: 21
Haute Couture fashion show: from 25 to 28
Hotel marketing calendar February 2021
The verdict fell at the beginning of the year: the ski lifts will remain closed during the February 2021 holidays. This is a tragedy for the hoteliers in the mountains. This is the time to communicate as much as possible to tell tourists that you have stayed open.
Holidays: zone A (6 to 22), zone B (20 to 8 March), zone C (13 to 1 March)
Venice Carnival: 7 to 16
Chinese New Year: 12
Valentine's Day: 14
Mardi Gras: 16
Rio Carnival: 21
World No Facebook Day: 28
Hotel marketing calendar March 2021
Hotel shows in Europe are postponed like the one in Lisbon, Glasgow or Saint-Malo. Others remain, they will take place, but in digital, the Tech and Digital show is surfing on this specificity. Sleepy day is a good time for a little post on social media.
The 100% Hotel & Restaurant Tech & Digital Exhibition: 2 and 3
Grandmother's Day: 7
International Women's Rights Day: 8
International Start-up Day: 11
National Sleep Day: 13
Saint Patrick's Day: 17
World Recycling Day: 18
World Tourism Fair: 18 to 21
Spring: 20
International Day of Happiness: 20
World Procrastination Day: 25
World Theatre Day: 27
Changeover to summer time: 28
Alimentaria & Horexpo Lisboa: postponed
Scothot, Glasgow: postponed
Rest'hôtel & Métiers de Bouche Saint-Malo: postponed to 2023
Hotel marketing calendar April 2021
Another lockdown sounds the alarm. The French can no longer travel more than 10 km from their homes. Not easy for hoteliers, but this is not the time to slacken its communication. On the contrary, tourists are booking for the summer, they only want to go on weekends and holidays. Get the word out!
April Fools' Day:1st
World Pillow Fight Day: 3
Easter: 4
European Arts and Crafts Days: 6 to 11
World Art Day: 15
Digital Women and Creativity Day: 21
World Earth Day: 22
93rd Academy Awards: 26
World Dance Day: 29
Hotel marketing calendar May 2021
Some digital hotel trade shows are confirmed. Armistice Thursday promises to be a moment not to be missed: French travellers are out for the only bridge in May! Family Day and Mother's Day are an opportunity to communicate about family stays and activities.
Labour Day:1st
Armistice 1945: May 8
ILO – International Tourism Exchange Digital: 9 to 11
Hotel and Spa Tech Live: May 11
Ascension: 13
Night of the museums: 15
International Day of Families: 15
Virtual Arabian Travel Market: from 16 to 19
French Open: June 17 to 6
Fitur de Madrid: from 19 to 23
Pentecost: 23
HOTel&SPA Forum: 27
4th edition of the Digital Luxe Meeting in Geneva: 27
Champions League Final 2021: 29
Maître d'hôtel Trophy, Lyon: 29
Mother's Day: 30
The Hotel Show Dubai: from 31 to 2 June
Hotel marketing calendar June 2021
In June, the summer and the beautiful days arrive. World Wellness Day and Yoga Day invite you to relax and stay in accommodation with a spa and massage. Nothing better to get back on track after this difficult year.
World Environment Day: 5
World Oceans Day: 8
World Wellness Day: 12
Father's Day: June 20
World Yoga Day: 21
Fête de la musique and summer: 21
Inbound Marketing France: 21 to 25
Paris Fashion Week Men's Fashion: from 22 to 27
Spring-summer collection sales: 23
Tour de France: June 26 to July 18
Hostys Connect – international business meetings: June 28-30
Hotel marketing calendar July 2021
The summer holidays are finally here. They are likely to be essentially national. They will also be sporty with the Tokyo Olympics and luxurious between the Cannes Festival, the Haute-Couture show and the Paris Salon les 19.
World Naturist Day:1st
World UFO Day: 2
Haute Couture fashion show: 4 to 8
Cannes Festival: July 6 to 17
Summer holidays : 6
National holiday: 14
Paris luxury fair: 19
Tokyo Olympic Games: 23 to 8 August
International Friendship Day: 30
Hotel marketing calendar August 2021
August announces hot weather. Do you have a swimming pool in your hotel? A cool and quiet garden? A place to quench your thirst? Make it an important part of your communication!
World Beer Day: 7
International Cat Day: 8
Saint Amour : 9
World Lion Day: 10
World Elephant Day: 12
Assumption : 15
World Photography Day: 19
24 h of Le Mans : 21 and 22
World Dog Day: 26
World Blogging Day: 31
Hotel marketing calendar September 2021
September is back to school month. The shows are starting again, some of them had been postponed. Don't miss the World Tourism Day on the 27th.
Back to school:1st
Deauville American Film Festival: 3 to 12
Teddy Bear Day: 9
HORESTA Hauts-de-France : from 12 to 14
Heritage Days: 18 and 19
Fall: 22
Car Free Day: 22
Sirha Lyon: from 23 to 27
World Maritime Day: 24
Gastronomy Festival: 25 and 26
World Tourism Day: 27
Luxe Pack Monaco: 27 to 29
Première classe, the accessories show: dates to be confirmed
NATUR'IN 2021: from 28 to 30
Hotel marketing calendar October 2021
Go and meet your peers at the many hotel trade shows in October, in Nice, Annecy, Biarritz, Nantes and take the opportunity to observe the competition and find new ideas for your marketing.
Pink October: 2
3rd Food Hotel Tech Nice : 5 and 6
HORECALPES, Annecy: 9 and 11
HORESTA, Biarritz : from 10 to 12
International Girls' Day: 11
Digital Tourism Week: 11 to 17
SERBOTEL, Nantes : from 17 to 20
All Saints' Day holidays: from 16 to 31
International Cooks' Day: October 20
International Contemporary Art Fair: 21 to 24
Halloween: 31
Winter time : 31
Hotel marketing calendar November 2021
In November, the off-season is the time to reflect on its strategy for 2022. However, the 1st and 11th of November are likely to be big weekends for your hotel.
All Saints' Day:1st
SETT, Montpellier: from 2 to 4
HOTEL & RESTAURANT Meetings : from 7 to 8
4th Food Hotel Tech Paris: 9 and 10
Armistice: 11
International Tourism Fair, Cannes: 13 and 14
Beaujolais nouveau : 18
World Television Day: 21 November
Davis Cup: 25 Nov to 5 Dec
Thanksgiving: 25
Saint Catherine's Day, fashion festival: 25
Black Friday: 26
Hotel marketing calendar December 2021
Christmas and the holidays are the time to show off the warmth and comfort that a night in your cozy rooms brings. The holiday season hopefully heralds a better and more serene 2022.
Total solar eclipse: 4
World Climate Day: 8
International Mountain Day: 11
International Christmas Sweater Day: 18
Christmas holidays: 18
Winter: 21
Christmas: 25
New Year's Eve: 31
If you want to develop your editorial calendar and program your content, Alioze is a communication agency specializing in the hotel sector.