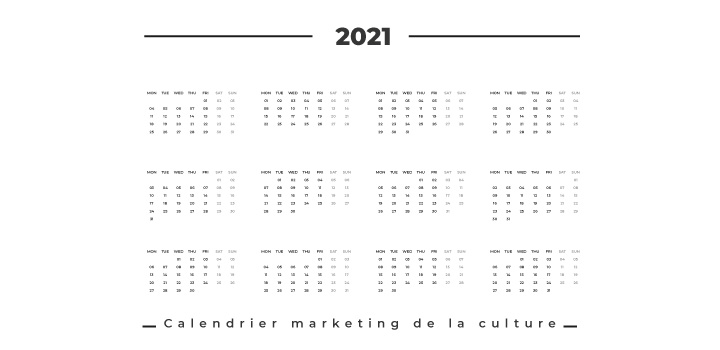 Marketing calendar for culture in 2021 (key dates and events)
Museums, theatres, cinemas, concerts… The world of culture is currently going through a very difficult period. Despite the lack of visibility regarding a return to normalcy, it is essential to think about tomorrow's communication today. Here is the culture marketing calendar, which lists the important events to be aware of in order to establish your editorial strategy.
Cultural marketing calendar January 2021
Hopefully, the start of the 2021 school year will be less troubled than the previous one. If the health situation improves, we will be running to the cultural sites that are finally reopening: films, exhibitions, shows and the long-awaited opening of the Pinault Foundation in Paris. January is also the month of literature, we celebrate Tintin on the 10th and writing on the 23rd. The Night of Reading and the Angoulême Comics Festival are also important events.
New Year's Eve:1st
Epiphany: 3
Back to school for Christmas holidays: 4
Start of sales in France: postponed to 20 January
Tintin Day: 10
Reading Night: 12 to 24
Opening of the Pinault Foundation at the Bourse du Commerce: 23
Handwriting Day: 23
Angoulême International Comics Festival: 28 to 31
Contemporary Art Fair, Paris : 29 to 31
Art3f in Paris: 29 to 31
Venice Carnival: 30
Marketing calendar culture February 2021
February is the month to reconnect with culture. We are enjoying all the art exhibitions that we have missed so much and that are coming to an end soon: the Matisse retrospective at the Centre Pompidou for example.
Holidays: zone A (6 to 22), zone B (20 to 8 March), zone C (13 to 1 March)
Candlemas: 2
World No Phone Day: 6
VI Nations Rugby Tournament: 6 to 20 March
Venice Carnival: 6 to 16
Art Up, Lille: 11 to 14
Chinese New Year: 12
Mardi Gras: 16
Valentine's Day: 14
Rio Carnival: 21
End of the Matisse exhibition, Centre Pompidou: 22
Marketing calendar culture March 2021
Poetry, language, theatre and cinema are celebrated in March. Words are fully celebrated. Indeed, spring is coming and the arts are blooming and revealing themselves for the beautiful days. We will continue to pay attention to the events that will take place during the week of the Francophonie and during the springtime of the poets.
Grandmother's Day: 7
International Women's Rights Day: 8
International Start-up Day: 11
"French Language and Francophonie Week" and "Dis-moi dix mots": from 13 to 21
Poets' springtime: 13 to 29
Saint Patrick's Day: 17
Book fair: 19 to 22
Spring: 20
International Day of Happiness: 20
Journée de la Francophonie: 20
World Poetry Day: 21
World Theatre Day: 27
Changeover to summer time: 28
Printemps du cinéma: from 29 to 31
Marketing calendar culture April 2021
Between the craft days, the art day, the contemporary art fair, the book day, dance and jazz, you won't know where to turn. And there's something for everyone!
Holidays: zone A (10 to 26), zone B (24 to 10 May), zone C (17 to 3 May)
April Fools' Day: 1st
Easter: 4
European Arts and Crafts Days: 6 to 11
Nice Art Expo : 9 to 11
Paris Marathon: 11
Art Day: 15
The International Contemporary Art Fair (SIAC): 16 to 19
Digital Women and Creativity Day: 21
World Earth Day: 22
World Book Day: 23
World Intellectual Property Day: 26
World Dance Day: 29
Jazz Day : 30
Cultural marketing calendar May 2021
May marks the beginning of the festivals that will take place over the next few months. The Printemps de Bourges festival kicks off on May 4. The 2020 Dance Biennial has been rescheduled from May 26 to June 16 and is the must-see event in the area. The museums are not left out with the night of the 15th.
Labour Day:1st
Laughter Day: 2
Printemps de Bourges : May 4 to 9
Star Wars Day: 4
Exhibition Elles font l'abstraction: May 5 to August 23
Armistice 1945: May 8
Cannes Film Festival: May 11 to 22
Ascension: 13
Night of the museums: 15
Urban Art Fair : 21 to 24
Eurovision Final: 22
Biodiversity Day: 22
Opening of the French Open: 23
Pentecost: 23
Lyon Dance Biennial: 26 to 16 June
Champions League Final 2021: 29
Mother's Day: 30
Marketing calendar culture June 202
The beautiful sunny days make it possible to enjoy the parks and gardens during the appointments on thefirst weekend of the month. Archaeology and music are two other art disciplines that are highlighted in June.
Art History Festival: 4 to 6
Rendezvous in the gardens: 4 to 6
World Environment Day: 5
24 H of Le Mans : 12 and 13
World Wellness Day: 13
Baccalaureate: 17
National Archaeology Days: from 18 to 20
Father's Day: June 20
World Yoga Day: 21
Fête de la musique and summer: 21
Summer sales: 23
Marketing calendar culture July 2021
The summer holidays are finally here. The festival route opens its arms wide. The Francofolies, the Vieilles Charrues and many others are organized throughout France. The theatre also has its mythical festival in Avignon from 5 to 25 July.
Reggae Music Day:1st
Festival d'Avignon : July 5 to 25
Summer holidays : 6
Partir en Livre: 7 to 16
Francofolies de la Rochelle: 10 to 14
National holiday: 15
Festival des vieilles Charrues : 15 to 18
Japan expo: 15 to 18
Tokyo Olympic Games: 23 to 8 August
Marketing calendar culture August 2021
In August, this time, it is photography that is honoured on the 19th. We take the opportunity to discover the exhibition of a photographer between two summer concerts.
World Beer Day: 7
International Cat Day: 8
World Lion Day: 10
World Elephant Day: 12
Youth Day: 12
Assumption: 15
World Photography Day: 19
World Dog Day: 26
Rock en Seine : 27 to 29
World Blogging Day: 31
Cultural marketing calendar September 2021
It's back to school for children, but also for culture. Cinema is in the spotlight at the Deauville festival. We run to discover the long-awaited ballet Romeo and Juliet in Boulogne. Heritage sites that are usually closed to the public are visited during Heritage Days.
Back to school:1st
Deauville Festival: 4 to 13
Literacy Day: 8
Benjamin Millepied's Romeo & Juliet ballet with the L.A. Dance Project in Boulogne : 16 to 25
European Heritage Days: 18 and 19
OktoberFest: 18 to 3 October
Fall: 22
Gastronomy festival: 25 and 26
Google's birthday: 27
World Tourism Day: 27
World Translation Day: 30
Cultural marketing calendar October 2021
It's music day on the1st. For those who prefer contemporary art, the FIAC is scheduled to take place in Paris from October 21 to 24, 2021, and it's a good thing it's also the school holidays.
International Music Day: 1st
Pink October: 2
Animal Days: 4
World Teachers' Day: 5
All Saints' Day holidays: from 16 to 31
International Contemporary Art Fair: 21 to 24
Halloween: 31
Winter time : 31
Marketing calendar culture November 2021
Culture is also about tasting good wine and celebrating the Beaujolais Nouveau, isn't it? Black Friday is the time to buy concert tickets or a new computer.
All Saints' Day:1st
Armistice: 11
Beaujolais nouveau : 18
World Television Day: 21
World Video Game Day: 22
Black Friday: 26
Cyber monday : 29
Cultural marketing calendar December 2021
Christmas is coming and with it its share of gifts. What if we took advantage of the winter evenings to go see a play? Lyon's Festival of Lights is also an incredible event to discover with the family to celebrate the enhancement of heritage.
International Samba Day: 2
Total solar eclipse: 4
Saint-Nicolas : 6
World Climate Day: 8
Start of the Festival of Lights in Lyon: 8 to 12
International Christmas Sweater Day: 18
Christmas holidays: 18
Winter: 21
Christmas: 25
Nîmes Antiques Fair: dates to be confirmed
Salon des créateurs & artisans d'art, Toulouse : dates to be confirmed
Sources: