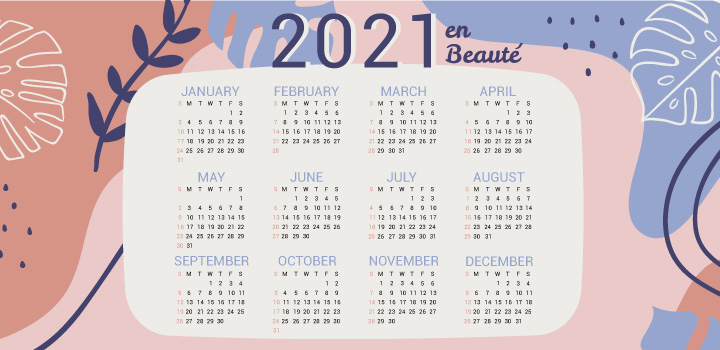 Beauty marketing calendar 2021 (key dates and events)
A publication calendar is an essential tool to base your beauty marketing strategy and your communication plan. It allows you to group together the dates and events of the year. You will be able to play on the news and find original content to feed your website, your blog and your social networks.
Forget about inspiration failures with the 2021 beauty marketing calendar.
Beauty marketing calendar January 2021
It's time for a post-holiday makeover and to think about your resolutions for 2021. Sales and fairs allow you to buy new cosmetics and discover new brands. Inspiration is found in the fashion shows, where the latest trends are on the lookout.
New Year's Eve: 1st
Epiphany: 3
End of Christmas holidays: 4
Start of sales in France: 6
Breizh Nature organic and wellness fair: 8 to 10
Cosmetagora exhibition: 12 and 13
Paris Fashion Week Men's Fashion : from 19 to 24
Salon les thermalies : 21 to 24
Vivez nature: from 22 to 25
ADF&PCD and PLD exhibition in Paris: 20 and 21
International Women's Sports Day: 24
Haute Couture fashion show: from 25 to 28
International Comics Festival: 28 to 31
Venice Carnival: 30
Grammy Awards Ceremony: 31
Beauty marketing calendar February 2021
There are many opportunities to let your imagination run wild and be creative. Make-up is worn with elegance for Valentine's Day dinner and the Césars ceremony, and with more panache for the carnivals of Venice and Rio.
Holidays: zone A (6 to 22), zone B (20 to 8 March), zone C (13 to 1 March)
Candlemas: 2
Wellness, alternative medicine and thalassotherapy exhibition: from 4 to 8
World No Phone Day: 6
Venice Carnival: 6 to 16
Chinese New Year: 12
New York Fashion Week: 13
Nantes Beauty Selection Fair: 14 and 15
Mardi Gras: 16
Valentine's Day: 14
Rio Carnival: 21
Milan Fashion Week: 25
46th Césars Ceremony: 26
Salon du Bien Etre, Bio & Thérapies de Bordeaux : from 26 to 28
Beauty marketing calendar March 2021
Women are in the spotlight in March 2021. It is shown at Paris Fashion Week, celebrated with the family on Grandma's Day and around the world on March 8.
Paris Fashion Week Women's Fashion : from 1 to 9
Grandmother's Day: 7
International Women's Rights Day :
International Start-up Day: 11
National Sleep Day: 13
Saint Patrick's Day: 17
Spring: 20
International Day of Happiness: 20
World Water Day: 22
World Theatre Day: 27
Changeover to summer time: 28
World Endometriosis Day: 28
Printemps du cinéma: from 29 to 31
Beauty marketing calendar April 2021
Crafts, such as make-up artists, are highlighted on the first weekend of April. It is also the time to meet for the professionals of the well-being during the international congress of esthetics and spa.
Holidays: zone A (10 to 26), zone B (24 to 10 May), zone C (17 to 3 May)
April Fools' Day: 1st
Easter: 4
European Arts and Crafts Days: 6 to 11
World Invisible Work Day: 7
Paris Marathon: 11
Digital Women and Creativity Day: 21
World Earth Day: 22
World Book Day: 23
Fashion Revolution Day: 24
93rd Academy Awards: 25
International Aesthetics & Spa Congress: dates to be confirmed
Beauty marketing calendar May 2021
Great events take place in May to celebrate the coming of the beautiful days. The Cannes festival puts sparks in the eyes and glitter in the hair. Between the French Open and the Champions League final, it's also time to focus on body care.
Labour Day: 1st
Armistice 1945: May 8
Cannes Film Festival: May 11 to 22
Ascension: 13
Night of the museums: 15
Inbound Marketing France: 18
Eurovision Final: 22
Opening of the French Open: 23
Pentecost: 23
Champions League Final 2021: 29
Mother's Day: 30
Beauty marketing calendar June 2021
We continue to maintain our muscles by cycling, surfing or doing yoga. We buy organic cosmetics to help protect the environment and we don't forget to buy an ethical sun cream for the summer that doesn't damage the oceans.
World Bike Day: 3
World Environment Day: 5
Miniskirt Day: 6
World Oceans Day: 8
24 H of Le Mans : 12 and 13
World Wellness Day: 13
International Surfing Day: 20
Father's Day: June 20
World Yoga Day: 21
Fête de la musique and summer: 21
Paris Fashion Week Men's Fashion: from 22 to 27
Summer sales: 23
Beauty marketing calendar July 2021
The holidays are here! We'll be doing our makeup with finesse to attend the Haute Couture show and we'll be getting our favourite lipstick on July 9.
World Naturist Day: 1st
Tour de France: July 2 to 25
Haute Couture fashion show: 4 to 8
Summer holidays : 6
International Lipstick Day: 9
National holiday: 14
Festival des vieilles Charrues : 15 to 18
Tokyo Olympic Games: 23 to 8 August
Beauty marketing calendar August 2021
Beauty is animal and feline in August. We take advantage of days that celebrate the cat, the lion, the elephants or the dog to focus our communication on man's friends.
World Beer Day: 7
International Cat Day: 8
World Lion Day: 10
World Elephant Day: 12
Assumption: 15
World Photography Day: 19
World Topless Day: 23
World Dog Day: 26
World Blogging Day: 31
Beauty marketing calendar September 2021
We're getting all dolled up for the back-to-school season, because it's also fashion season and business is picking up. Men and their beards are in the spotlight on the 5th.
Back to school: 1st
Deauville Festival: 4
World Beard Day: 5
MCB by Beauté Sélection : from 11 to 13
Heritage Days: 18 and 19
Fall: 22
World Maritime Day: 24
Gastronomy festival: 25 and 26
Paris Fashion Week Women's Fashion: from September 27 to October 5
World Abortion Rights Day: 28
Beauty marketing calendar October 2021
October is the month to smile at life and fight against cancer. The Beauty Forum exhibition allows beauty experts to meet each other. Halloween is a great time to wear a lot of makeup.
Pink October: 2
World Smile Day: 2
Beauty Forum Paris: October 3 and 4
International Girls' Day: 11
All Saints' Day holidays: from 16 to 31
International Contemporary Art Fair: 21 to 24
Mother-in-law's Day: 24
Halloween: 31
Winter time : 31
Beauty marketing calendar November 2021
Between the Marjolaine show in Paris and those in Lille, Chartres and Lyon, we don't know where to turn. We also celebrate the beaujolais nouveau, fashion and singles, so you can find original ideas for your communication on social networks.
All Saints' Day: 1st
Marjolaine Bio Fair: from 6 to 14
Armistice: 11
World Singles Day: 11
Beaujolais nouveau : 18
Davis Cup: 22
Thanksgiving: 25
Saint Catherine's Day, fashion festival: 25
Black Friday: 26
Naturabio in Lille: from 26 to 28
Perfumes and Cosmetics Congress in Chartres: dates to be confirmed
Beauté Sélection de Lyon : dates to be confirmed
Beauty marketing calendar December 2021
In December, we pamper ourselves and get ready for the holidays. It's the cocooning month where we treat ourselves and watch tutorials on Youtube to prepare our end-of-year make-up.
International Samba Day: 2
Total solar eclipse: 4
World Climate Day: 8
International Mountain Day: 11
International Tea Day: 15
International Christmas Sweater Day: 18
Christmas holidays: 18
Winter: 21
Christmas: 25
Actors of the beauty sector, take note of all the key dates and events of the 2021 calendar to adjust your communication at best. If you want to know more about the communication and marketing strategies to adopt to enhance your company or cosmetic brand, our agency Alioze is specialized in the beauty sector.