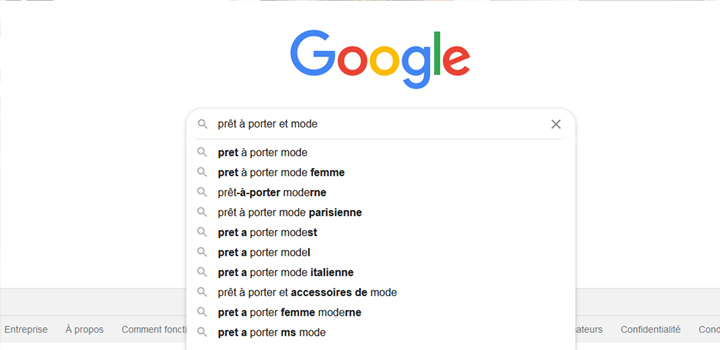 Top Fashion Searches on Google in France
Google has colossal data on Internet users. The firm studies and analyzes all this data to highlight trends in consumer habits. As a company or brand of ready-to-wear, shoes, leather goods or accessories, knowing this information and the top fashion keywords and searches on Google is essential to optimize your content strategy and SEO.
Apparel Research Trends
45% of dress searches on Google are occasion-related. The wedding comes first, then a formal event, a graduation, a party and the summer season.
These Google searches are clearly linked to geographical areas. While graduation prevails in North America, in Europe people are interested in what they will wear for summer. In France, "robe été 2020" has grown by 4,400% over the last twelve months.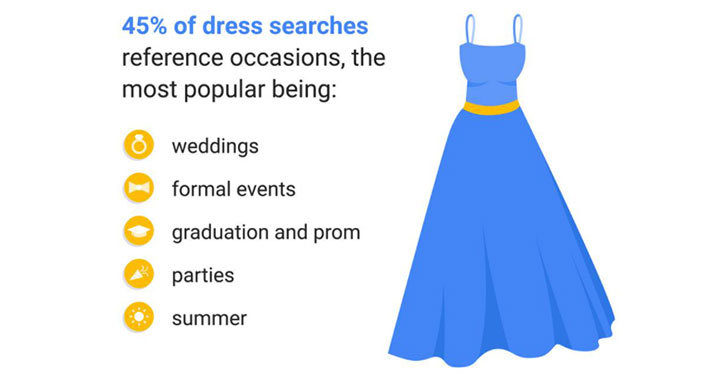 This is not the case for other clothes that are worn down, which are accompanied by other terms. Pants, skirts or shorts are associated :
one out of six times to the female or male gender;
one out of eight times to colour (black wins);
one time out of twelve to size or shape (in France, for example, "long skirt" was searched more than "women's skirt" (78 per 100) in 2020).
Tell me Google, what is the best garment?
In the past, the consumer would ask a friend or a salesperson in the store for advice. Today, he asks his question directly to the search engines. Between 2017 and 2019, the query "best" has thus increased by 15% in the clothing category and by 20% in women's clothing.
This trend of seeking clothing advice online is confirmed on YouTube, as the viewing time of shopping-related videos increased fivefold in the U.S. between 2016 and 2018.
Color-oriented fashion queries
Bold colors and patterns are gaining momentum in fashion lovers' Google searches. While white and black remain the most popular colors for tops (36% and 14%), searches for yellow and orange colors increased by 63% and 82% respectively in 2019.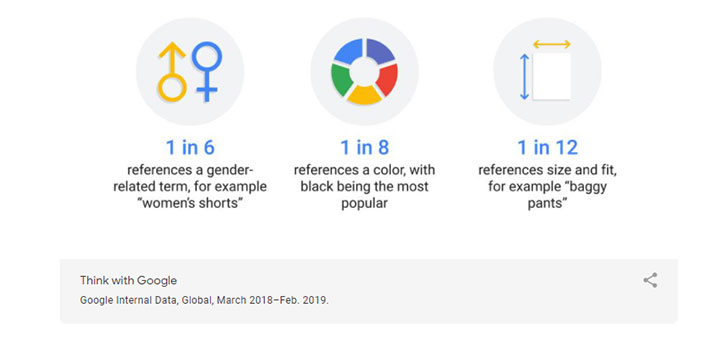 Searching for more comfortable clothes
Comfort becomes as important as style. Indeed, a group of Google scientists analyzed more than 6 billion fashion searches worldwide. They found that searches for more formal clothing such as high heels and anything fitted are down, while searches for comfortable clothing such as loafers, ballet flats and loose-fitting clothing are up.
Specifically in France, Google searches for "heels", "slim fit" and "tight dresses" have decreased while searches for "ballerinas", "wide" and "wrap dresses" have increased.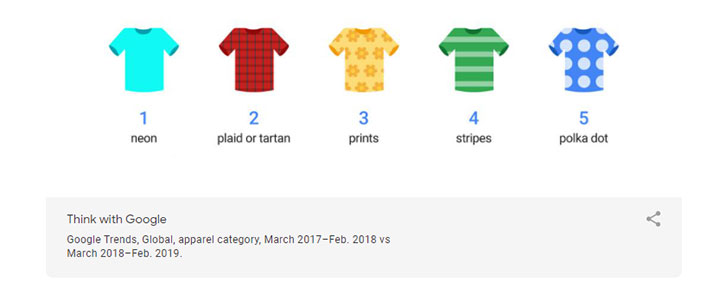 A research trend towards ethical fashion
The consumer trend towards more ethical fashion is reflected in Google searches. Thus, there is an increase in requests for linen clothing. It is the fastest growing material in the last year, with an increase in requests of over 70% in North America and Canada, and over 130% in Asia-Pacific, Latin America and Europe.
In France, the percentage of searches on the keywords "vegan leather" and "organic cotton" are also steadily increasing, and "women's organic clothing" has recorded a 40% increase over the last five years.
This panorama of fashion searches on Google in France is revealing. The sector is evolving with the times and must adapt to consumer demands. In this sense, Alioze, SEO and communication agency specialized in fashion, helps you to increase your notoriety and your visibility by improving your brand image or your positioning, in order to meet the new requirements of fashion aficionados.
Sources: